As the city's population burgeons and life gets more fast-paced, more city dwellers seek respite campsites that offer glamping – or glamorous camping. Using well-furnished, capacious tents, these destinations merge the comforts of hotel accommodations with the wild charm of the great outdoors.
Read up on four top-rated glamping spots near Manila for a quick recharge away from the city.
Domescape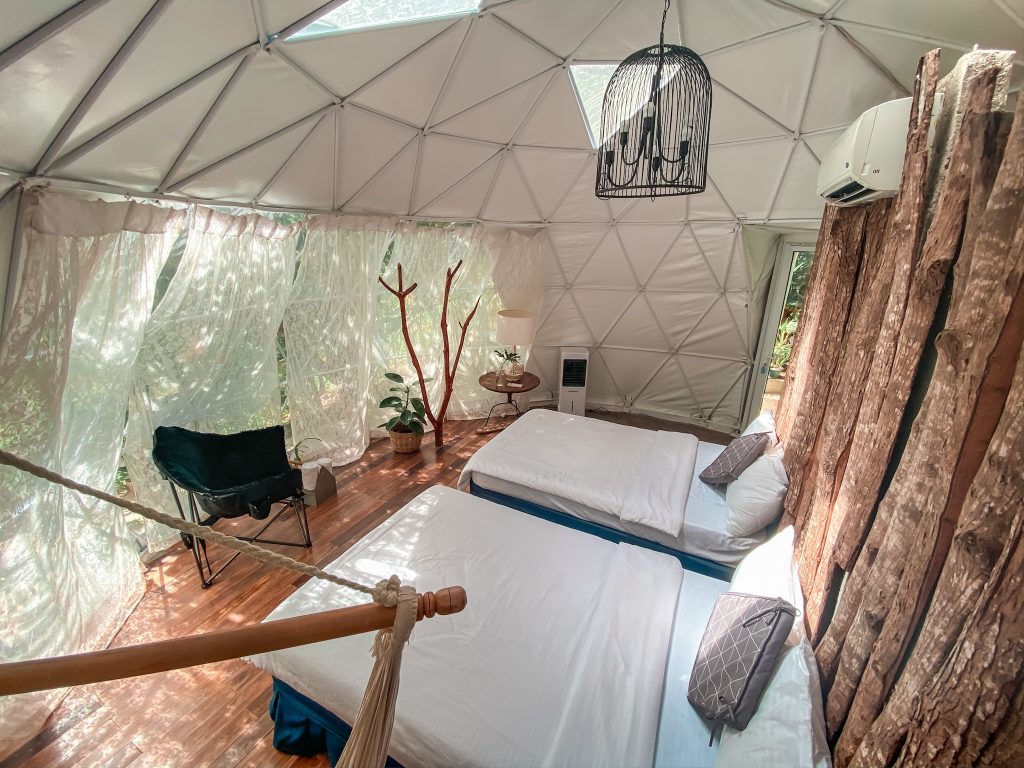 The first of its kind in the Philippines, Domescape features unique, fully furnished domes with air conditioning and soft beds, a hammock, and an en suite bathroom.
You will also have access to your own swimming pool. A stay includes meals, as well as nightly bonfires.
You can book a dome via AirBnB.
The Essentials
Riverfront Garden Resort
Tucked in a forested riverside property, Riverfront Garden Resort boasts impressive views of Maragondon River. A no-WiFi zone with three pools facing the river (two adult pools and one kiddie pool) and plenty of picture-perfect lounge spots amid landscaped gardens, it offers an ideal family break. A restaurant serves sumptuous food and beverages on site.
Air conditioned huts for two that make use of local materials are priced at P2,800 a night. These huts come with a mattress, pillows, towerls, toiletries, electric fan, and a power outlet for charging your gadgets.
The Essentials
The Glamp Zambales
The Glamp Zambales is fast-becoming a Liwliwa staple for weary couples, thanks to its ultra-luxurious tents, romantic offerings, and convenient access to surf-worthy Liwliwa beach.
Each tent is practically furnished with all the modern comforts you'll need, including a comfy foam bed, pillows, air conditioning, lights and charging outlets, and even your own bathroom and restroom.
Guests also get complimentary bottled water, foot massage, WiFi access, and breakfast, plus a S'mores kit.
The smallest tent can accommodate 2 to 3 persons and costs P5,000 per night.
The Essentials
San Rafael River Adventure
Here's another riverside glamping destination you shouldn't miss. San Rafael River Adventure rests along Angat River banks, surrounded by local trees and wildlife, from civets to horses.
Although popular for their glass houses, this riverside resort is now being recognized for its charming tents that afford one a panoramic view of the river. You can choose from a regular camping tent or one built on stilts. Price starts at P3,600 per night for tent accommodation.
In your spare time, you can enjoy facilities on the river itself, including stand up paddle board, water slides, and jet skis. Prefer activities on land? Try their ATV rides.
The Essentials
Nayomi Sanctuary Resort
Fancy a stunning mountain vista as you emerge from a tent early in the morning? Head to Nayomi Sanctuary Resort.
This Batangas getaway offers front row seats to Taal Volcano and Taal Lake and crisp, cool weather to boot. Each spacious tent comes with soft beds and sheets, pillows, lights, a power outlet, and an electric fan. The package includes acces to the resort's gorgeous pool and children's playground and complimentary breakfast at Anahaw Restaurant.
Glamping is priced at PHP8,500+, good for up to nine people.
The Essentials