We're in for another long round of strict quarantine, it seems. Pass the time at home by browsing through these amazing sales and promos in food, footwear, clothing, and home essentials this August!
FOOD
Kenny Rogers' Extended Buy 1, Get 1 Promo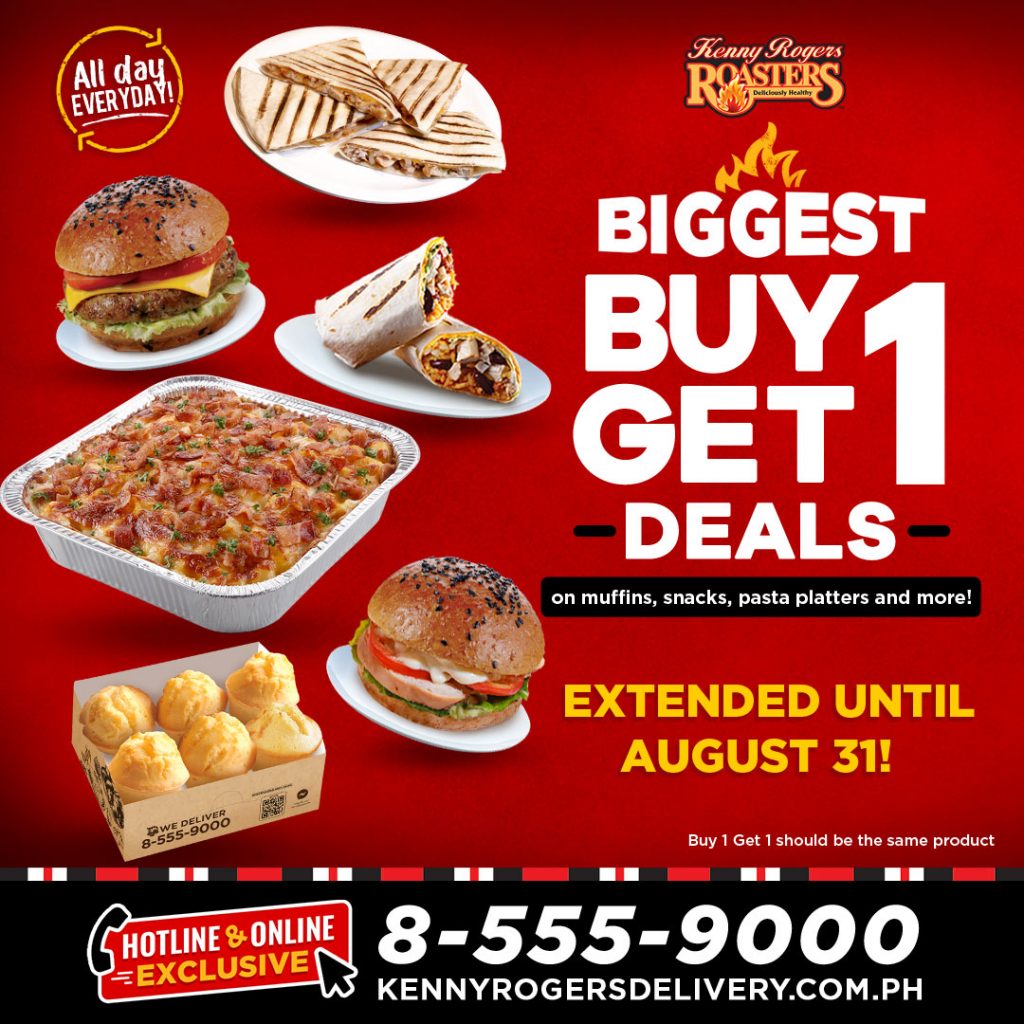 Purchase any of the following snacks from Kenny Rogers and get another one of the same product for free!
Box of 6 corn muffins
Chicken quesadilla
Roasted chicken sandwich
Baked pasta platter
⅓ pound cheeseburger
Roasted chicken burrito
Burger King Whopper Jr. Bundle for P150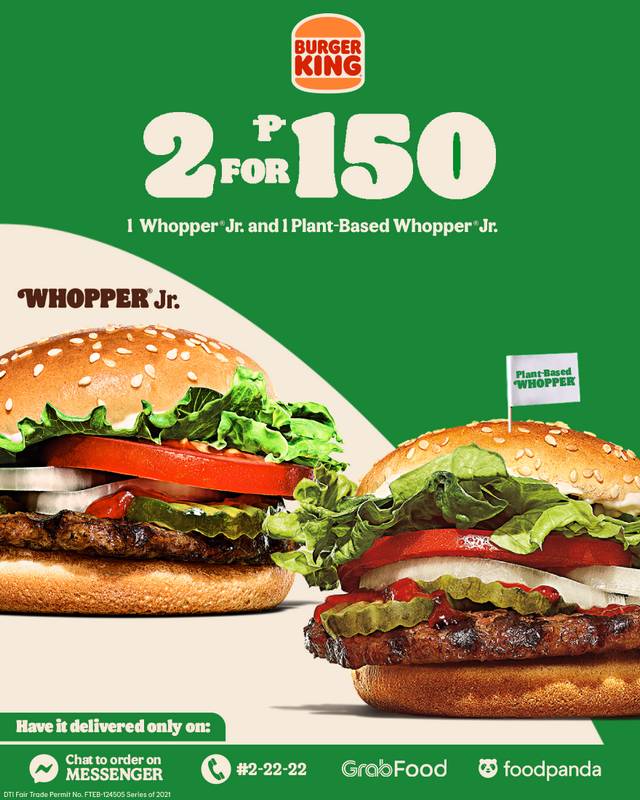 Save P8 on a Whopper Jr. solo (P69) and Plant-Based Whopper Jr. (P89) when you order the bundle via delivery.
Pepi Cubano All Day Breakfast Combo for P290 (Save P25)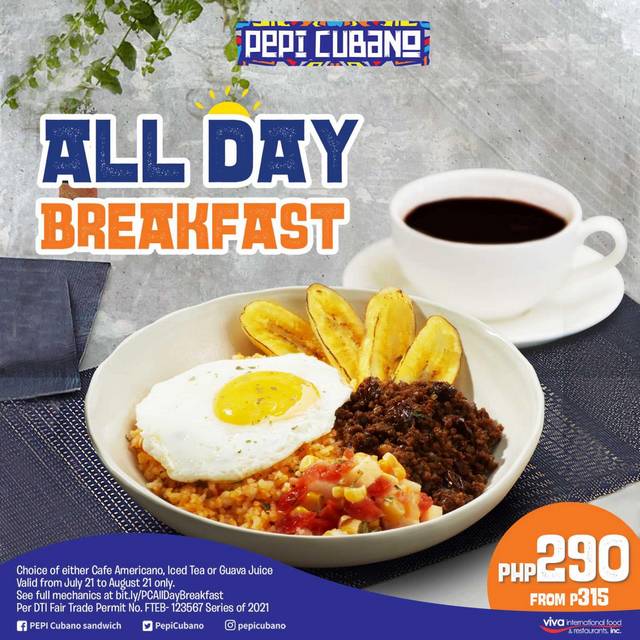 Save P25 on Pepi Cubano Arroz Ala Cubana, plus your choice of Café Americano, iced tea, or guava juice anytime of the day.
Dunkin Donuts Bite or Bike Promo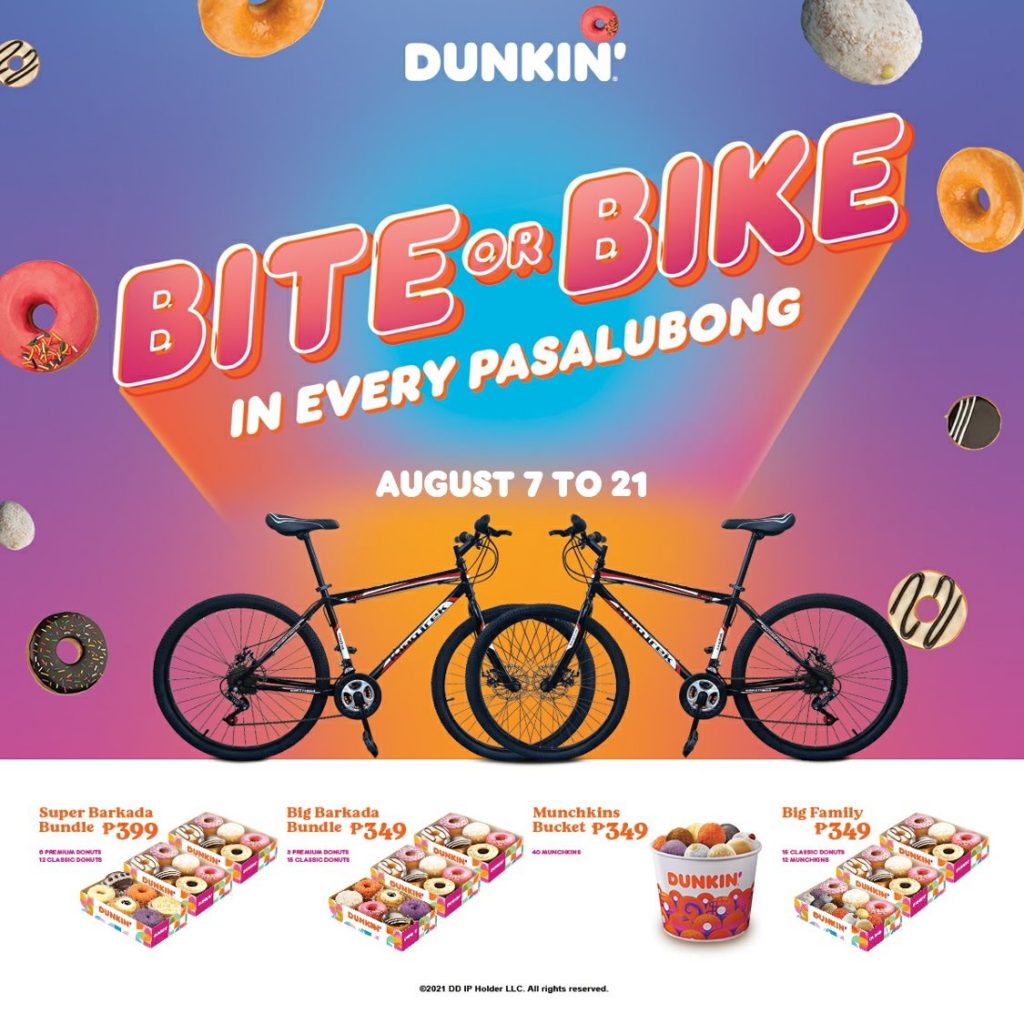 Get a chance to win one of 9 brand new bikes or a classic donut when you buy any of the following donut bundles from Dunkin Donuts.
Super Barkada Bundle (6 Premium + 12 Classics Assortment) at P399
Big Barkada Bundle at P349
Munchkins Bucket at P349
Big Family at P349
One bundle is equivalent to one raffle stub. Only two bundles are allowed per transaction.
Krispy Kreme's OG & Choco Treat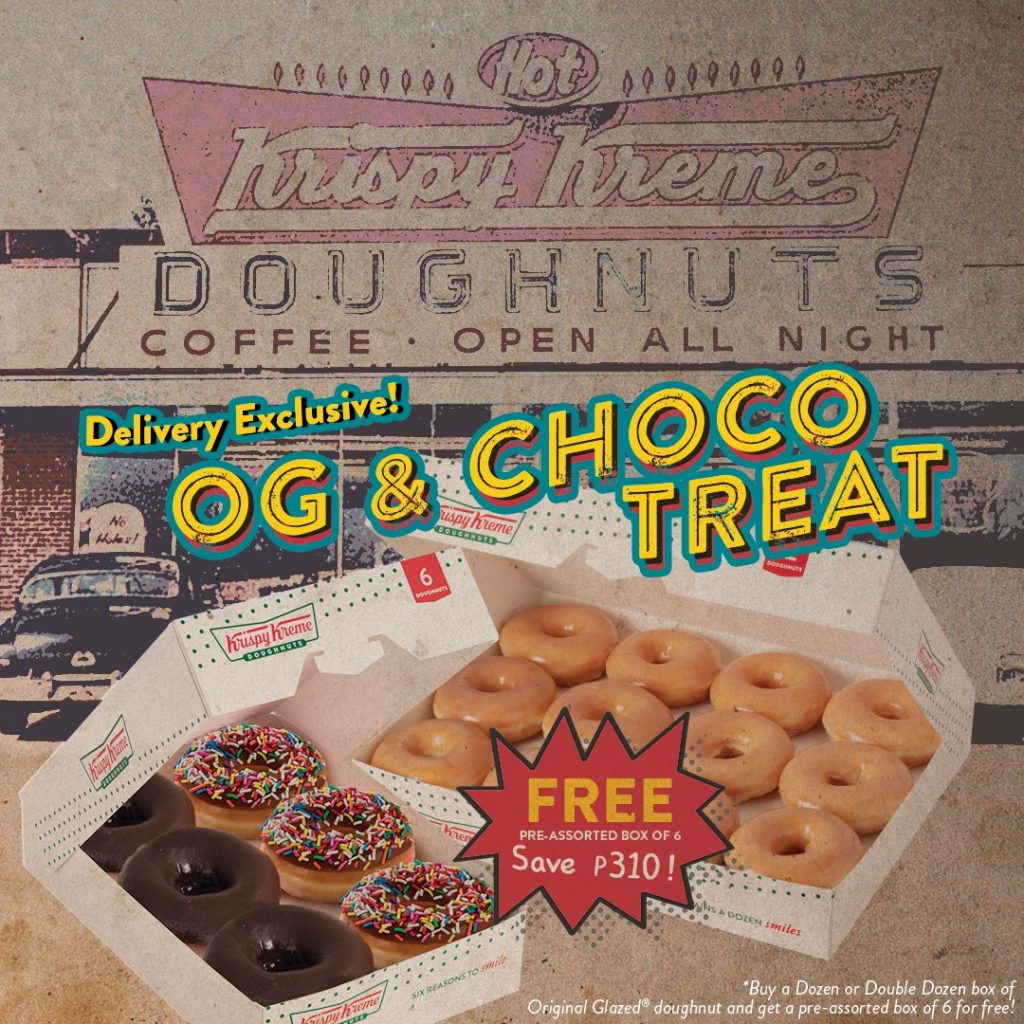 Purchase a box of Original Glazed® Dozen or Double Dozen, and receive a free box of 6 donuts from Krispy Kreme. Box is pre-assorted. The promo is applicable to delivery only. Only two sets per transaction is allowed.
Greenwich Barkada Hour Promo for P549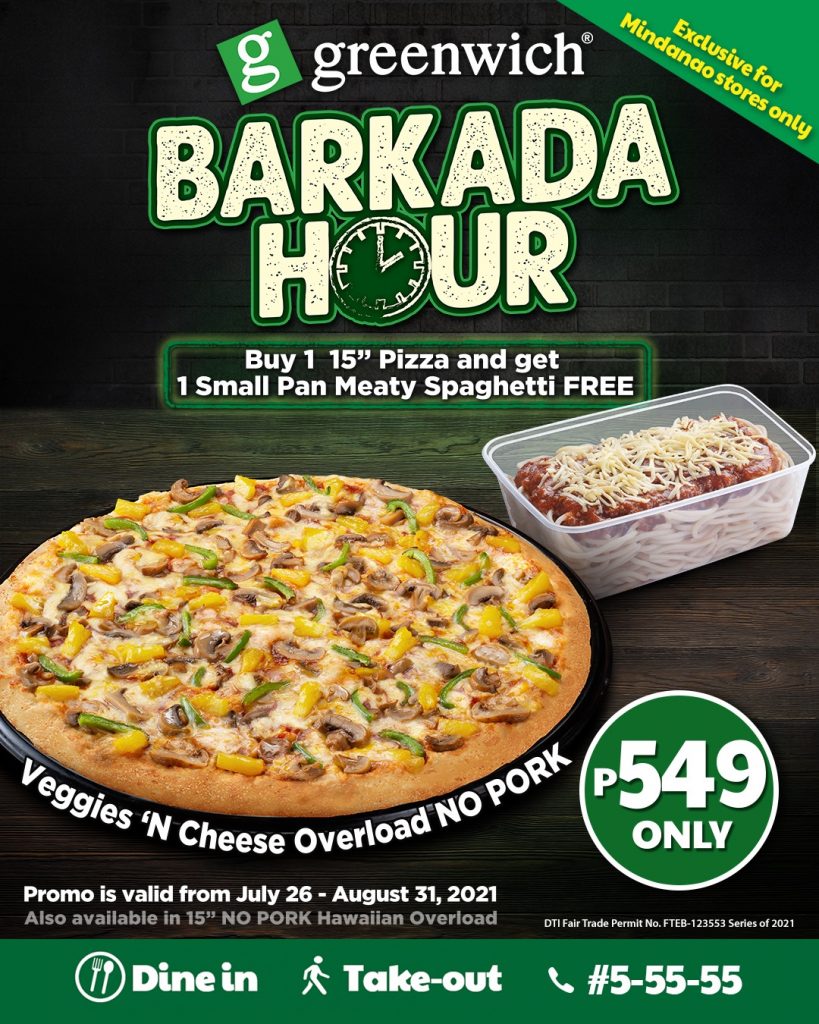 Buy 1 party-size Non-Pork Hawaiian Overload or a Veggies & Cheese from Greenwich and get a small pan of Meaty spaghetti for free!
Mang Inasal Buy 4, Get 1 Chicken Inasal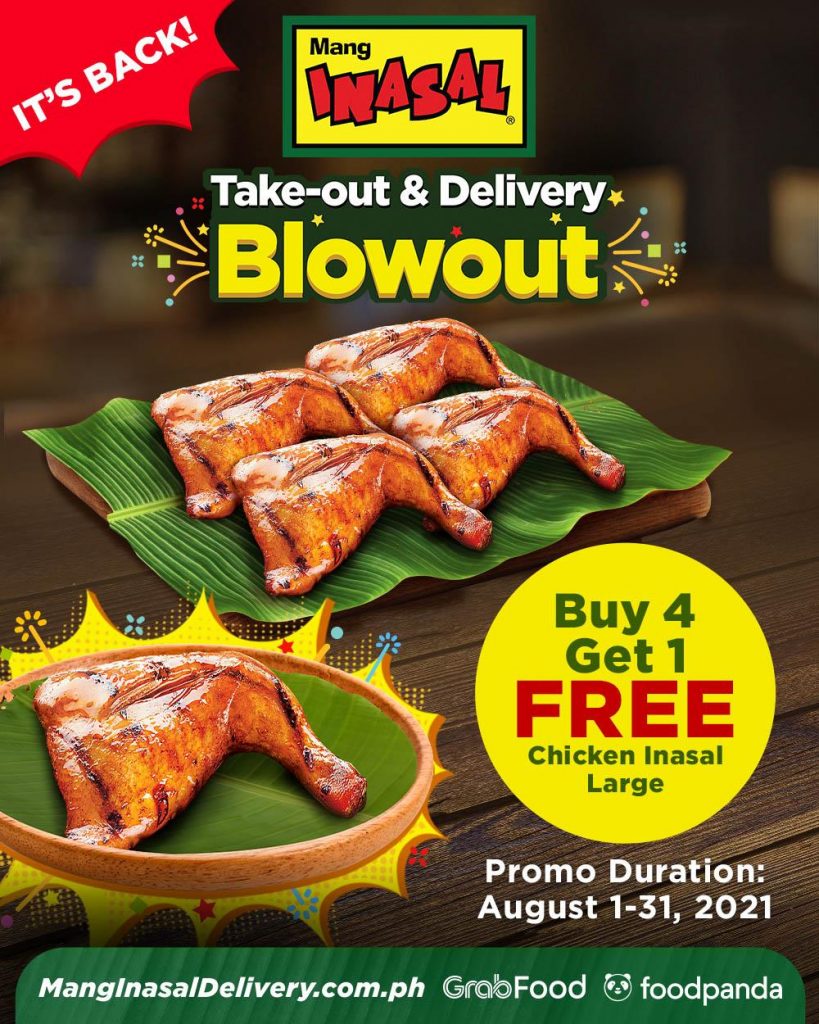 Treat your family and friends to not just 4, but 5 chicken inasal. Buy 4 Chicken Inasal from Mang Inasal and get 1 free!
Shakey's Free M&M's Block with Buy 1, Take 1 Pizza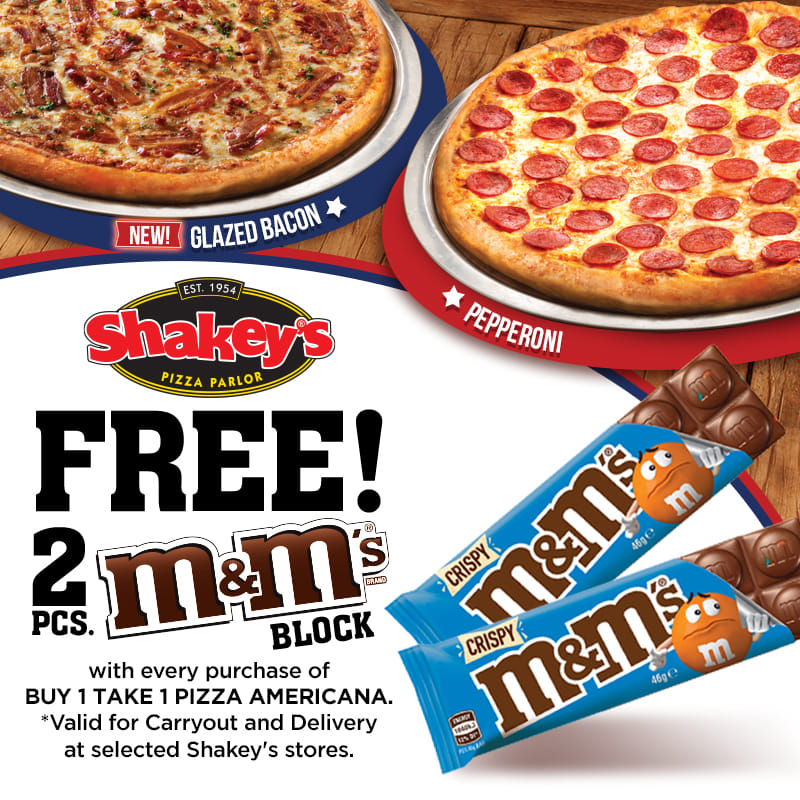 Avail Shakey's Buy 1, Take 1 deal on Pizza Americana (Pepperoni and Glazed Bacon) and get 2 packs of M&M's Milk Chocolate Block.
Shakey's Home Bonding Promo for only P999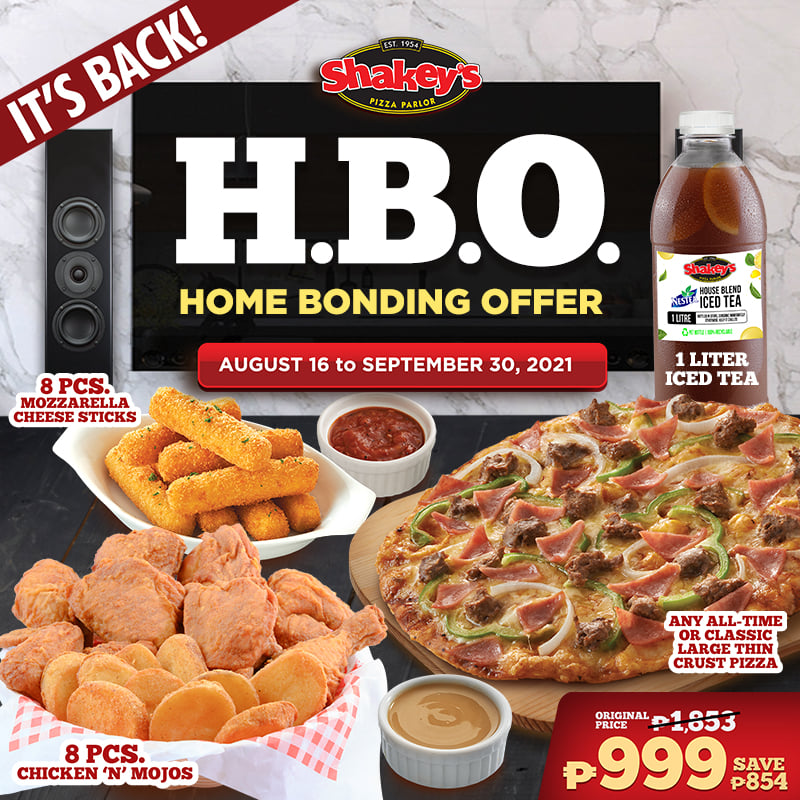 Treat your family to a large thin crust pizza (Classic or All-Time Favorite flavors), 8 pieces Chicken 'N' Mojos, 8 pieces Mozzarella Cheese Sticks, and 1 liter of House Blend Iced Tea from Shakey's and save P854!
You may opt for an upgrade to hand-tossed crust (add P50) or hand-tossed and premium flavor (add P150).
Supercard holders also get additional 46% off on add-ons when purchasing HBO Promo Bundle.
Pancake House 2 Tacos for only P143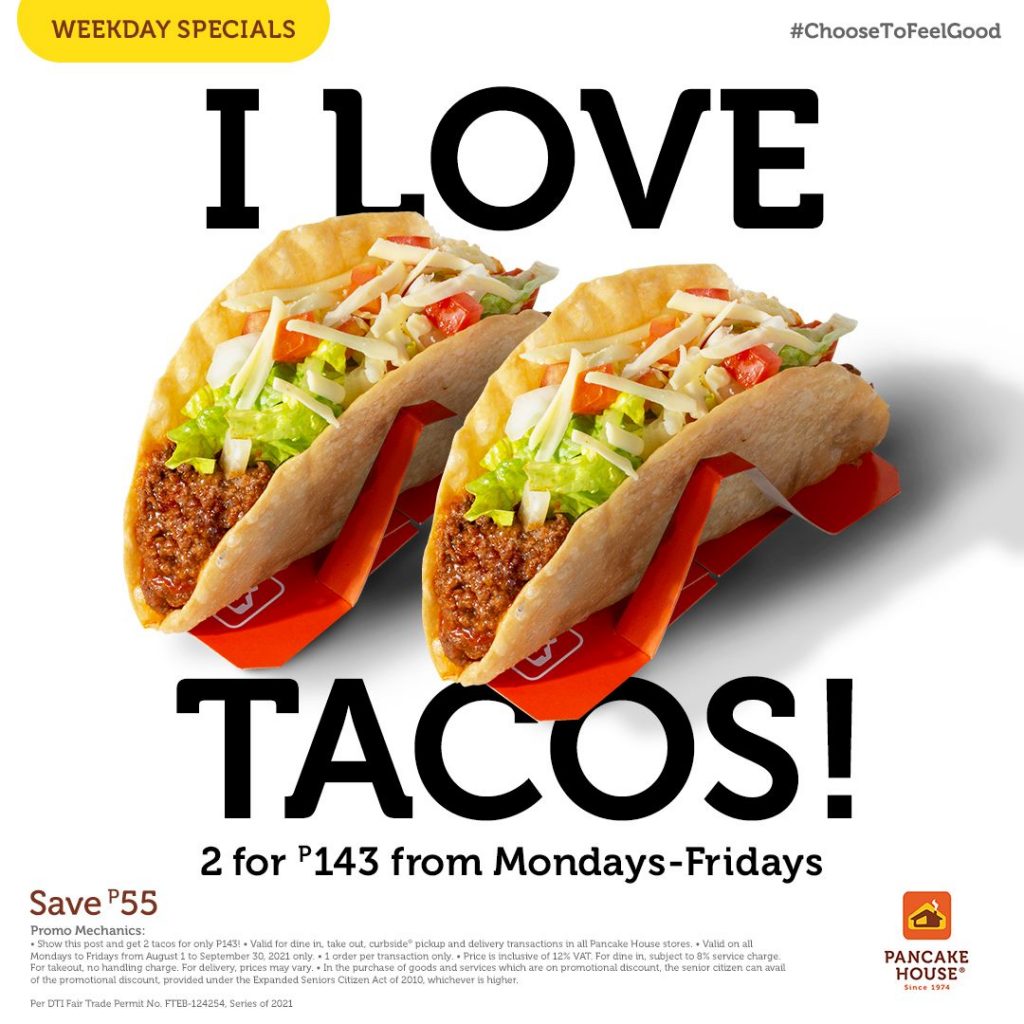 Enjoy 2 Pancake House's tacos (originally priced at P120 per piece) or share one with a friend and save P97!
Only 1 order per transaction is allowed.
Jamba Juice 4 Smoothies for only P550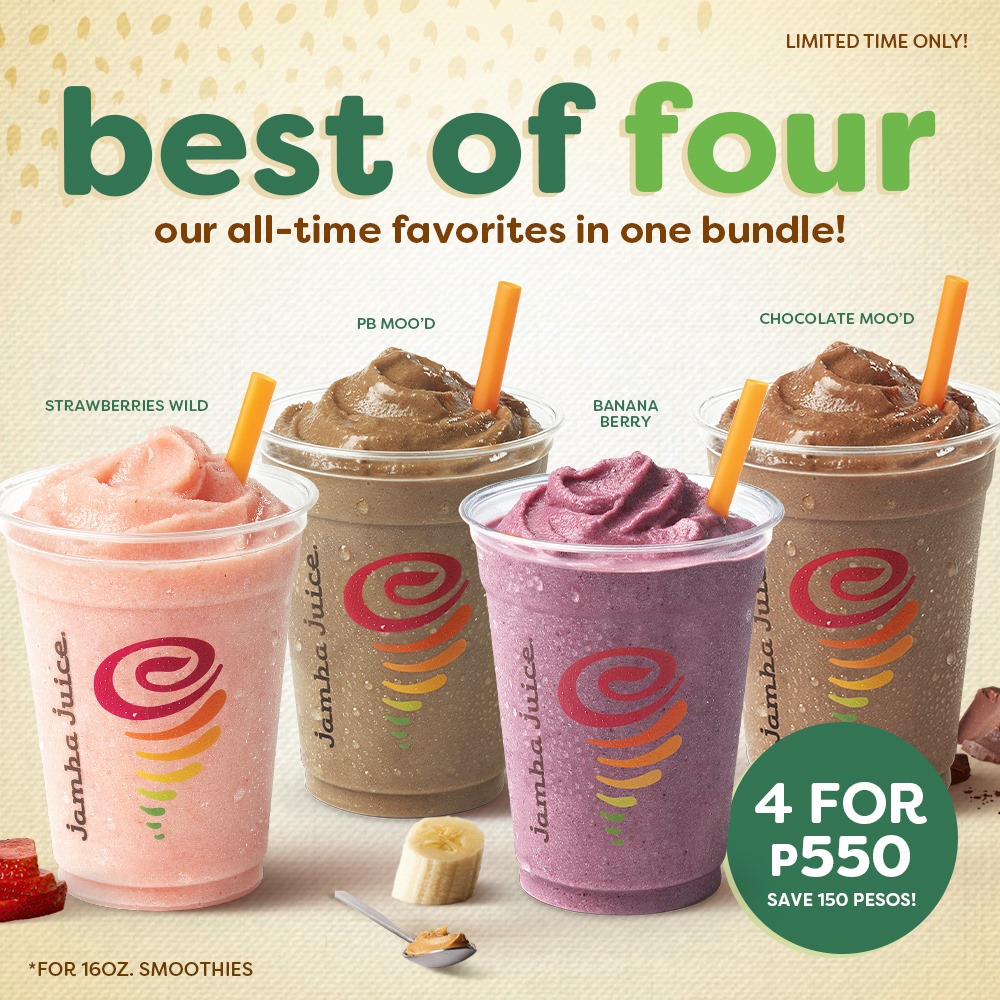 Enjoy four 16 oz pre-allotted smoothie flavors from Jamba Juice – Banana Berry, Strawberries Wild, Chocolate Moo'd, and Peanut Butter Moo'd – and pay only P550.
Auntie Anne's Buy 1 Take 1 on Weekday Deliveries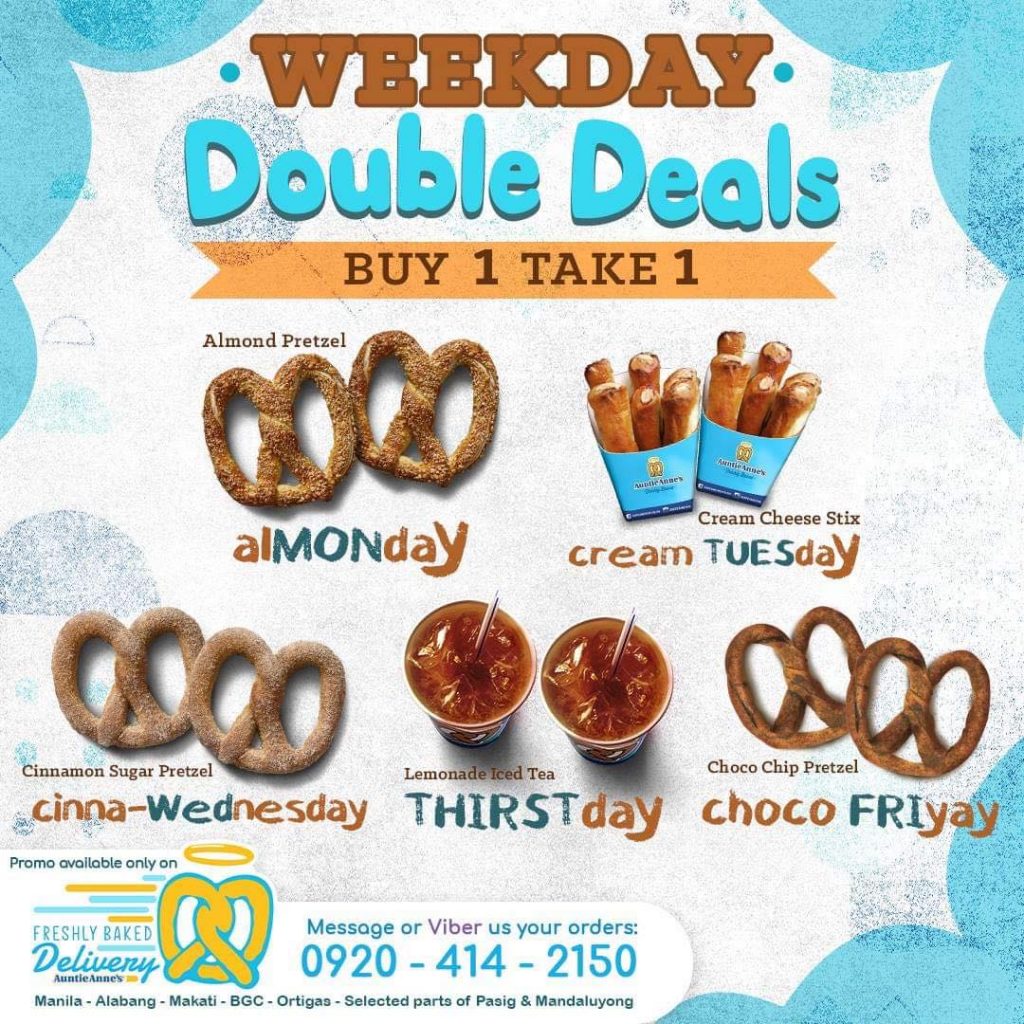 Order 1 featured food or beverage of the day from Auntie Anne's via delivery and get another 1 for free from Monday to Friday:
Monday: Almond Pretzel
Tuesday: Cream Cheese Stix
Wednesday: Cinnamon Sugar Pretzel
Thursday: Lemonade Iced Tea
Friday: Choco Chip Pretzel
Chowking Chow for 2 Extended Promo for only P275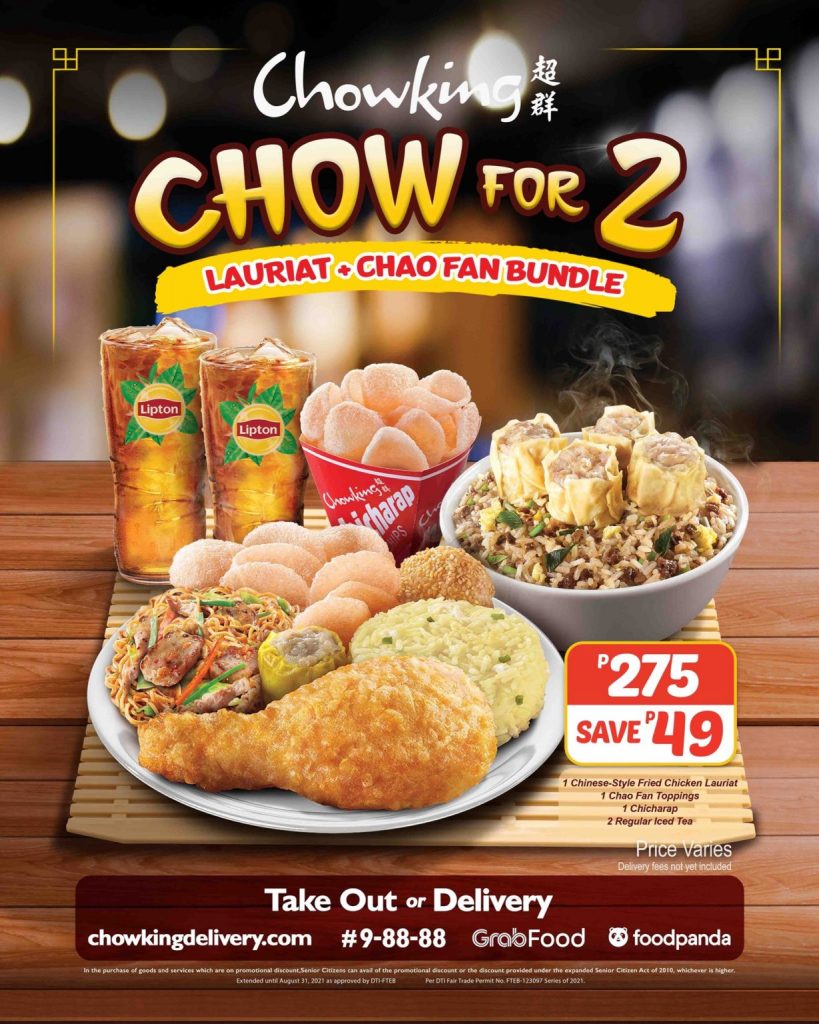 Save P49 when you buy Chowking's Chow for 2 bundle, which includes 1 piece Chinese-Style Fried Chicken Lauriat, 1 Pork Chao Fan Toppings, 1 Chicharap, and 2 regular iced tea.
Peri-Peri FREE SuperCard Classic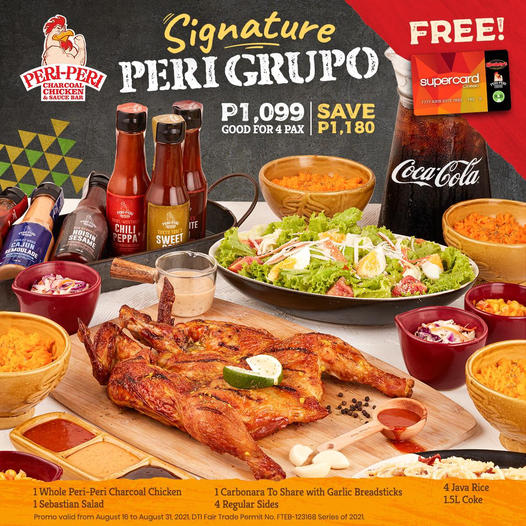 Buy a Signature Peri Grupo and get a SuperCard Classic (worth P599) for free!
Tapa King Up to 20% Off on Meals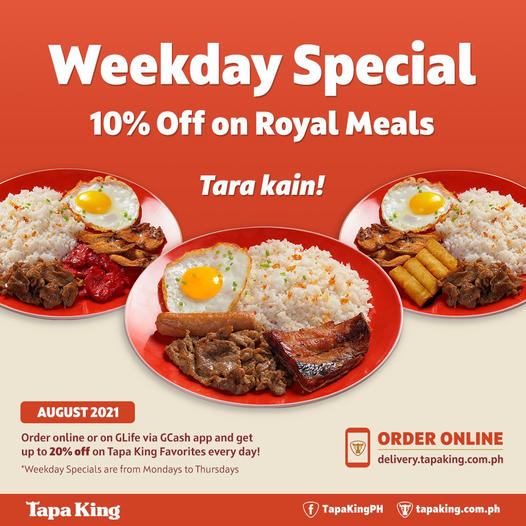 Enjoy amazing deals on Tapa King's sumptuous meals. Get a 10% discount on Tapa King's Royal Meals when you order them from Monday to Thursdays, and 20% off on Good Morning Bowls from Fridays to Sundays.
Available every day of the week are Tapa King's Daily Deals, which let you enjoy a 10% discount on selected items from 1 pm to 7 pm.
Footwear & Sportswear
Toby's Sports Anniversary Sale – Up to 70% Off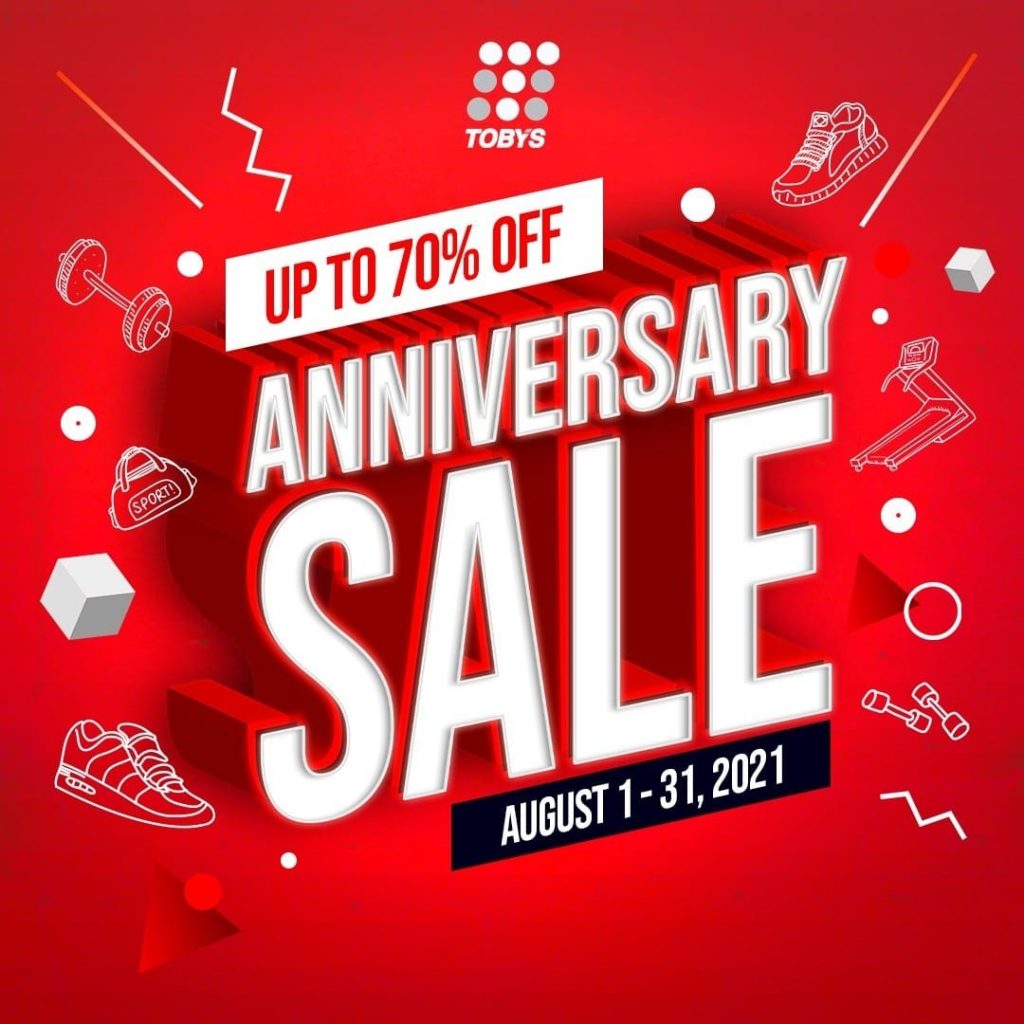 Grab your favorite sports and fitness gear from Toby's Sports the entire month of August as they celebrate their 43rd year and get up to 70% off! Plus, customers from Metro Manila and select locations in Rizal, Cavite, Laguna, and Bulacan also enjoy free delivery with P3,500 minimum worth of purchases.
Capital PH 30% Off on Footwear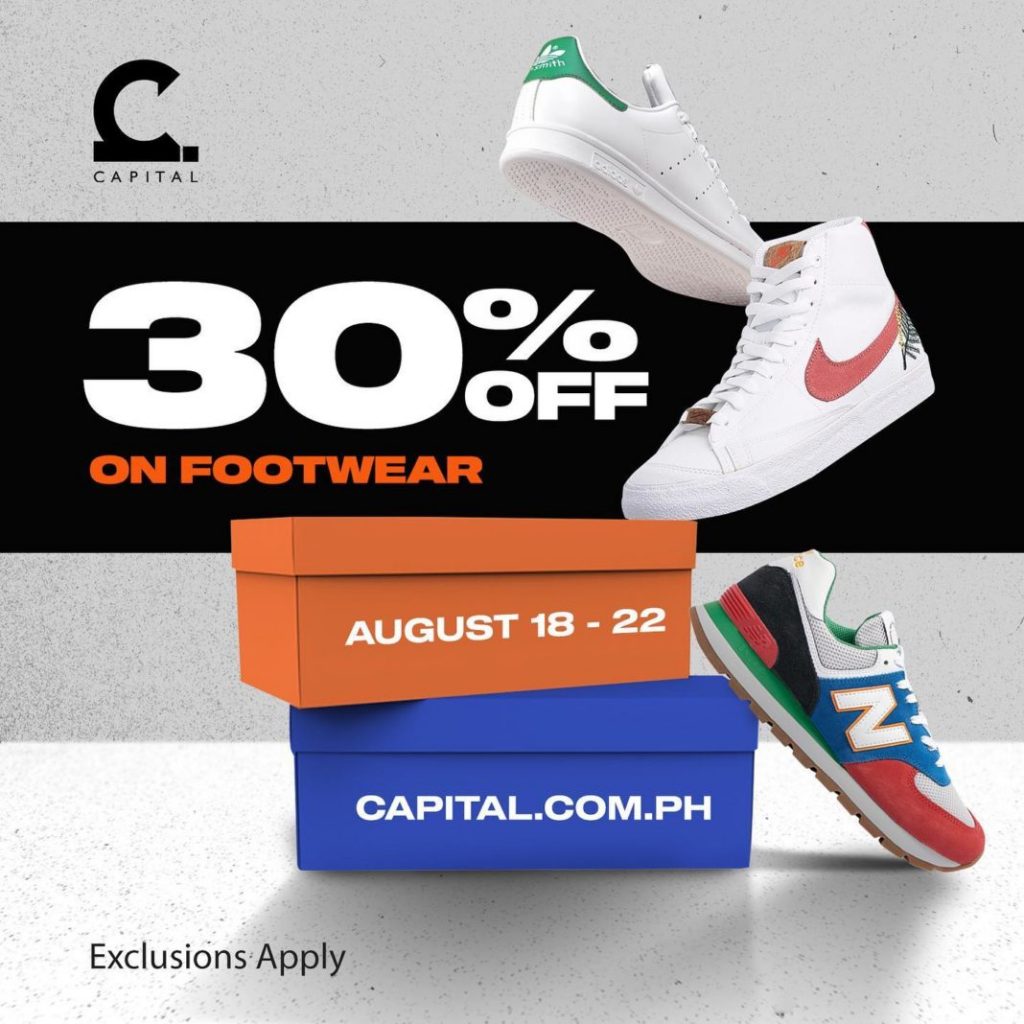 Score a pair of shoes at Capital PH at 30% off, plus free shipping!
Household
Mia Maison Fiesta de Maison Promo – 20% Off on Products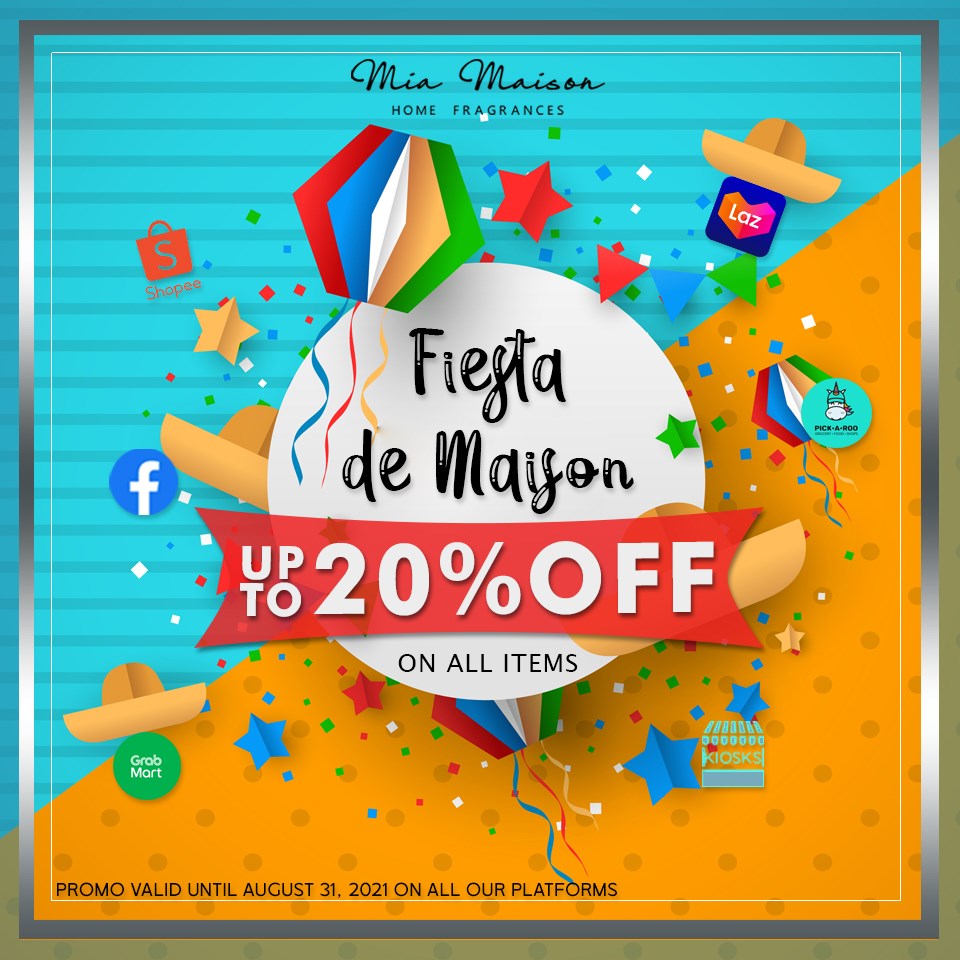 Leave your house smelling fresh and clean with Mia Maison Home Fragrances while enjoying 20% off on purchases! Items include aromatherapy/water-based oils, room/ aerosprays, soy candles, reed diffusers, and diffuser refills.
BLIMS 50% Off Anniversary Treat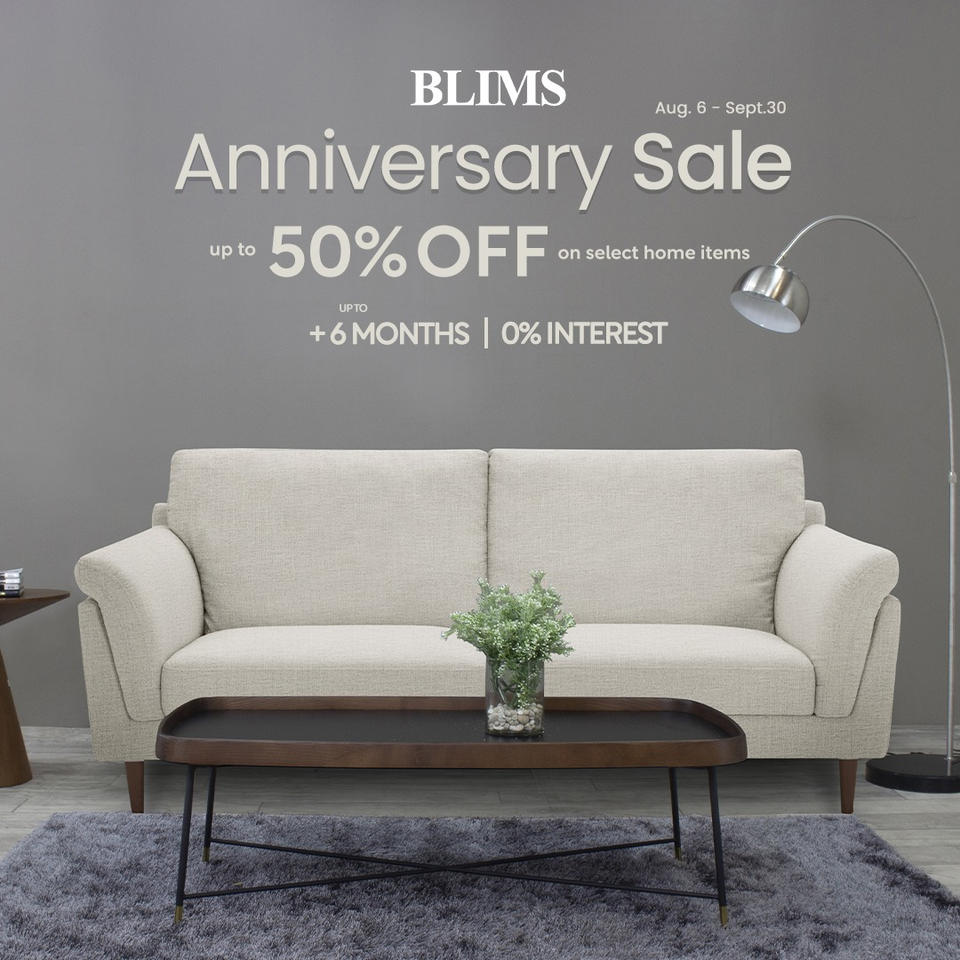 BLIMS is celebrating its anniversary this August with a 50% discount on select home essentials and furniture from August to September!
Those who purchase through personal in-store visit may also avail 0% interest on 6-month installment using major credit cards. For online purchases, BDO credit card holders may avail 0% interest for 3 months.
Robinsons Savers Appliances' A Splash of Deals Sale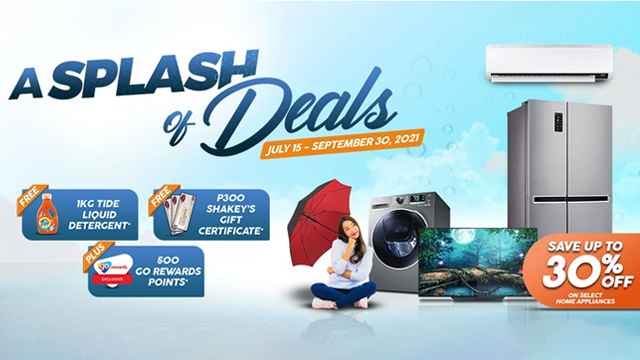 Get a kick off a load of freebies, rewards, and exclusive discounts when you purchase select items at Robinsons Savers Appliances! Aside from enjoying up to 33% off in discount, you also receive 500 Go Rewards points, 1 kilogram of Tide liquid detergent, and a P300 gift certificate from Shakey's.
Check out these appliances that are on sale during the sale period:

Samsung S-Inverter Split Type Aircon 1.0HP at 31% off
Regular price: P30,995
Promo price: P21,346
LG Energy Saving Window Type Aircon 1.5HP at 33% off
Regular price: P26,099
Promo price: P17,500
Eurotek 4-cubic feet Personal Refrigerator at 18% off
Regular price: P9,145
Promo price: P7,499
Samsung 50-inches Crystal UHD 4K Smart TV at 26% off
Regular price: P37,499
Promo price: P27,800
Electrolux 8KG Front Load Washing Machine at 29% off
Regular price: P34,995
Promo price: P24,696
Midea 6.5KG Front Load Dryer at 14% off
Regular price: P21,795
Promo price: P18,800
Shopwise Buy 1 Take 1 on Home Gallery Storage Box Promo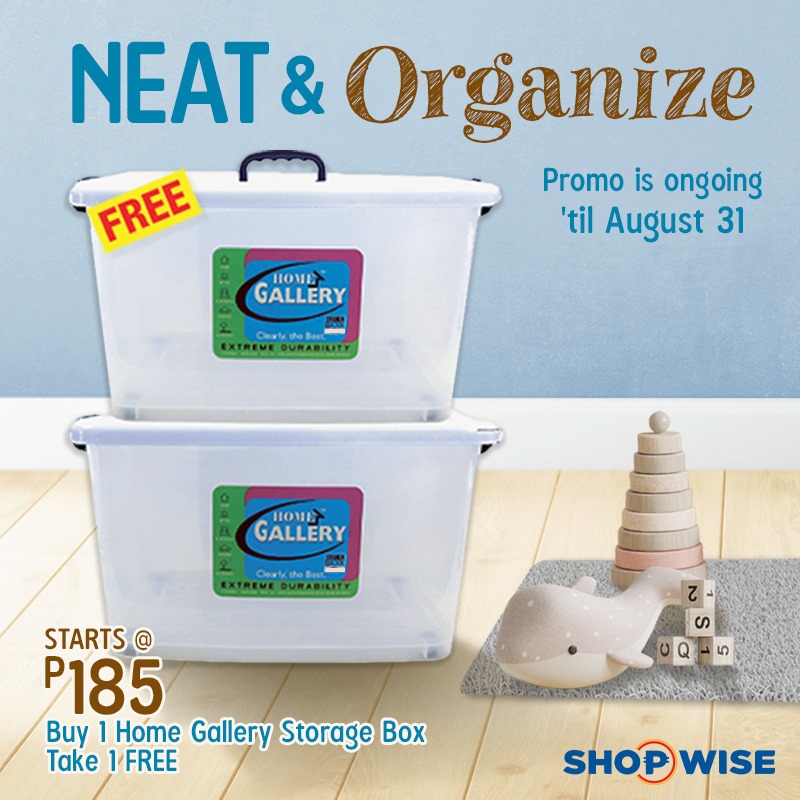 Buy 1 Home Gallery Storage Box at Shopwise and get another one for FREE!