A "knickerbocker" refers to a New Yorker or a pair of pants. You can also be pretty sure that most Filipinos haven't heard of the word at all. In Zamboanga City though, these dictionary definitions do not apply. As a matter of fact, people of all ages and sizes know this word very well – even though they're more likely not to know the actual meaning!
The reason for this is that the knickerbocker is a well-known staple in the locale, along with the likes of satti and curacha. The knickerbocker here refers to a dessert composed of flavored jellies, condensed milk, mango, and watermelon, topped by large scoops of Magnolia strawberry iced cream – altogether placed in a large pint.
The knickerbocker is extremely delicious and filling, without being too sweet for the palate. In addition, it does not have the watery taste and texture of shaved ice, which means that every bite that you eat melts in your mouth! Thus, it is not surprising wonder why it is a well-known dessert all over the Philippines. Many try to copy it, yet none comes close to the original!
Where to find it
You can find this take on the traditional halo-halo at Pinoy Patio, located in Paseo del Mar in Zamboanga City. It is a 15-minute walk from the City Hall and approximately 15 to 20 minutes by car from the airport. The Patio opens at around 5 in the afternoon. It is priced at P85, which is relatively cheap considering the amount of ingredients they are using in order to fill up that 16-ounce cup – you'll find that this cooler is full to the brim!
In addition, you can have this at Hacienda de Palmeras Hotel and Restaurant, located in Pasonanca Road, Sta.Maria, Zamboanga City, from 7 am to 10 pm. It is a very short drive from either the pueblo or from the airport. You'll find it hard to miss the large sign that says "Hacienda de Palmeras" outside.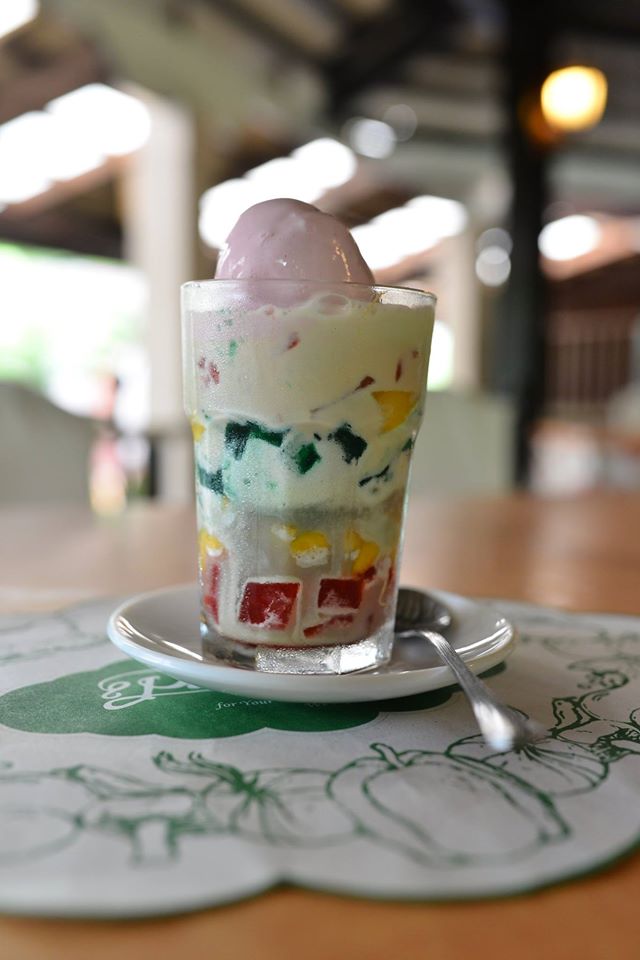 If you don't have time to go to those locations, you can find this luscious delicacy at Postre de Palmeras at the second floor of KCC Mall in Governor Camins Avenue, Zamboanga City, beside Dennis Coffee Garden. One can take a jeep from the city center or from the airport. Tell the driver to go to KCC Mall. Take note that the prices are a bit more expensive due to mall rent fees.
If you happen to come to Zamboanga City, you should try this! You'll never regret it.
The Essentials
Business name: Hacienda de Palmeras Hotel and Restaurant/Pinoy Patio
Address: Paseo del Mar, Valderoza Street, Zone IV, Zamboanga City, Zamboanga del Sur, Philippines 7000
Contact/ phone number: (062) 991 3284