Looking for a unique and magical staycation experience this Halloween season? It would be amazing to visit The Wizarding World of Harry Potter theme park in Universal Studios Japan. Unfortunately, the pandemic has made international travel just a dream for most Filipinos. So how about settling for an overnight staycation in a Harry Potter themed property right in Tagaytay instead?
Let your inner wizard or witch experience the magic of the Hogwarts in a tastefully decorated, fully renovated thematic suite of the Wizarding World of Harry Potter. Immerse yourself in a private sanctuary of spells, goblins and ghosts, by booking a stay in this unique property just a few hours away from Metro Manila.
Every corner of this suite has been designed to be Instagram-worthy, resembling a mini-museum of harry Potter movie memorabilia. The Hogwarts-style suite can comfortably sleep 6 people, making it ideal for families with kids or small groups of friends. It's a perfect getaway for hardcore Harry Potter fans!
The space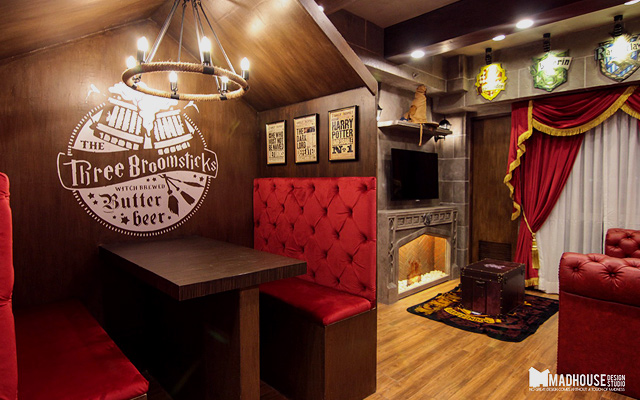 This Airbnb property hosted by Sky Suites PH is the first and only Wizarding World of Harry Potter-inspired themed suite of this quality. The owners, a family of avid travelers, have spent millions in renovations to create a fun and exciting atmosphere that makes the room part of the vacation, and not just a place to sleep.
The result is a truly unique experience you can't find anywhere else in the country. The whole space looks and feels like a set from a theme park café, but guests can actually stay there overnight and enjoy the place to themselves.
The Wizarding World of Harry Potter inspired themed suite is located within Tagaytay Prime Residences, a luxury condo property in the heart of Tagaytay. The unit is over 55 sqm, offering a comfortable size for small to medium sized groups of 5 to 6 guests.
Accommodations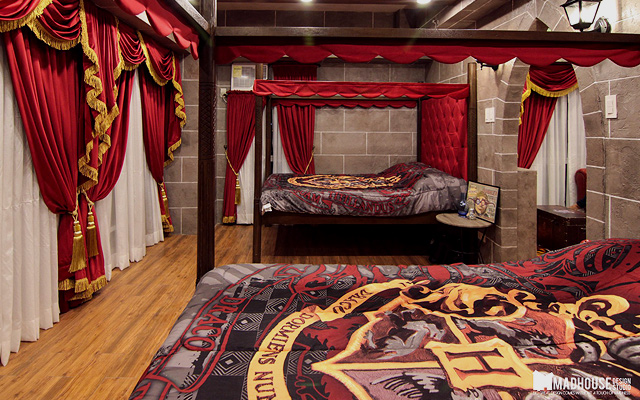 According to the hosts, the place has been professionally renovated by one of the country's top design and construction companies.
The suite contains 1 bedroom, 3 beds and 1 bath. The main bedroom has two big custom built beds, and 1 rollaway bed that can comfortably sleep 2 adults. The property also has a huge bathroom connected to the master's bedroom.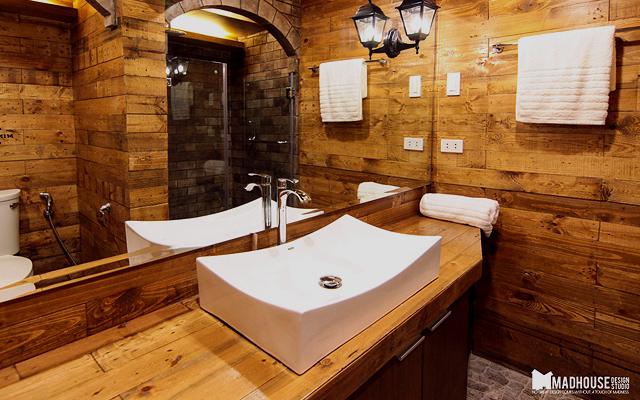 Every detail, from the bedspreads to the pillows, the red canopies and curtains and backgrounds are inspired by the Harry Potter's magical world. Decorative elements bearing the logos of the four houses: Gryffindor, Ravenclaw, Hufflepuff and Slytherin can be seen all around. Walls are adorned with framed educational decrees and wizarding proclamations. The entire minibar and kitchen area has even been converted into a Hogwarts Express style train!
The dining area is a quirky booth that makes guests look they're sitting in Three Broomsticks Tavern. Bring your own Butterbeer!
All the materials and merchandise inside the themed suite are all custom-made and authentic merchandise imported from Warner Brothers and Universal Studios. The owners personally purchased and designed everything that went into the units. One glass display shelf contains collectible memorabilia and merchandise, giving the place a mini-museum feel.
To ensure that guests pay the proper respect to items, hosts will collect a Security Deposit and guests may be charged up to ₱10,000 for any damage.
Amenities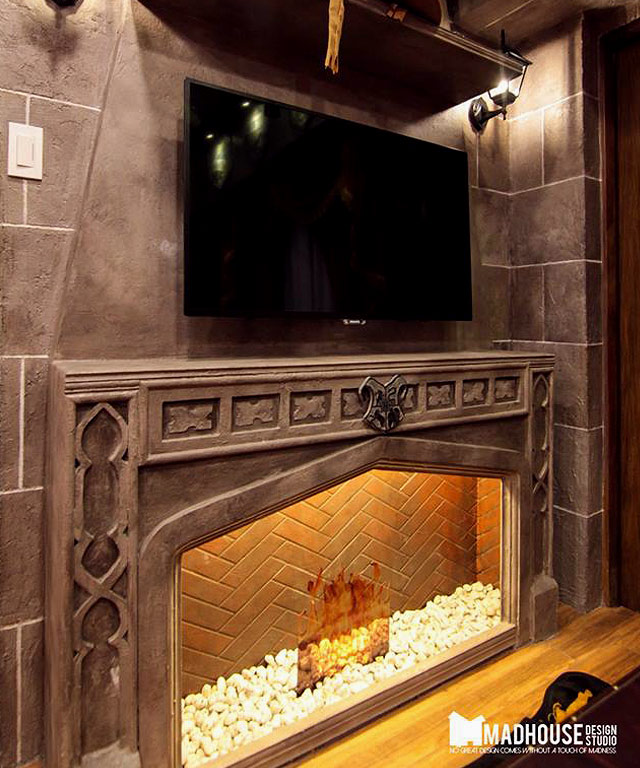 The unit comes with a fully functional kitchen with a microwave, stovetop, exhaust and fridge that guests are free to use. Plates, Glasses, and utensils are all provided for use, provided that the food cooked will have not have a strong and offensive aroma that may linger.
The hosts provide a total of 6 high quality pillows, bed sheets and comforters along with towels in the bathrooms good for 4-6 guests respectively.
For long staying guests of 3 or more days, they can provide a fresh batch of linens upon request. They also provide tissue, body wash, shampoo, and hand soap to guests on extended stays.
Free WIFI is available, which powers the 43" Smart TV with Netflix, Iflix or app of choice. The Harry Potter movies are already loaded on the TV, perfect for those movie marathons.
Other amenities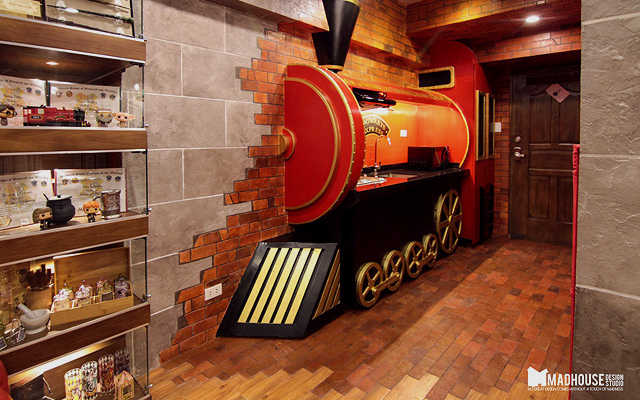 As an add-on, the hosts can arrange for Birthday, Balloon and Anniversary Set Up with prior notice and for an additional fee.
The property's building has a swimming pool on the ground floor, normally open for guests from 6 am to 10 pm (closed on Mondays and Thursdays). Tagaytay Prime Residences also has a roof deck on the 24th floor where guests can get a panoramic view of Taal Lake.
Popular Tagaytay tourism spots are easily accessible from the property about 5 to 10 minutes by car, include Sky Ranch, Paradizoo, Picnic Grove and People's Park in the Sky.
Safety and sanitation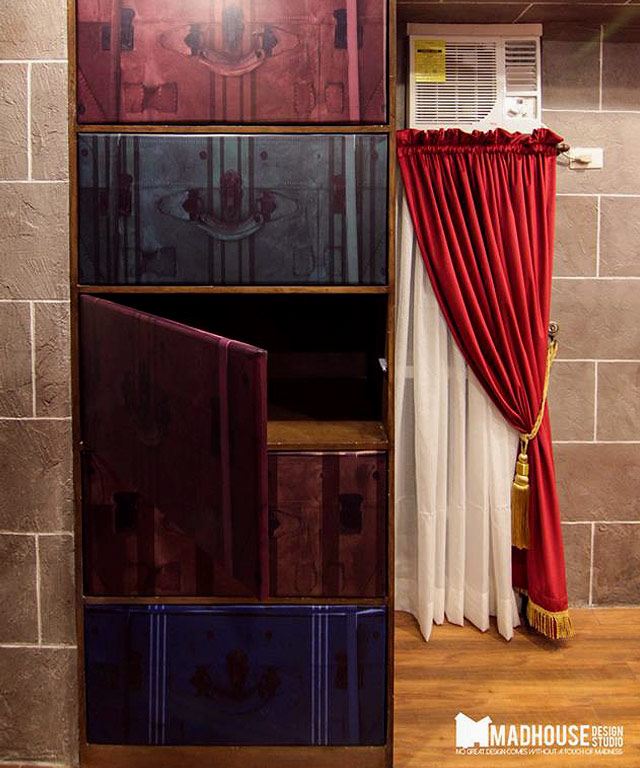 Recent guests have praised the place for its unique and wonderful decorations and complimented the host on their outstanding hospitality. In terms of cleanliness, the place is described as "spick and span."
The property managers assure that they steam vacuum/clean and do daily cleaning and washing to ensure that the place is always spotless. They perform regular insect, flea and tick bomb spray to ensure bacteria and all forms of germs and pests are neutralized and killed for our guests.
Additional Covid-19 guidelines on bookings and new policies may apply.
The Essentials:
Business name: A Magical World of Wizards & Witches in Tagaytay
Address: Tagaytay Prime Residences, Tagaytay, Philippines