Most museums in Metro Manila may be closed for now, but thankfully there are places where people can still go to admire art for free. Art can be found everywhere. Colorful murals on buildings and street art along walls and walkways add a touch of color to otherwise concrete jungle of buildings and commercial establishments.
If you just need a change of scenery, how about spending an hour or two on a leisurely stroll, jog, or bike ride around street art hubs to brighten up your day? Here are some places where you appreciate art for free in Metro Manila.
Bonifacio Global City, Taguig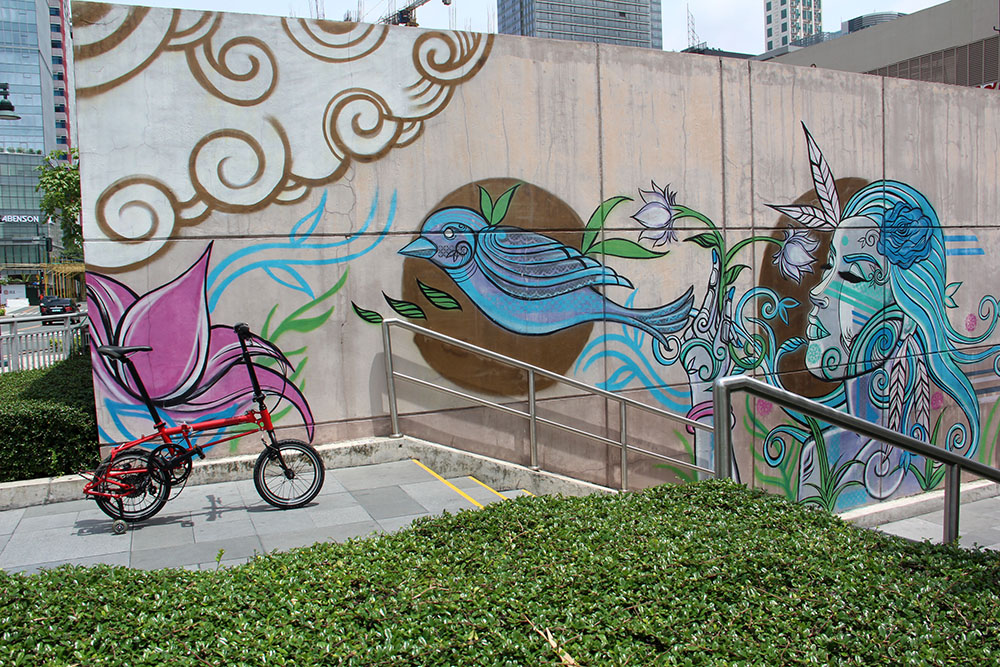 Those who live and work in the BGC area are very familiar with the larger-than-life murals painted by international and local artists adorning the buildings and parking lots in this district. For Instagrammers, hunting down every artwork can be a fun adventure and photo walk tour.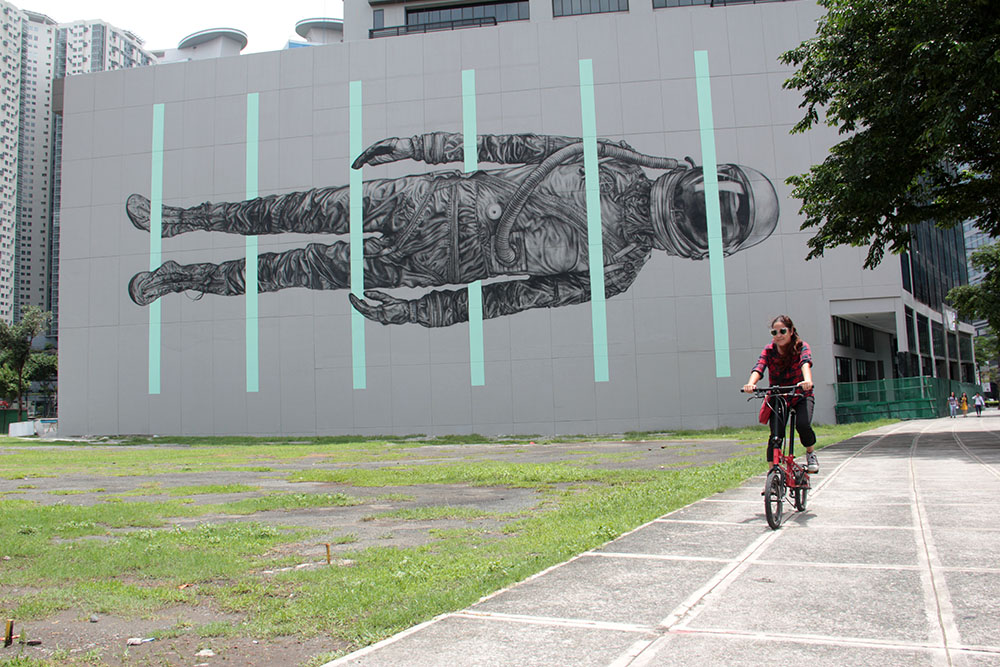 The largest piece artwork here is the ASEAN-ROK Collaborative painting by different artists at the corner of One Global Place on the 26th Street corner 5th Ave. Look out for Cyrcle's "Between the Lines" which features a gigantic astronaut floating sideways and Dee Jae Pa'este distinctive nature-inspired designs. Other notable pieces in BGC include "Manpower" by Kris Abrigo, "Magsasaka" by Archie Oclos and Aleili Ariola, and "Calamansi and Sampaguita" by Francisco Diaz. For a complete location map and list, check out this post.
Intramuros/ Escolta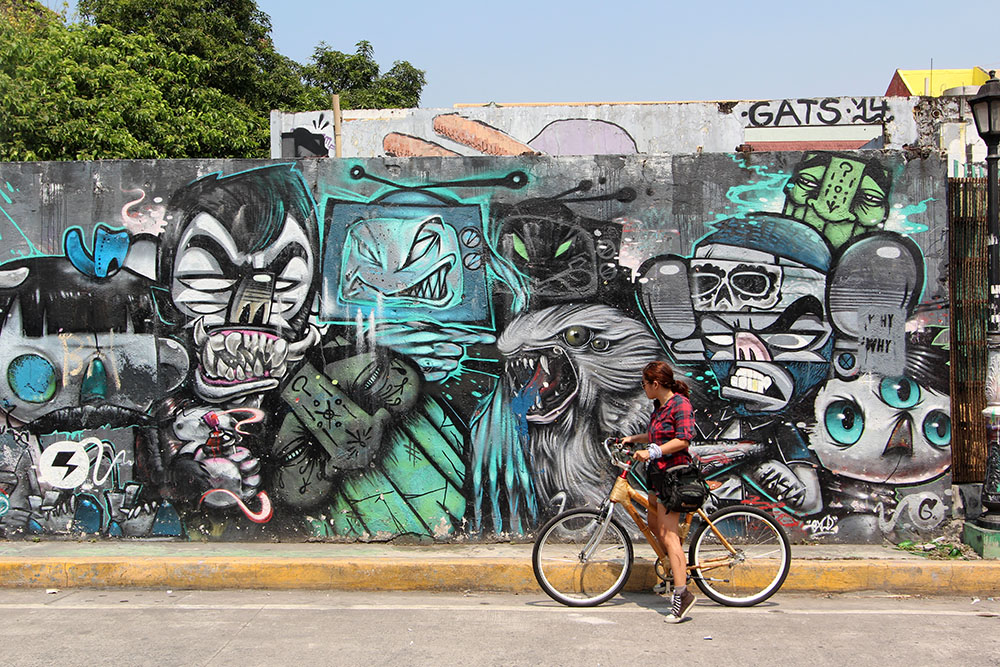 The historic Intramuros may be known more for its architectural landmarks and churches dating back to the Spanish rule. But if you walk around the side streets, you may just come across walls spray painted with modern street art right along the cobblestone streets. Anda Street is a good place to spot some good artwork including a large mural of "Ang Bakunawa at Minokawa" by art collective Ang Gerilya, which features two dragon-like creatures in ancient Filipino mythology.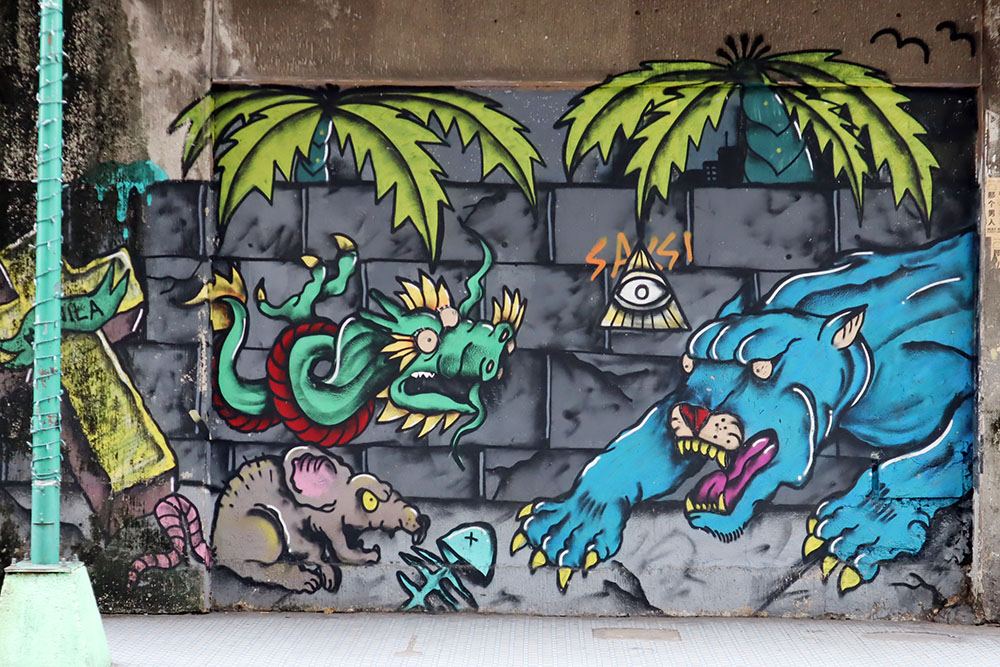 If you happen to already be in Manila, another great place for street art nearby is Escolta in the old downtown district of Binodndo. Considered one of the oldest and most historic streets in Manila, visitors can also find vibrant and modern street art in the alleys between the architectural gems in the neighborhood.
UP Diliman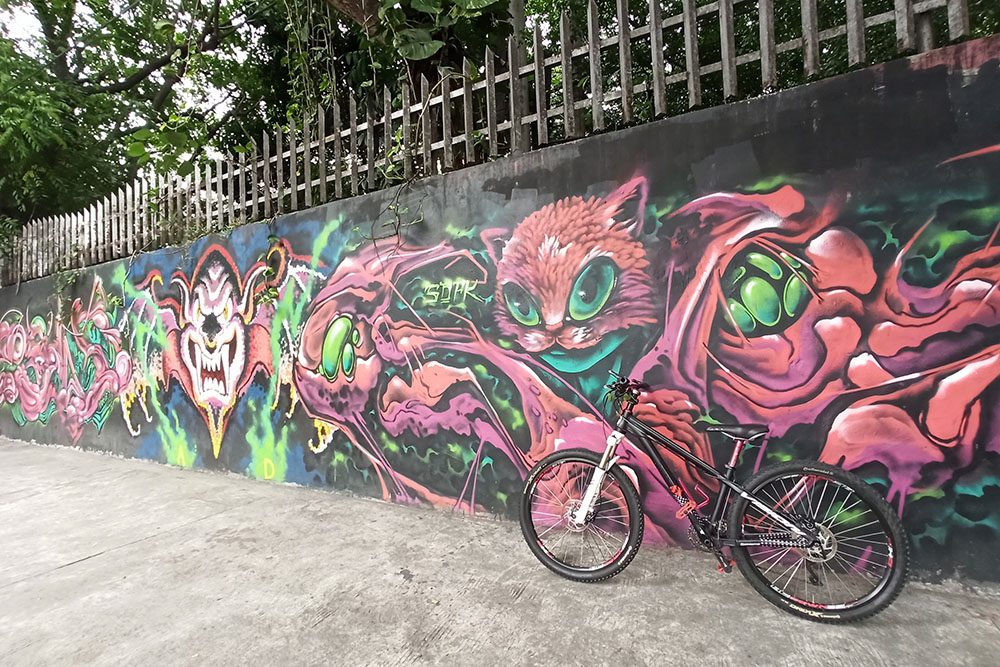 For those based in Quezon City, the University of the Philippines Diliman campus is a great place to appreciate nature and public art for free. While biking or jogging around, you can easily spot socially relevant, historical and political art pieces around the street and state university. particularly near the College of Fine Arts.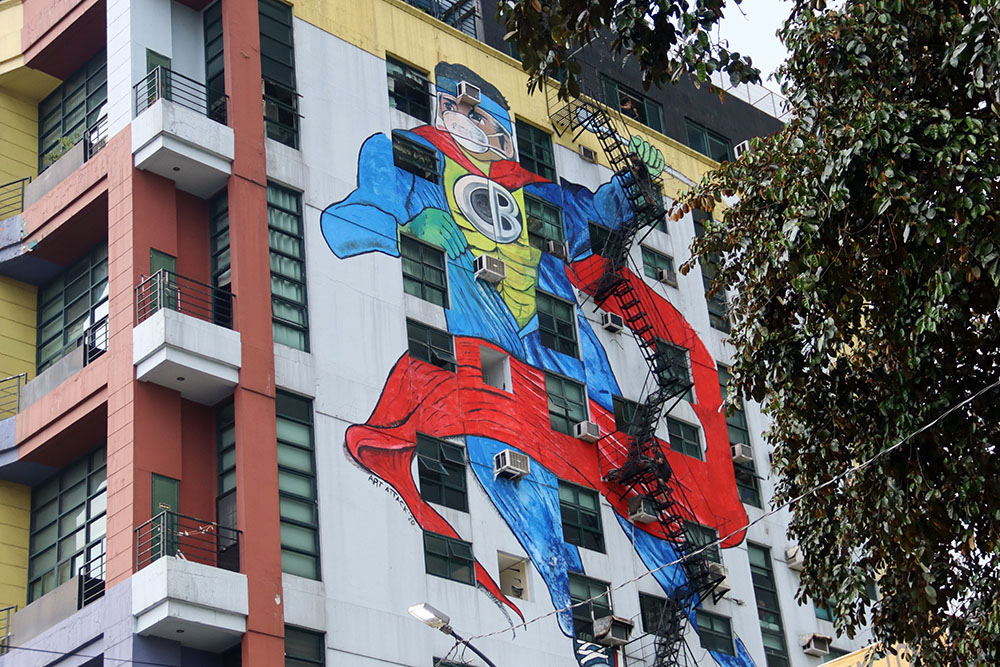 Street art and graffiti by various artists can also be spotted along the long stretch of the campus wall along Katipunan Avenue facing UP Town Center. Nearby Maginhawa and side-streets also sport notable street art on residential buildings, food parks and random walls including Filipino superheroes Darna and Captain Barbell depicted as COVID frontliners by mural artist AG Sano and the Art Attack group.
Marikina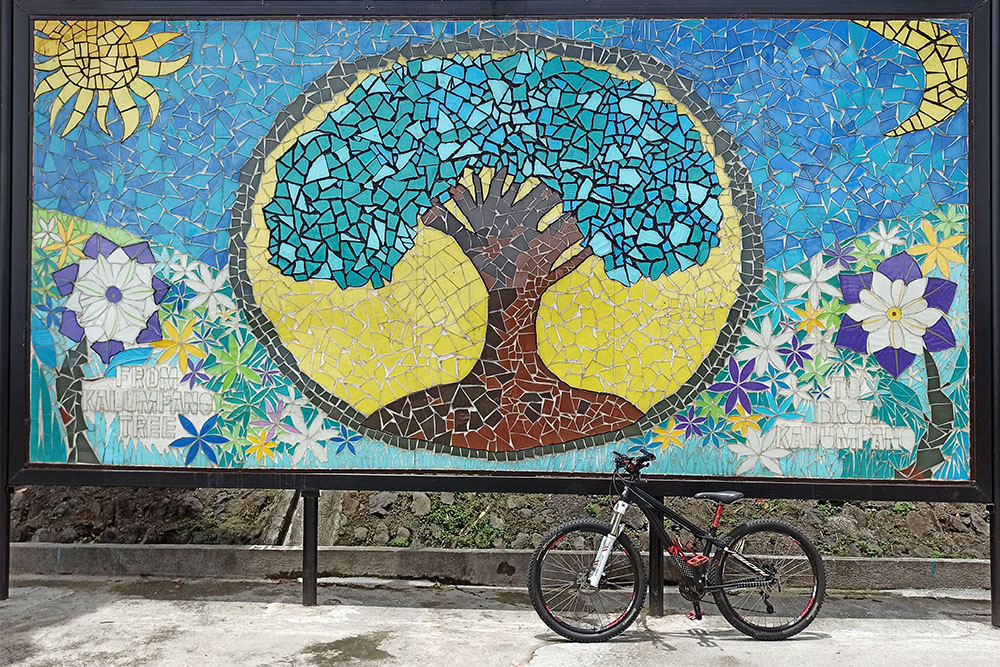 Marikina has its share of colorful street art decorating random walls and old structures around the city. Goodfriend Bridge, the long wall stretching off Mayor Gil Fernando Avenue in Marikina that leads to a dead end, has become sort of a freedom wall for various street artists and graffiti collectives.
The Marikina River Walk also features a collection of 16 nature-inspired mosaic murals made of glass tiles, bottle caps, stones, plastic bottles, foam bits, slippers, plastic clothespins and more.
The new artwork was made by different barangays from Marikina and put on display just last December 2019 as a way to turn trash into art.
Eastwood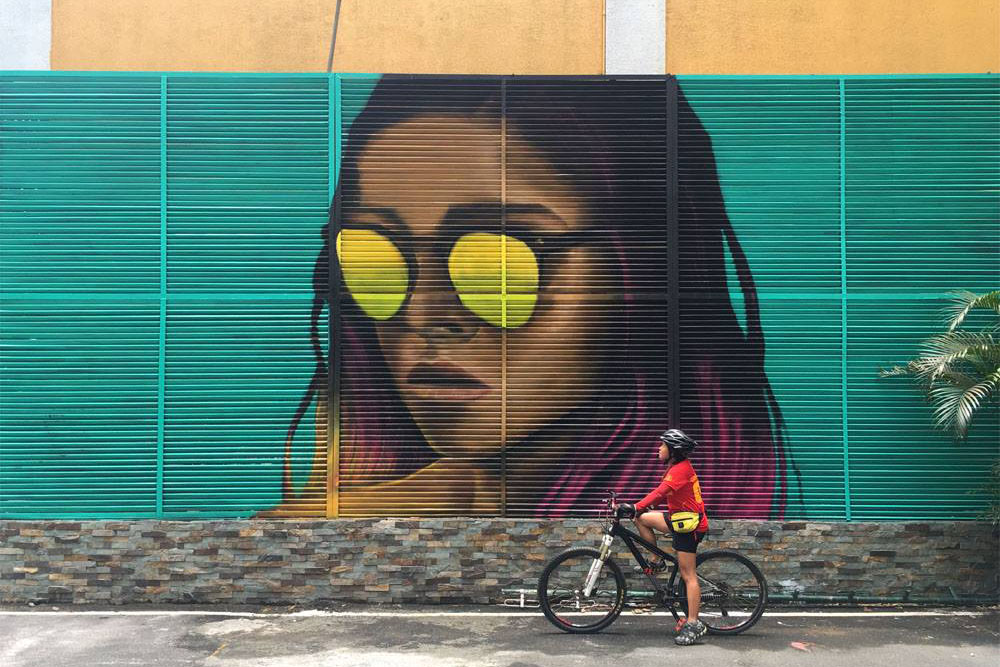 Eastwood City in Libis, Quezon City is a fast growing residential-and-commercial area in the metro where you can spot some cool artwork adorning vents, building gates and carpark walls. The vibrant murals by Kookoo Ramos manage to infuse a hip and colorful vibe to the commercial buildings. You can also spot some smaller splashes of color and doodles on industrial fixtures we usually take for granted like garbage bins and power generators.
Street art is very fleeting, so don't be surprised if you can't find a particular art piece where it once was. But hopefully, this list will give you an idea of where to go to appreciate art for free.