La Trinidad in Benguet is home to the famous Strawberry Farm, one of the top tourist destinations in the Philippines. Every year, thousands of tourists visit these farms to pick fresh and sweet strawberries. But hidden in La Trinidad's mountainous terrain are natural wonders awaiting eager explorers.
Make time for both the fam tour and exploring the following off-beaten destinations. You can visit most or all of these in two days or less.
1. Binanga Falls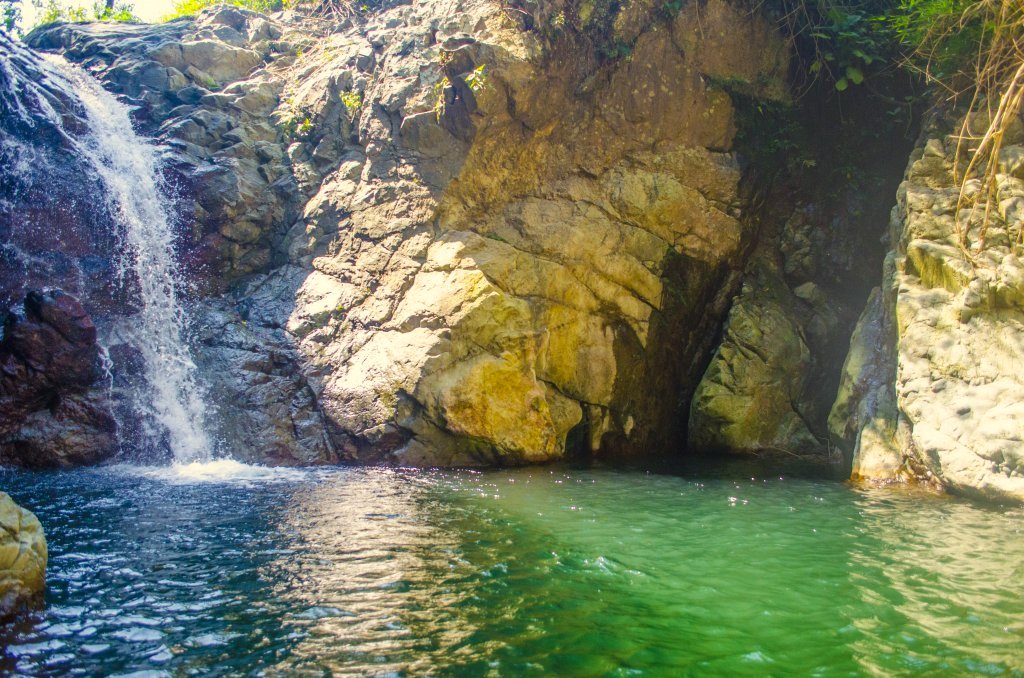 Binanga Falls cascade down on a circular and deep pool that reflects the color of the surrounding forests.
Tucked in a forested landscape, Binanga Falls is an emerging destination that's ideal for avid adventurers. It cascades to a deep pool surrounded by beautiful rock formations. These rocks serve as staging points for diving. The water is crystal clear and icy cold, making it a perfect respite during the summer months. To reach it, one has to hike down a mountain slope for 15 minutes. Be ready to get dusty, and in the end, brace yourself for a magnificent beauty.
Location: Brgy. Shilan, La Trinidad
Trekking time: 15 minutes
2. Mt. Kalugong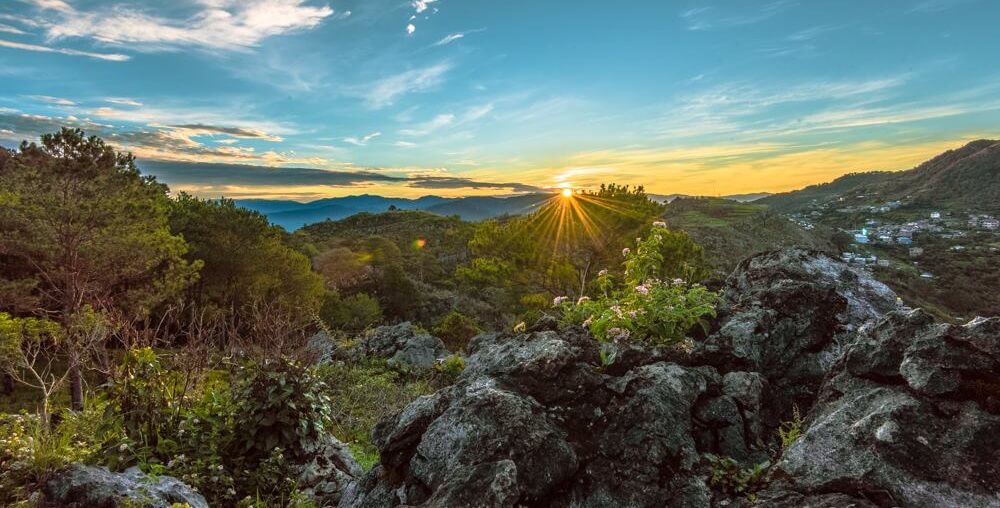 Mt. Kalugong lies only about half an hour from Baguio City. It offers breathtaking views of both sunrise and sunset.
Mt. Kalugong is one of the favorite hiking destinations of locals in La Trinidad. Its name, Kalugong (which translates to "hat" in the vernacular), comes from the hat-shaped rock formation at the summit. To reach the summit, one just has to hike a straightforward, paved road for 20 minutes to an hour, depending on your pace.
At the top, expect to see lush pine forests, with man-made swings and hammocks. Get to the edge of the mountain and you'll find stunning limestone rock formations. From here, you can also catch a bird's eye view of La Trinidad Valley and neighboring Baguio City. There is also a popular café serving authentic brewed coffee such as Arabica.
Location: Brgy. Cruz, La Trinidad
Trekking time: 15-20 minutes
3. Payogpog Falls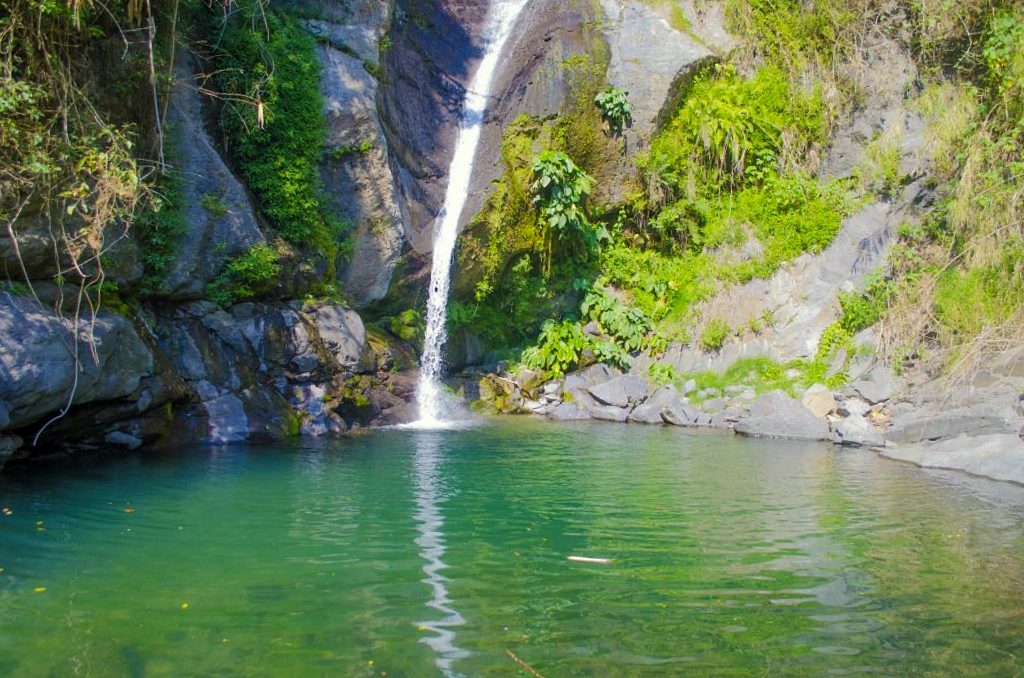 Payogpog Falls lies on a remote spot of La Trinidad, making it the ideal rustic escape.
Payogpog lies on the same river feeding Binanga Falls. It takes an extra dose of stamina to reach it, with the hike taking 30 minutes or more. One would have to tread steep slopes, vegetable gardens, and dense vegetation before finally seeing the waterfall. Payogpog Falls measures around 30 feet high, with a naturally built basin and pristine waters. Jump from one of the rocks into the pool and experience a soothing swim. Butterflies and different kinds of birds also hover around.
Location: Brgy. Shilan, La Trinidad
Trekking time: 30 minutes – 1 hour
4. Mt. Costa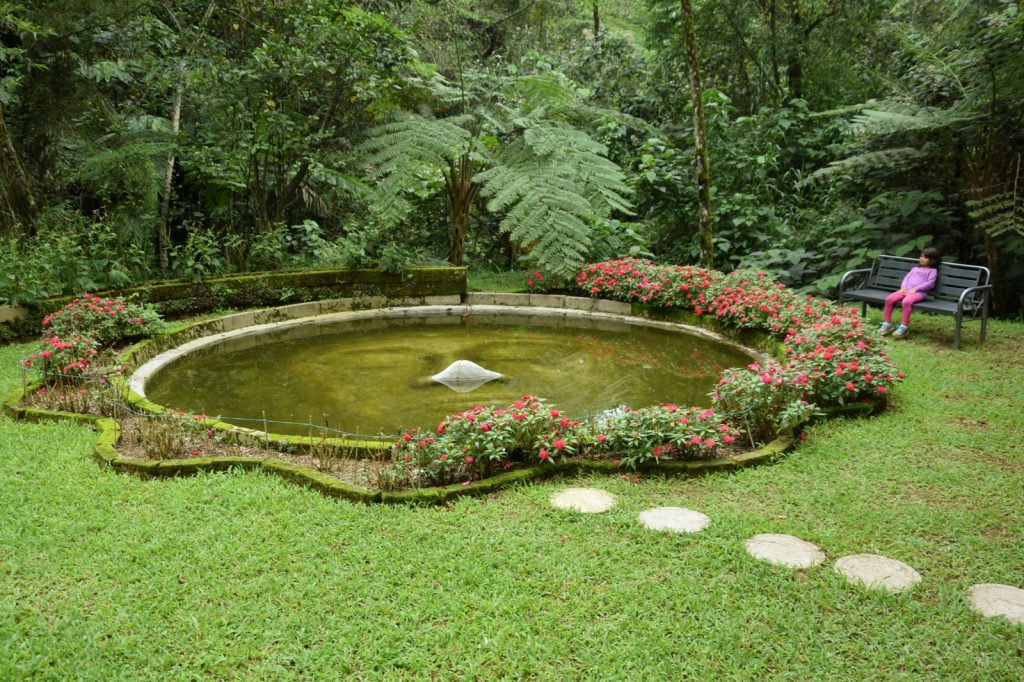 Mt. Costa is a newly established tourist destination in La Trinidad that boasts colorful gardens and lush forests.
How would you feel when standing on a lush park with mirrors all around? That's something you'll know when visiting Mt. Costa. It features various gardens inspired by popular ones around the globe. Stroll around the fairy tale-like garden, marvel at local flora, and gaze at life-size mirrors. Mt. Costa is just along a local highway, with public vehicles regularly passing by.
Location: Brgy. Puguis, La Trinidad
Trekking time: 30 minutes (around the entire place)
5. Tinedkaw Cave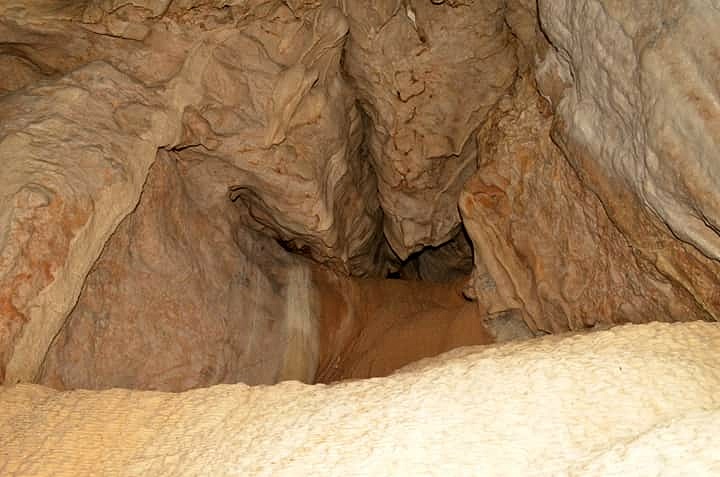 Tinedkaw Cave features amazing stalactite and stalagmite rock formations which make for a memorable spelunking experience.
Level up your experience in La Trinidad by spelunking in Tinedkaw Cave. Recently discovered by bat hunters, it lies on the slope of Mt Yangbew. To get inside the cave, one has to literally squeeze himself into a narrow hole. It's a challenging descent before reaching the main chamber. Here, visitors will find alluring stalactite and stalagmite rock formations. There are also glistening pools with clear waters and sparkling crystals. Bats also inhabit the cave.
Location: Brgy. Tawang, La Trinidad
Trekking time: 15-20 minutes
How to Get to La Trinidad, Benguet
Manila to Baguio. From Metro Manila, ride either a Victory Liner or North Genesis bus bound to Baguio. There are hourly departures and the trip can take five to six hours. Regular fare is Php 497 per person. Both bus companies have stations in Pasay City and Cubao (along EDSA) in Quezon City.
Baguio to La Trinidad. From Baguio City, ride a jeep bound to La Trinidad. There are multiple stations in the city such as Rizal Park near Burnham, Magsaysay Terminal, and Dangwa Station. Fare is Php 12 per person. It's best to proceed straight to the Municipal Tourism Office to ask for recommendations. Tell the driver to drop you off at the Municipal Building.