The provinces of Cavite, Laguna, Batangas, Rizal, and Quezon, collectively known as CALABARZON or Region IV-A, has forever been a favorite respite for city dwellers looking for a quick escape from the hustle and bustle of the Metro. Close enough for a road trip but far enough to see scenic landscapes, from mountains to beaches, to lakes, CALABARZON makes for an adventure-filled getaway that satiates both the eyes and soul.
Break the monotony of the quarantine with these family-friendly airbnbs in the region!
Cavite: 30 Nautilus Lane @ Ocean Villas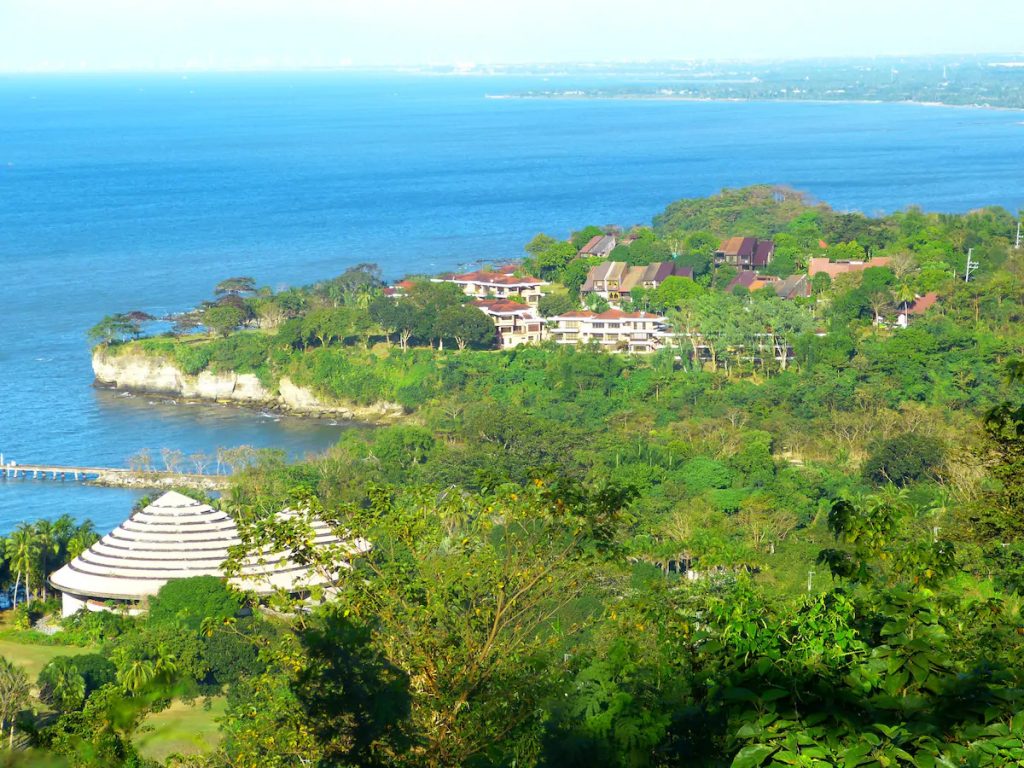 This serene seaside villa lies within one of the coves of Puerto Azul Golf and Country Club, surrounded by several islands in the Bataan Peninsula. The rooms open to a spacious front lawn, which can be maximized for barbecue nights (grilling area is provided) or for camping with the kids. The little ones can also make use of the club's playground.
There are several pathways that lead to serene pockets of beaches. Enjoy sunsets at the viewpoints or at the balcony while enjoying fresh sea breeze, a stunning view of EL Fraile Island and Corregidor Island, and the company of several endemic birds including the Luzon hornbill and Philippine Oriole. You might even spot a monkey or two!
Beach cottages are available for those who fancy swimming on site, but those who wish to venture farther may arrange boat trips to Patungan Beach.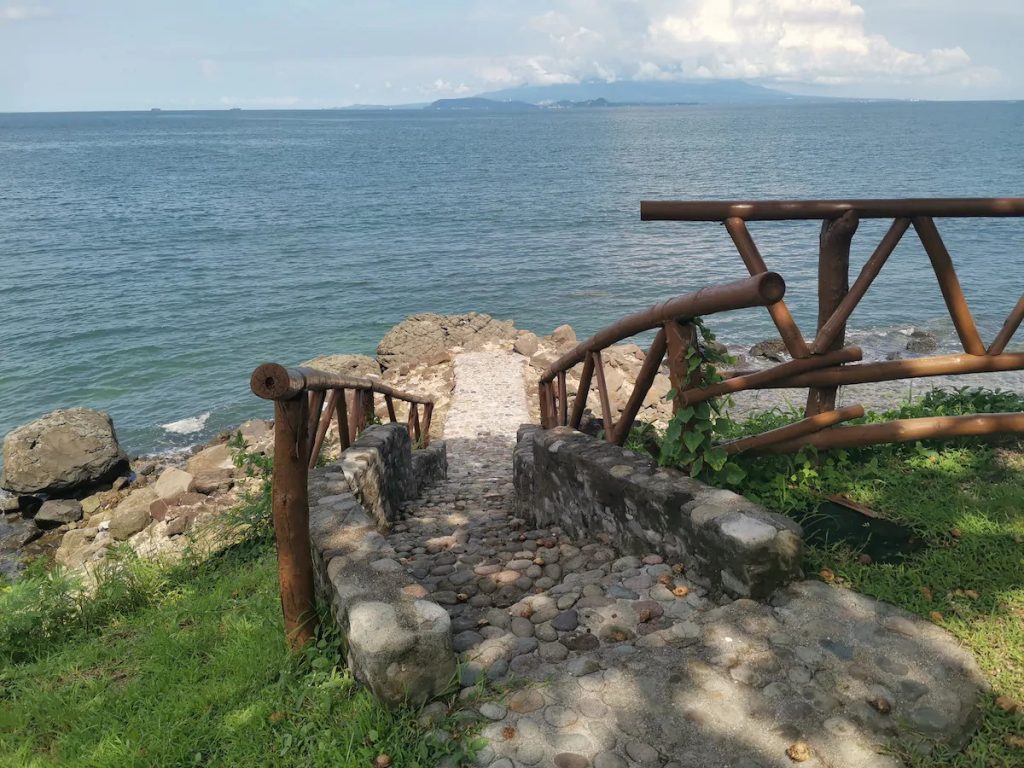 Amenities:
Air conditioning and fans for each room
Kitchen and dining facilities including dinnerware and kitchenware, 2-burner stove and induction devices, water dispenser, rice cooker, and coffee and tea making facilities
Lounge room
Dining room
Ironing board and iron
Hair dryer
Three baths
Emergency generator

The Essentials
Airbnb link: Book here
Location: Ternate, Cavite
Maximum capacity: 7
Bedrooms: 3
Price: P4,000 per night
Laguna: Dome Veera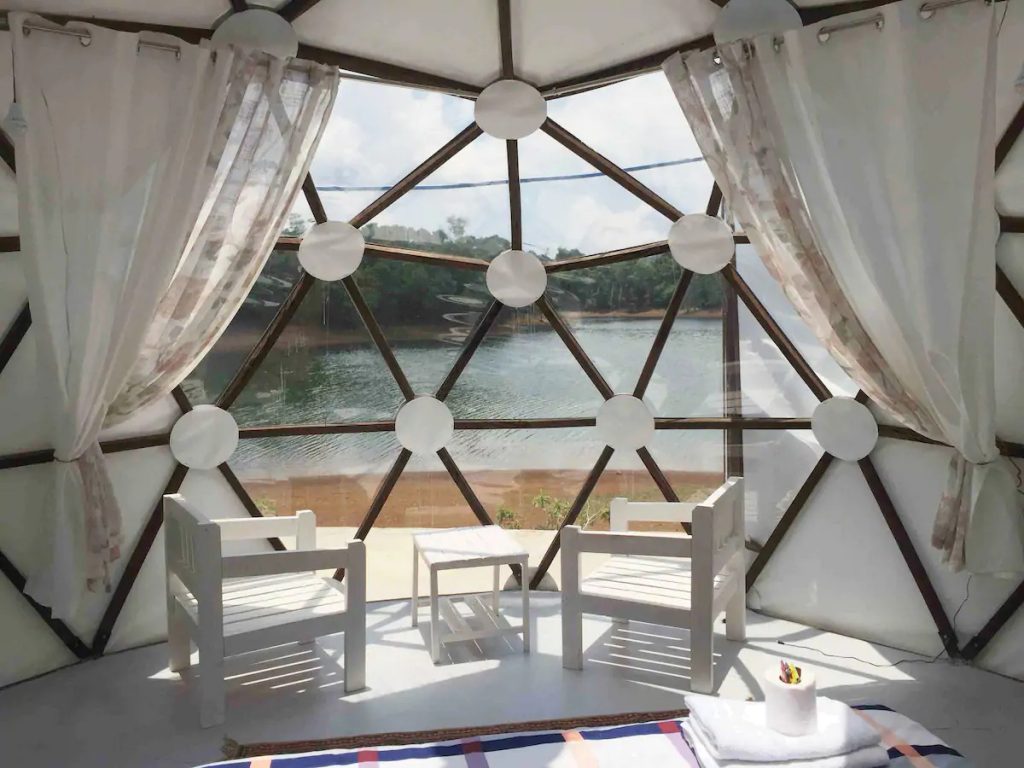 If you'd like to experience lakeside glamping with the family, look no further than Dome Veera. "The first GeoDesic Dome campsite in the Philippines", this eco-conscious, solar-powered getaway is perfect for travelers who like communing with nature, without having to completely give up modern comforts. It offers three domes and a triangle tent, all fitted with their own private toilet and baths. Larger groups can avail the dormitory with shared CR. Each dome and tent is equipped with luxe and comfy mattresses and fans.
Beautiful lakeside pathways and common areas provide relaxing sunrise and sunset viewing experiences. The rest of the day can be spent on a plethora of nature-inspired activities: fishing, kayaking, and swimming in the lake; enjoying the floating islands, bonfires at night, and exploring Cavinti Falls. The property also has its own banca, which you can request to use for sunset boating.
Breakfast is provided free of charge, courtesy of the island's bar, but lunch, dinner, and snacks can be ordered too (own expense).
Dome Veera is completely off-the-grid and relies solely on solar power and a generator that operates from 6 pm to 10 pm – the perfect opportunity to unwind and reset with the family!
Pets are allowed during weekdays. Make sure to tell the campsite in advance.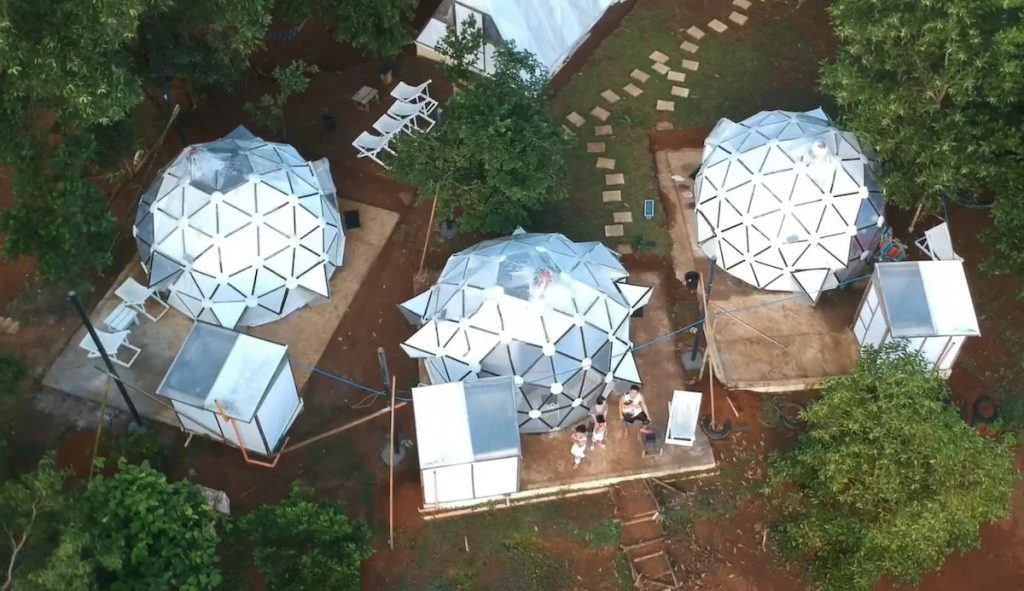 Amenities:
Luxury mattresses
Fans
Linens and towels
Toiletries
Free breakfast and drinking water
Complimentary use of body boards, vests, kayaks, and floaters
Common living room, dining room, and bar on site
The Essentials
Airbnb link: Book here
Location: Lumot Lake, Cavinti, Laguna
Maximum capacity: 3 for GeoDesic Domes, 4 for Triangle Tent, and 12 for dormitory
Bedrooms: 1
Price: Starts at P3,116 per night. Kids ages 5 and below stay for free. Extra beds are charged P700 each.
Batangas
Batalang Bato Beach Retreat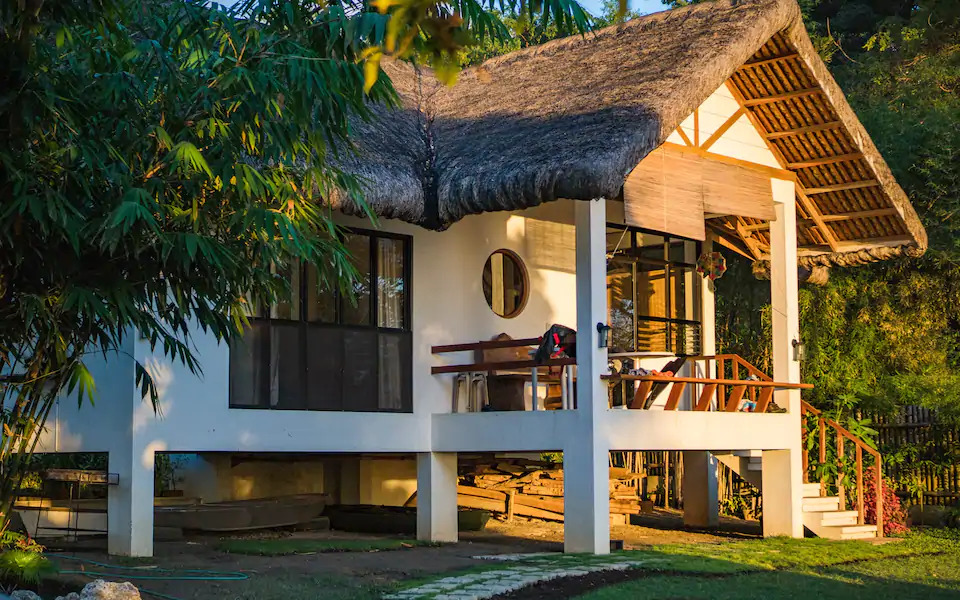 Located in the diving hotspot that is Anilao, Batalang Bato Cottage is ideal for those who are looking for an accessible snorkeling and diving site. There's a reef just in front of the property that is suitable for both. Snorkel gear and vests are available for rent.
You may also kayak to a small cave by the beach, but if you wish to explore further, a banca may be rented for P3,500 to visit Sombrero and Fortalez Islands (maximum of 6 passengers per boat)
Don't miss your chance to watch the fireflies that abound at night!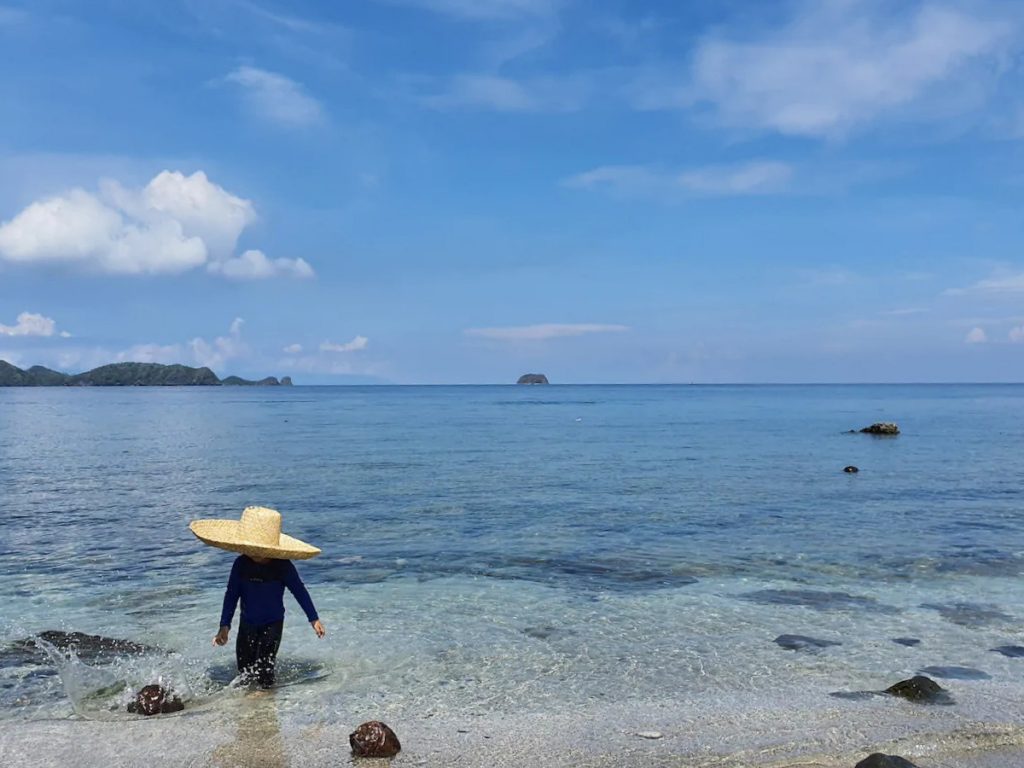 Amenities:
Kitchen with 2 rice cookers, a stove, dinnerware, and kitchenware
Microwave
Hot and cold water dispenser (with complimentary water)
Oven toaster
Coffee percolator
Water kettle
Kitchen towels
Dishwashing liquid and sponge
En suite bathroom (be sure to bring your own towels and toiletries)
Grilling area (bring your own charcoal)
The Essentials
Airbnb link: Book here
Location: Mabini, Anilao, Batangas
Maximum capacity: 12
Bedrooms: 1 with 6 beds
Price: P8,000 a night; P10,000 if peak season, holidays, and weekends
Treehouse by the Ocean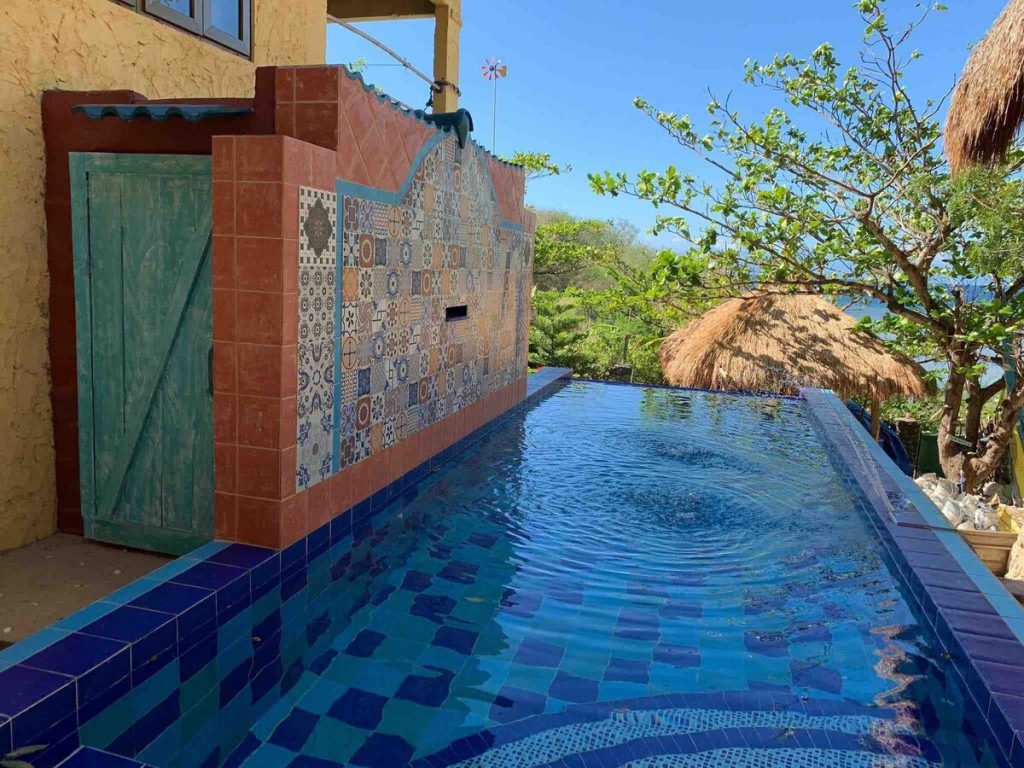 Want to wake up in a rustic home within steps of the beach? Come to the Treehouse by the Ocean. This charming beachside shack at the tip of the Calatagan Peninsula is fashioned with indigenous materials like bamboo and hardwood, and cogon as roofing, offering you a unique experience of living in a traditional native hut – a treehouse at that. Equipped with a fan, you'll have an airy space with fresh sea breeze coming in as you retire in a hammock or a king-size bed.
You'll have your own access to the beach, which is home to an extensive reef just a few meters offshore. For those who prefer fresh water, the house also comes with its own gorgeous outdoor pool.
Dusks here are best spent exploring the 18th century Cape Santiago Lighthouse or mangroves nearby, biking, boating, or watching sunsets from your hut or on the beach.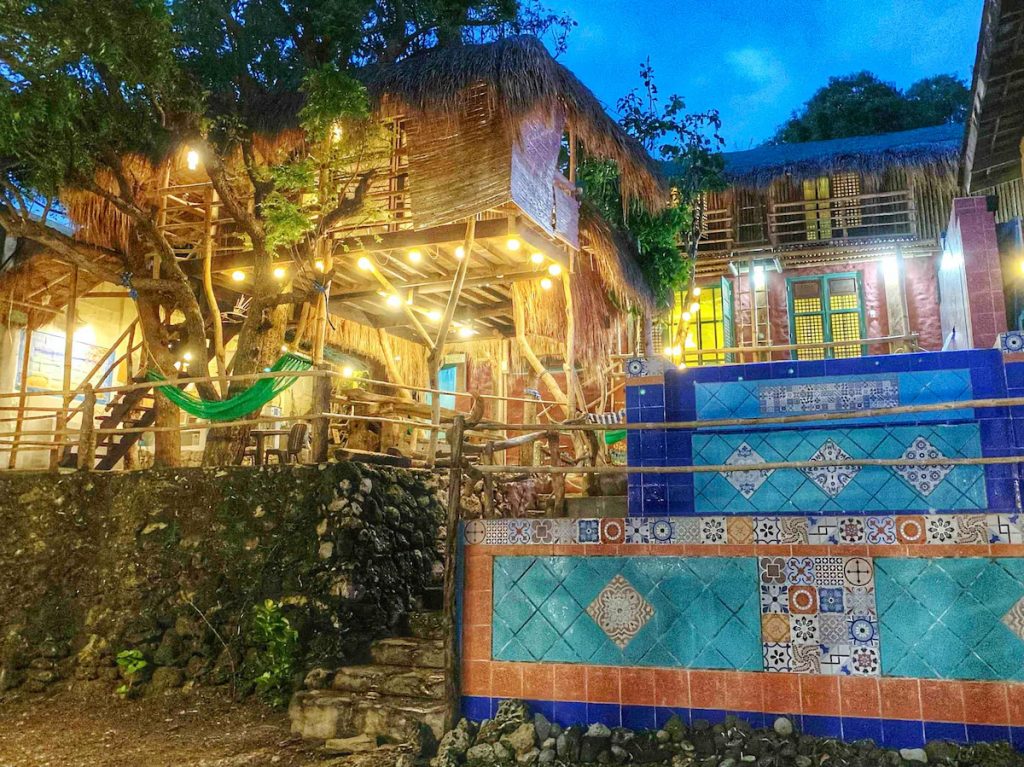 Amenities:
Toilet and shower
Kitchen with cookware and utensils
Wood-fired oven
Grilling area and charcoal
Mosquito net
Complimentary drinking water
The Essentials
Airbnb link: Book here
Location: Calatagan, Batangas
Maximum capacity: 3
Bedrooms: 1
Price: P5,500/ night
Rizal: Kamp Maysawa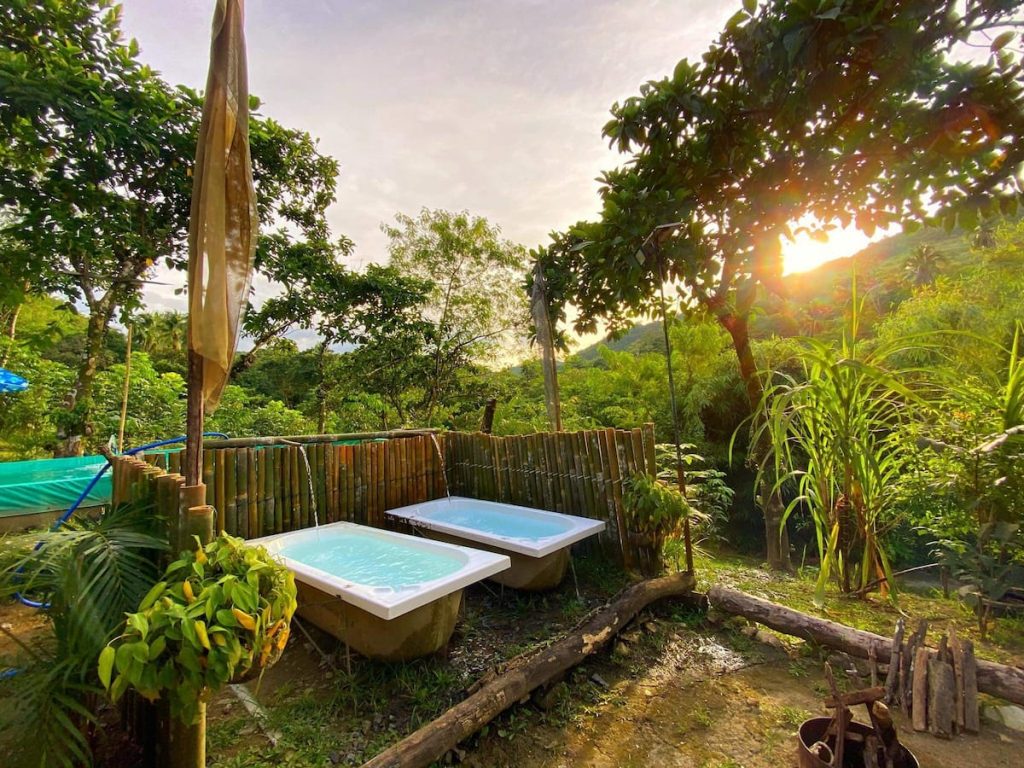 Resting on the foot Mt. Binutasan and Mt.Sapari, this is the perfect escape in Rizal for those who love the outdoors. To get there, you will have to hike for about 30 to 45 minutes or avail their 4×4 service, though this is not usually available during heavy rains.
A cabin home is built into the campsite, as well as pitching areas for tents. The home comes with a Boho-inspired attic bedroom that offers refreshing views of the mountains. In your spare time, you can dip into their 5-foot pool or one of two outdoor bathtubs – all filled with fresh, running spring water. Rest in a hammock while reading a book, or have conversations over a campfire.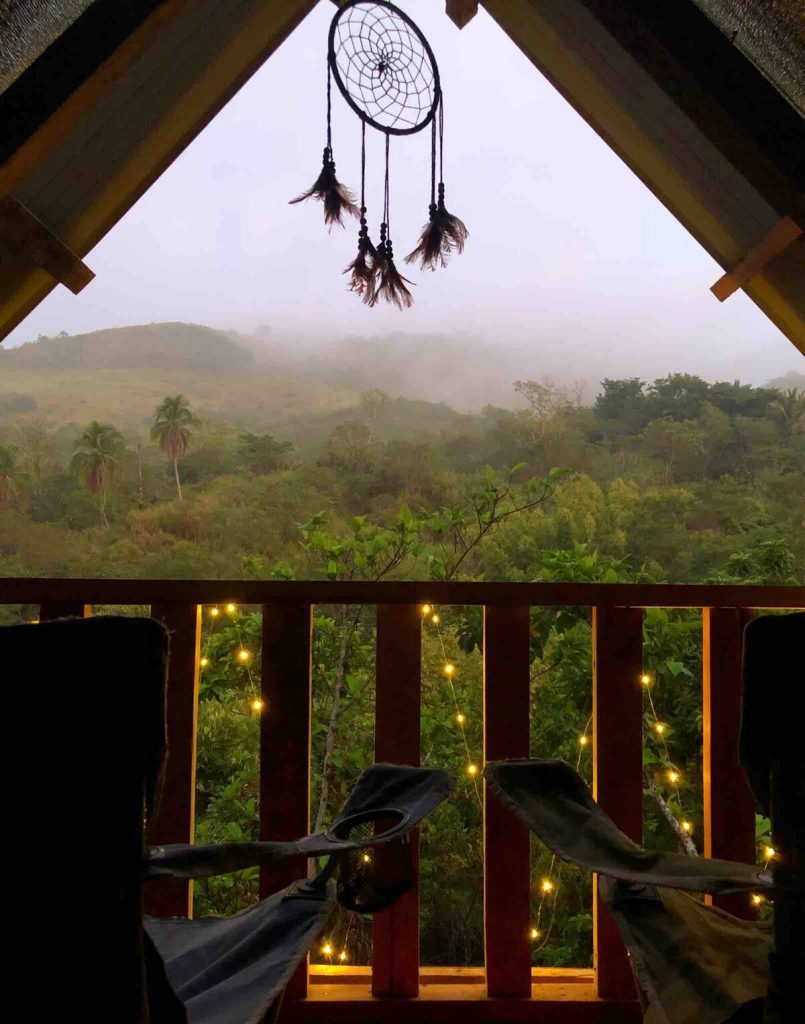 The property is completely solar-powered and does not have mobile signal, making it the perfect spot for de-stressing and disconnecting.
Note: Guests are required to present a health certificate and valid ID.
Amenities:
Porch, sala, kitchen, dining table, bedroom, and attic for the whole cabin house
Kubo with dirty kitchen
5-feet swimming pool
Stove, gas, cookware, and kitchenware
Mineral water
Grilling area
Beddings
Tent
Scrabble, chess, and playing cards
Guitar and bongo drums
The Essentials
Airbnb link: Book here
Location: Tanay, Rizal
Maximum capacity: 16
Bedrooms:
Price: P4,000 for 1-10 guests from Sunday to Thursday; P4,500 for 1-10 guests for Friday and Saturday; P250 per extra guest