When we hear of a place included in the UNECSO World Heritage Sites, the first thing that comes to mind is its significance and historic value, and for good reasons.
A place worthy of being a UNESCO World Heritage Site must have outstanding universal value. The Philippines currently has 6 of such sites— a testament to the rich cultural diversity and natural beauty of the country.
Home to a vibrant and lush archipelagic landscape, the Philippines is a gem among the rocks. Visit all the UNESCO World Heritage Sites of the Philippines and make them your next out-o- town destinations.
1. Rice Terraces of the Philippine Cordilleras, Ifugao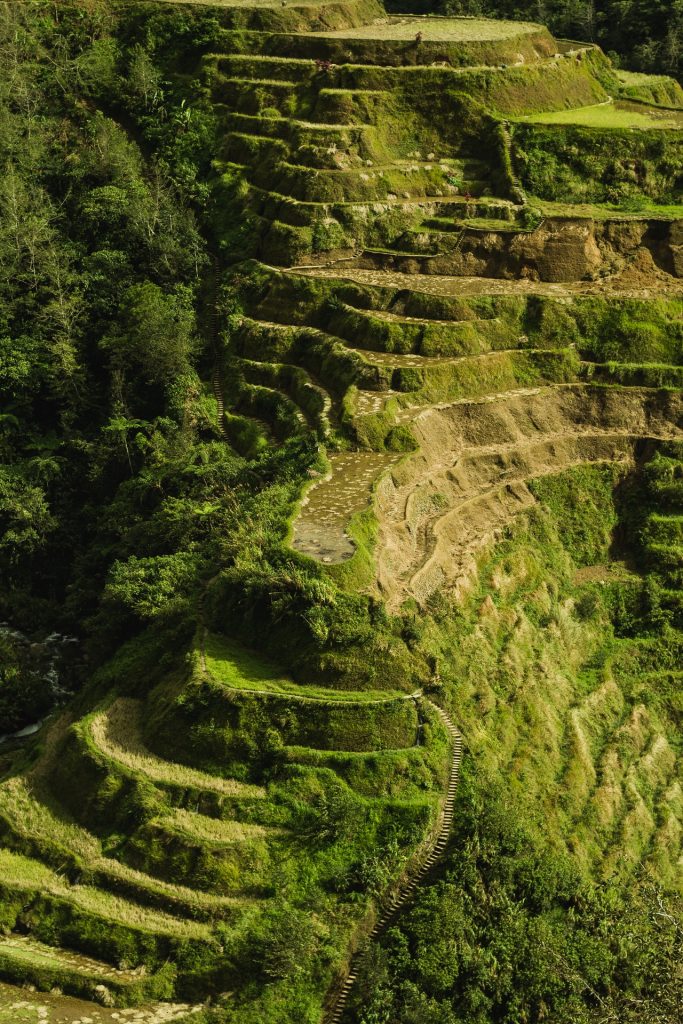 The first one in the country to become part of the UNESCO World Heritage Site list in 1995, the rice terraces attract numerous Filipino and foreign tourists who want to witness the past merging with the present.
The legacy of our Ifugao forefathers who cultivated the land 2,000 years ago lives up to this day, as the current generation of Ifugao farmers still cultivate the land the olden way. They use traditional techniques passed down by their ancestors.
The rice terraces include Nagacadan in Kiangan, Hungduan, Mayoyao, Bangaan in Banaue, and Batad.
Nestled deep within the mountains of Cordillera and accessible only via the Batad Trail, the Banaue Rice Terraces is truly remarkable. Welcoming you are rice paddies carefully constructed on steep slopes with backdrops that can rival the sights of the terraces itself. The
The way they were constructed are considered extraordinary even by Asian standards, although other Asian countries also have their own rice terraces.
How to get there: From Manila, take a bus bound for Banaue either via Coda Lines in Cubao or Ohayami Trans in Sampaloc. This is a 10-hour overnight ride. Once you're in the town proper, head for the Municipal Tourism Office and pay a small environmental fee. Then, hire a tricycle for 150PHP or jeep for 1,500PHP, depending on the size of your group, to take you to Batad Saddle Point. From the saddle, hike your way down to Batad Village.
2. Puerto Princesa Subterranean River National Park, Palawan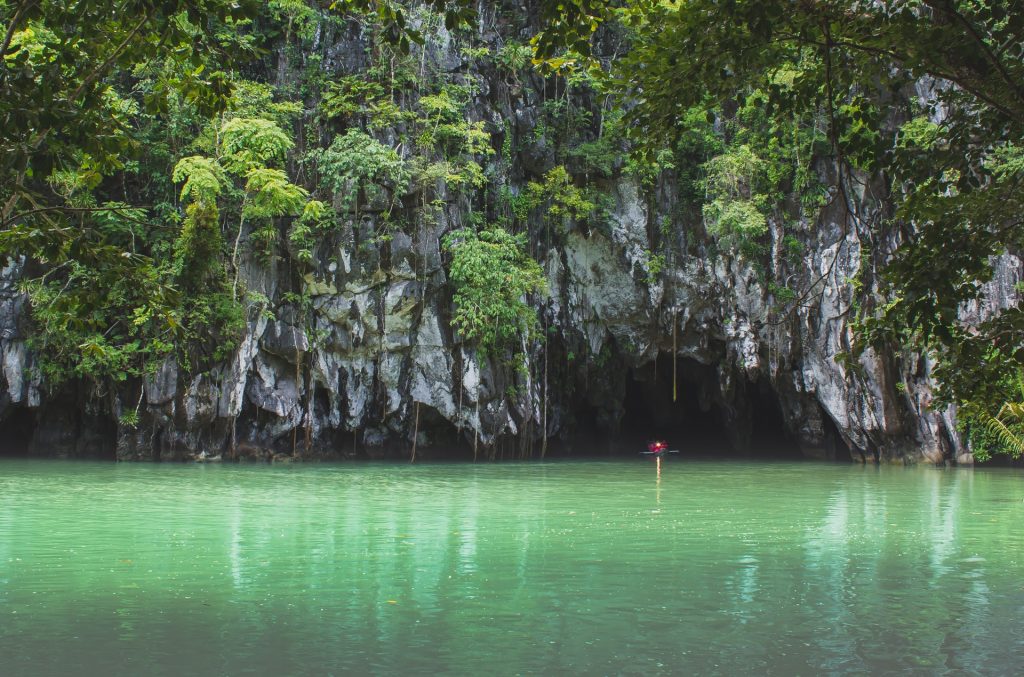 Explore spectacular limestone formations and an underground river at Saint Paul mountain range, about 80 km from Puerto Princesa. Boat tours are available to explore the subterranean cave system. During which, stunning sights of various geological landscapes such as speleothems and rock formations can be observed. Perfect for intrepid travelers, expect no less than a destination that's truly fitting of being a UNESCO World Heritage Site.
How to get there: From Puerto Princesa, you can either take a jeepney or van going to Sabang Port. Opt for a van if you're in hurry, though this is a pricier option. Once there, you'll ride a boat going to the subterranean river.
3. Mount Hamiguitan Range Wildlife Sanctuary
Located on the southern fringes of Davao Oriental is the sanctuary of Mount Hamiguitan. It is home to a wide variety of flora and fauna that are ripe for exploration, including some endangered species such as the Philippine Eagle, pitcher plant, and Philippine cockatoo.
Expect an unusual setup of lush pygmy forest and tons of carnivorous plants while exploring this sanctuary. The nearest staging point is the city of Mati, about 40 km away.
How to get there: From Davao City Overland Transport Terminal, take a bus or van going to San Isidro town proper. From there, ride a jeepney going to Brgy. La Union. You may also opt for habal-habal if you are in a rush.
4. Vigan, Ilocos Sur
Go back in time in Vigan —a time when Spanish colonials just got a foothold in northern Philippines.
Walk the cobblestone streets of Calle Crisologo and marvel at the unique architecture that fuses both Oriental and European origins, all in soothing ambiance. Vigan is one of a few well-preserved Hispanic towns left in the Philippines. And for these reasons, it was inducted as a UNESCO World Heritage Site in 1999.
How to get there: There are two options to get here from Manila. One is taking a long bus ride from Cubao or Pasay. There are a number of buses lines serving northern routes. This option takes about 8 to 10 hours, depending on the traffic. The other option is to fly to Laoag then take a bus going to Vigan. This option takes around 5 hours at best, though pricier.
5. Tubbataha Reefs Natural Park, Palawan
One of the world's most impressive coral reef system, the Tubbataha Reef is a haven for scuba divers alike. It is home to an extremely abundant marine life, as well as extensive corals that stretch as far as the eye can see.
See first-hand the stunning underwater terrain, rich biodiversity, and a chance to swim with large marine animals such as turtles, sharks, and manta rays which will make the experience truly a dive of a lifetime.
How to get there: The only way to get to Tubbataha Reef is going on a liveaboard. Liveaboards are basically group tours that offer boat rides to any point in the country. Tubbataha liveaboards depart only from Puerto Princesa, usually taking about 10 to 12-hour travel by sea.
6. Baroque Churches of the Philippines
These churches refer to a collection of 4 different Roman Catholic churches namely San Agustin Church, Santa Maria Church, Paoay Church, and Miagao Church.
All of the churches are historic, having been built by Spanish missionaries in the late 16th century. These churches are characterized by ornate art detail in the interior and fortress-like appearance on the exterior. That being said, history and architectural buffs will surely find these churches fascinating.
How to go to San Agustin Church: Located at Intramuros, going here is pretty straightforward. You have plenty of options, ranging from taking the LRT then alighting at Central Station, or ride a jeepney or van going to Lawton Terminal. From there, San Agustin Church is within walking distance.
How to go to Santa Maria Church: Located at Santa Maria, Ilocos Sur, the only way to go here is by bus. From Manila, take a bus bound for Vigan either from Dominion Bus Lines or Partas, but make sure to alight at Santa Maria town proper. From there, ride a tricycle to take you directly to Santa Maria Church.
How to go to Paoay Church: From Manila, take a bus bound for Laoag via Paoay from Florida Bus at Sampaloc for a 10 hour overnight ride. Alight at Marcos Avenue at Paoay town proper. From there, Paoay Church is merely a 5-minute walk.
How to go to Miagao Church: Located at Miagao, Iloilo, Miagao Church is only accessible by jeepney. From Iloilo City, take any southbound jeepney from Mohon Terminal or Iloilo Terminal Market then alight at Miagao town proper. Once there, Miagao Church is within walking distance.