Two to three hours away from the metro lies the island province of Marinduque. Because of its many natural attractions and heritage sites, it remain one of travelers' go-to weekend and holiday destinations for city dwellers. But besides its rich history and breathtaking tourist spots, Marinduque also offers sumptuous delicacies you shouldn't miss when you visit!
Complete your vacation in Marinduque by sampling these 15 well-loved dishes.
1. Arrowroot cookies
These cookies are the most well-known product of Marinduque. It is made from a root crop called "uraro", which is abundant in the island. Uraro is pulverized and mixed with other ingredients such as margarine, eggs, and sugar. These bite-size and merengue-like cookies melt in your mouth and give off a slight sweetness.
2. Saludsod
Saludsod is Marinduque's local pancake. It is made from arrowroot powder, coconut milk, flour, and sugar. These ingredients are mixed, then scooped into a pan just like how the usual pancake is made.
3. Panganan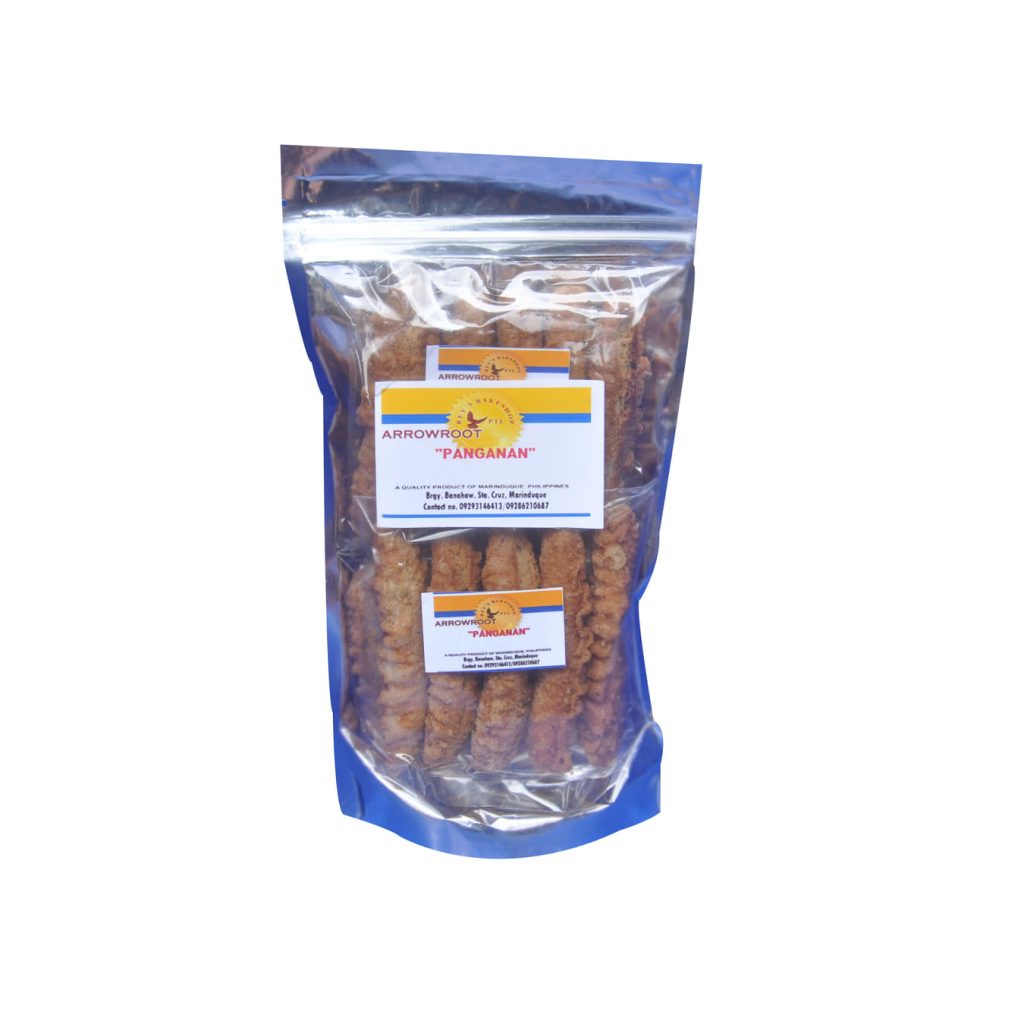 Another delicacy made from uraro is panganan. Its components include arrowroot powder and rice flour, as well as dissolved sugarcane jaggery or "matamis na bao."
These are combined and shaped into finger-like sticks. These sticks will then be deep-fried until golden brown.
4. Kalamay-dampa
Kalamay-dampa is somehow like kalamay hati. Both are Filipino rice cakes that are made with glutinous rice flour and coconut milk. The only difference is that purple yam or "ube" is included in the former, which renders its violet color. It is soft, sticky and sweet. It is topped with "latik" – cooked coconut milk residue.
5. Tinudtod
This delicacy is mostly made from saba bananas. Ripe bananas are mashed and added to a mixture consisting of flour, baking powder, egg, salt, sugar, and fresh milk. The batter with bananas is fried in hot oil until golden brown.
6. Maruya
This is another delicacy made with saba bananas. Like tinudtod, you will also put several ingredients together in a bowl:. However, instead of mashing the bananas, each banana is sliced vertically into three or five cuts, leaving just a small section to the edge uncut. The banana is spread carefully to make a "fan", then dipped into a batter consisting of flour, baking powder, sugar, salt, butter, milk, and eggs before frying.
7. Ube halaya
Ube halaya, or "halayang ube", is made from boiled and crushed purple yam. The yam is cooked with either coconut milk or condensed milk. It is said that Marinduque offers one of the best halaya ni the Philippines!
8. Tininta suman
This is a rice cake made from violet glutinous rice. It is either wrapped in banana leaves or palm leaf strips. Tininta Suman is best eaten with "sampililok" or coco jam.
9. Bibingkang lalaki (bibingkang Boac)
This is a variant of the regular bibingka that has eggs, thus the name. Locals use "tuba" or coconut wine instead of yeast, to keep the inside moist after cooking. Bibingkang lalaki is typically sold in Boac public market.
10. Pudding/ bibingkang pinahiran
This is yet another version of bibingka in Marinduque. It is commonly produced in the town of Sta. Cruz. Bibingkang pinahiran is made from glutinous rice, coconut milk, and sugar. What makes it unique is the thick, sweet syrup spread on top.
11. Buchi
Buchi is a fried Chinese pastry that was adapted by Filipinos. Like other delicacies on this list, glutinous rice flour is also its main ingredient. Typically, it is coated with sesame seeds and has sweet red bean paste or ube filling. But in Marinduque, locals typically make buchi without sesame seeds and fill it with fried mung beans.
12. Ulang-ulang
Ulang-ulang is one of the native dishes in Marinduque. The main component here is a crab called "kagang", whose meat is flaked, then cooked with coconut milk and shredded coconut. The mixture is placed inside a crab shell, then the shell is tied with banana leaves.
13. Adobo sa gata
This is another delicious dish Marinduqueños call their own. They typically use native chicken and cook it in coconut milk, together with sliced green papaya and pepper leaves. Turmeric is also added into the dish to make it yellow.
14. Kare-kare
Marinduque's kare-kare is not the usual kare-kare in Metro Manila that has thick peanut butter sauce. It is more like a dried variation of dinuguan. It consists pig's innards such as the heart, small intestines, kidneys, and spleen, as well as its blood.
15. Laing/ pinaso na gabi
This dish consists of taro, or gabi, leaves and coconut milk. At times, locals add a small amount of shrimp paste and dried fish called "dilis" or "tulingan" to make it tastier.