Most tourists travel to Cagayan Province for Callao Cave, Cape Engano Lighthouse, Anguib Beach, or Palaui Island as these are the most popular and the must-see sights in the province.
But have you ever experienced an inexplicable feeling of awe upon discovering a new destination not known to many? That's what it felt like when I first saw a lesser-known wonder in Cagayan in 2019: Baggao Bluewater Falls and Cave, a natural water park that many Cagayano friends take much pride in.
Undiscovered canyoneering spot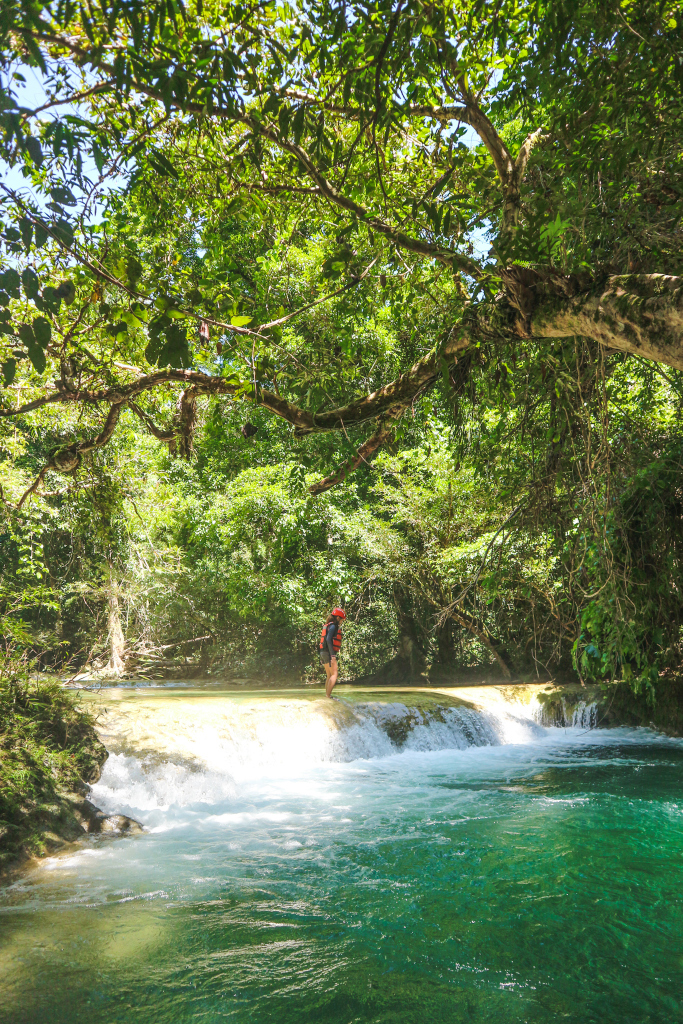 Baggao Bluewater Falls and Cave is a gem perfect for canyoneering. It is tucked in Baggao, a first-class municipality located 62 kilometers north of the provincial capital.
Before finally getting to the waterfalls and cave, your assigned guide will discuss the route and guidelines. You can either choose from the route through the forest or the route where you'll trek the river. We wanted the exciting route, so we selected the latter.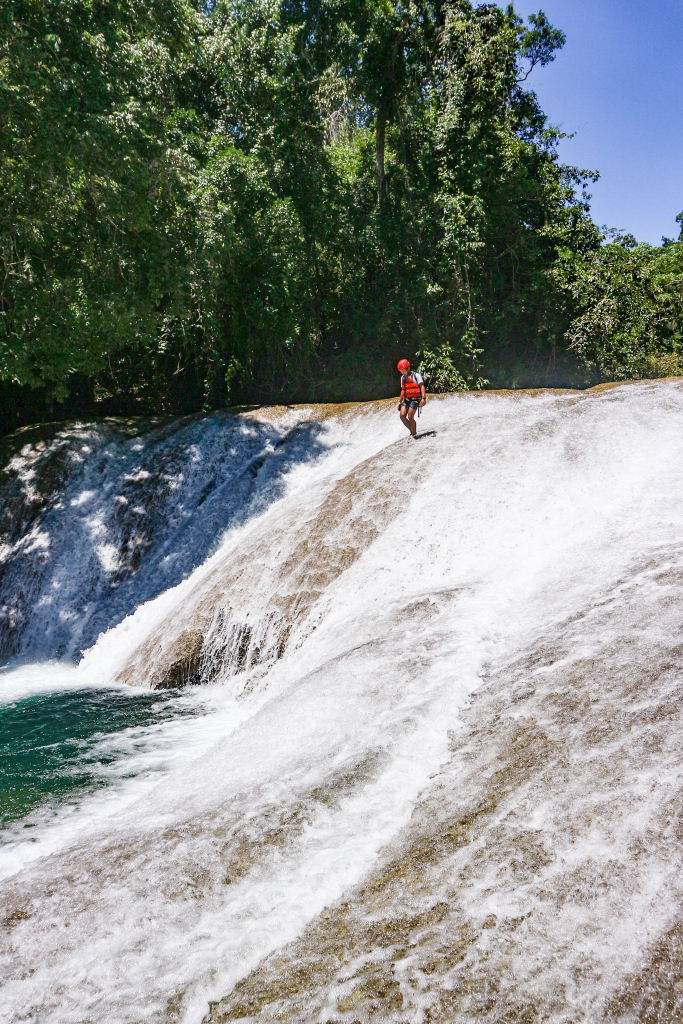 The journey is truly as beautiful as the destination because as we trekked through the lower tiers of the falls, the place's majestic beauty slowly unveiled. Each tier showed off its clear, refreshing, cascading, blue waters which will remind you of Kawasan Falls in Cebu.
The natural water park is surrounded by tropical vines, wild orchids, and ferns. You will surely enjoy the natural pools where you can jump and swim all you want. I can't help but express my amazement and capture as many photos as I can every time we move to another level.
Soothing waterfalls and cave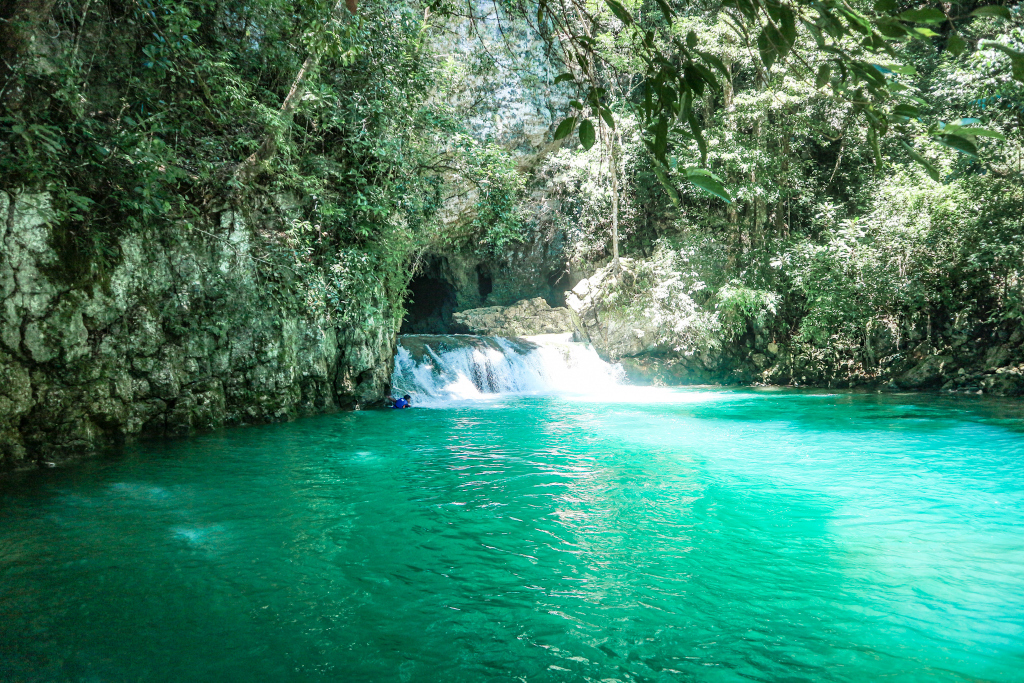 The superstar is the large tier of ice-cold waterfalls found before you enter the cave. If you're done taking photos, you can just float away, immerse in the experience, and marvel at this mesmerizing wonder.
Inside the cave, you will see an Olympic-sized natural pool with enchanting stalactites and stone formations.
The overall experience definitely deserves a spot in anyone's bucket list. Note that to make the most of this adventure, you must start as early as 7 in the morning and ideally end by 3 in the afternoon.
Who would have thought that you can try canyoneering in Northern Luzon? If you're into heart-pounding adventures like me, there's no doubt that Bluewater Falls & Cave will bring enormous thrills. Offering exciting challenges, this destination is best enjoyed with your family and friends, and you can jump off the tiers and swim in the relaxing blue waters together.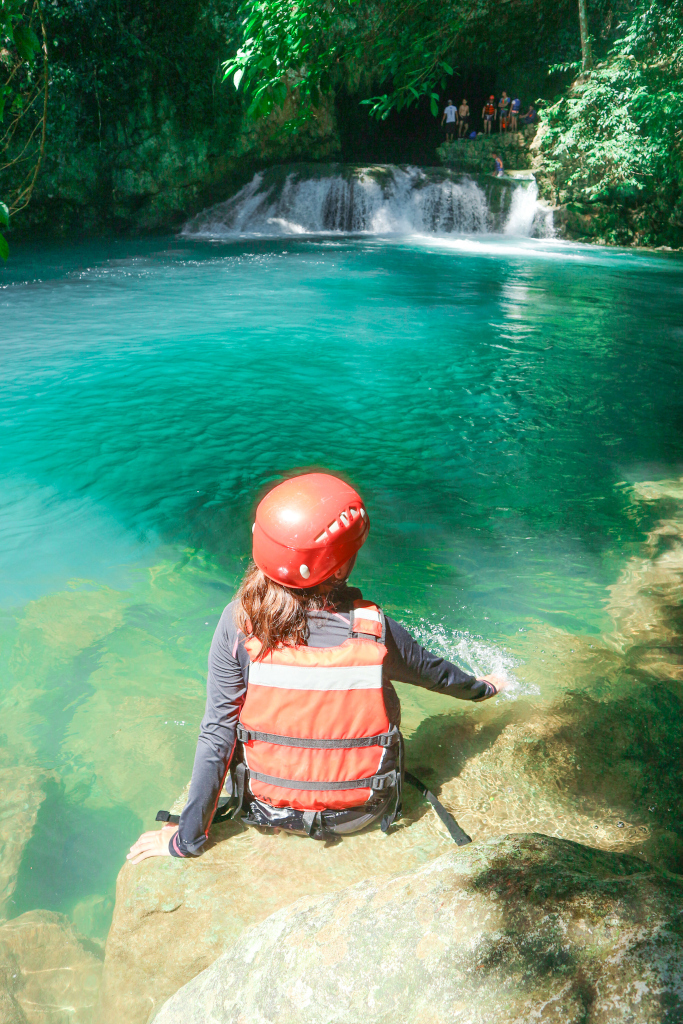 How to get there
If you can chance upon an airline seat sale to Tuguegarao City, the flight only takes only 45 minutes, plus around 2 hours of land travel to reach the place via San Jose-Baggao bound service vehicles.
Another option is to take a bus from Manila to Tuguegarao, which can take up to 12 hours. With this option, you can get off directly at Baggao. Alight at Barangay San Jose, the seat of the municipal government, on the way to Baybayog Junction-Sta. Margarita Road.
However, having a private car is an advantage, allowing you to see other sights along the way.
Tour contact
When circumstances permit us to travel again, it's better to plan ahead and contact the Baggao Municipal Tourism Office at 09064724822 for news and updates about this destination before visiting. You will also drop by here first to secure your permits and tour guides.
Fees
During our visit in September 2019, the registration fee costs Php 30. Because canyoneering entails climbing, river crossing, swimming, spelunking, cliff diving, and hiking all in one, all tourists must have life vests and helmets to ensure safety. You can rent gear from the tourism office for Php 50.
You must also secure a guide that can accommodate up to 6 persons for Php 500. I recommend Gavino Macasiray (09161174383) and Wilma Siazon (09554227400) as guides.