Get away from the hustle and bustle of the city and immerse yourself in art and nature in Canvas Boutique Hotel in Palawan.
The hotel, which opened in 2018, is located at the heart of Puerto Princesa City. Your adventure starts right after you step out of the plane as this hotel is just two minutes away from the airport. Once you enter through its doors, Canvas Boutique Hotel embraces you with the colors of nature.
Rooms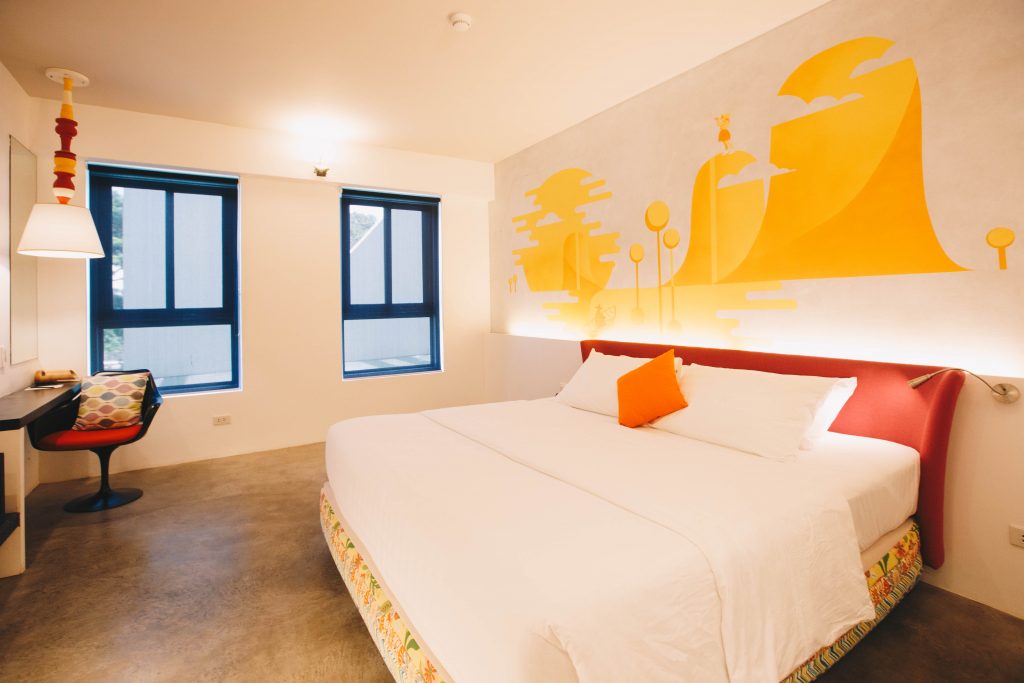 The beauty of nature is reflected both in and out of the hotel. True to its name, Canvas Hotel's hallways and rooms are decorated with murals, bursting with colors of the flora and fauna of Palawan.
Each room at Canvas Boutique Hotel has complete bathroom amenities with lavatory, toilet, and shower areas kept in separate rooms, giving guests full privacy. It also has ample closet spaces, seating areas, and a luggage bench. Guests can also try out environment-friendly bamboo speakers by loudbasstard that are available in each room.
The hotel houses three kinds of rooms:
Superior Room – This 25 sqm. room is ideal for a solo traveler. It has one king-size bed, workspace, and a 40-inch LED cable TV. It is also equipped with a safety deposit box.
Deluxe Room – This room covers 31 sqm. of space. It is fitted with two queen-size beds, perfect for a family or a group of friends. There is also a mini-fridge available in the room.
Premier Room – If you love space, this 35 sqm. room is right for you. It can accommodate several guests without feeling cramped. It has two queen-size beds and an extra bed by the window. The room is also equipped with a work area and a mini-fridge.
Pool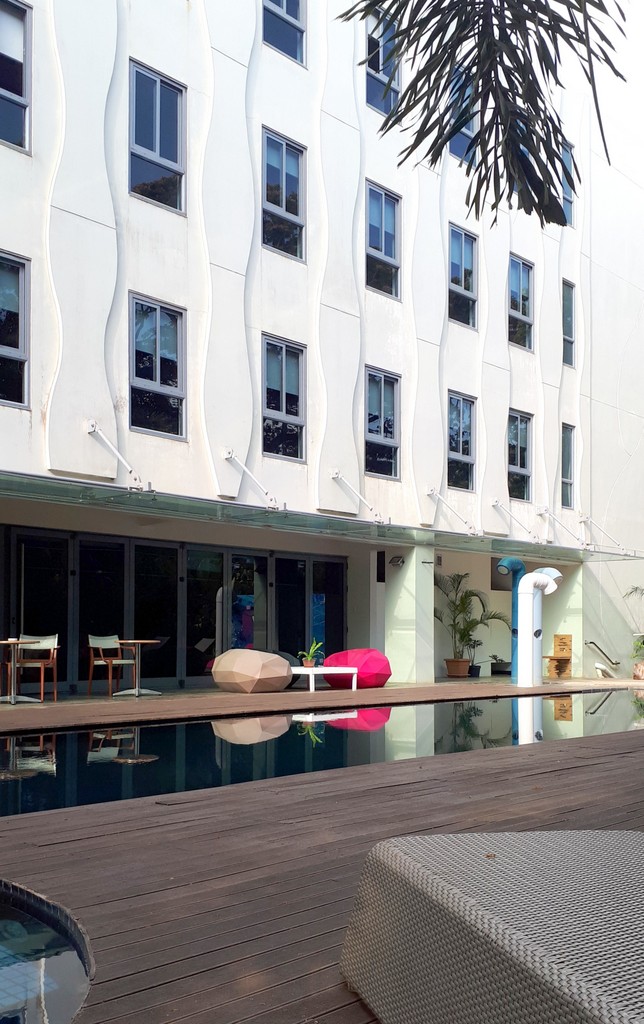 Canvas Boutique Hotel has a stylish outdoor pool, stretched under the cool shade of trees. You can soak up the sunshine on the sun loungers scattered around the pool. You can also enjoy quiet moments at the couches set down beside the pool.
What To Eat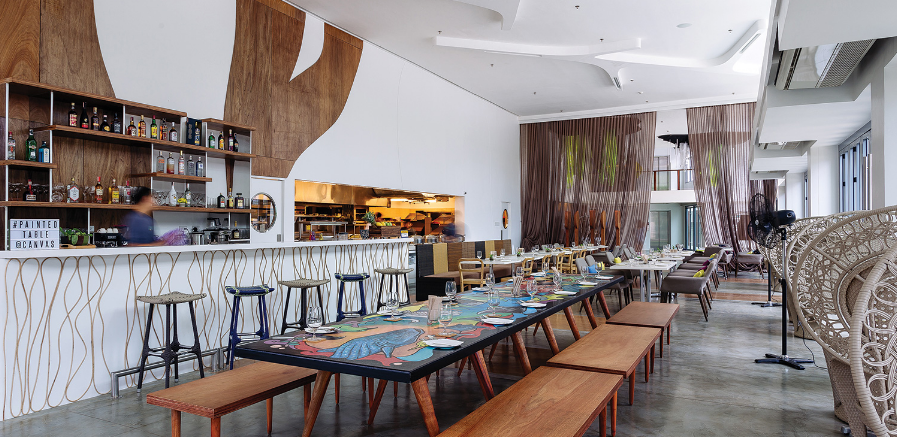 This boutique hotel is famous among travelers for its in-house restaurant called The Painted Table. The restaurant offers a wide array of dishes that are infused with local and international flavors. Because the hotel has sustainability at its core, The Painted Table is also earth-friendly. All the drinks in-house are served with bamboo straws that you can keep as souvenirs.
Other Activities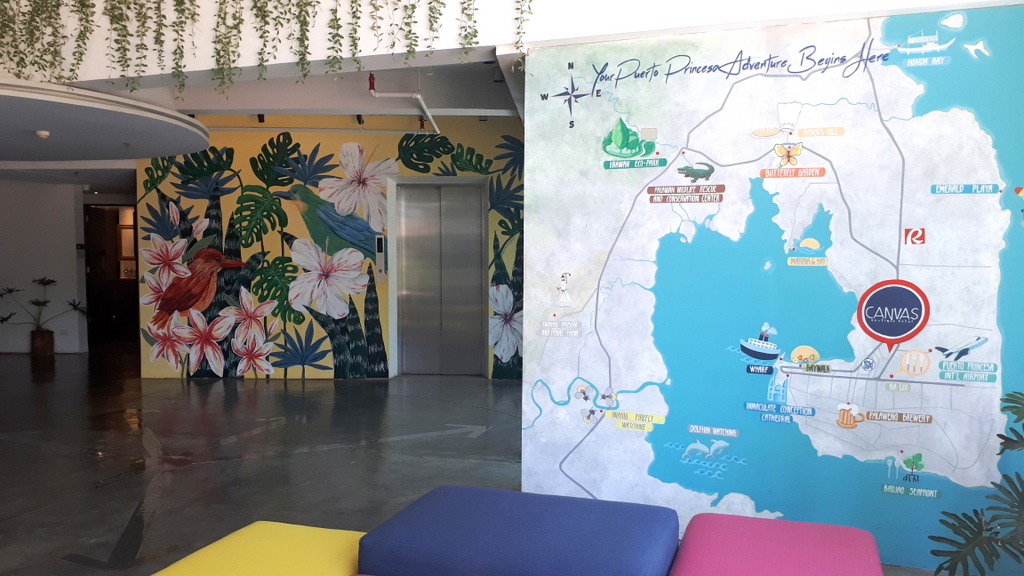 The Canvas Boutique Hotel has its own "Wander List" that offers guests tips on how to have the complete Puerto Princesa experience. It offers a guide on where to eat, shop, and go while in the city. You can book day tours to the city's most-visited tourist spots. If you're looking for more thrilling adventures, you can book spelunking or snorkeling activities.


For Filipinos, a trip out of town is not complete without pasalubong shopping. You can score amazing deals on local delicacies and souvenirs at the MCA Market which is just across Canvas Boutique Hotel. The pasalubong center offers a wide variety of goods, ranging from Palawan's famous pearls to dried seafood, cashews, and cute keychains.
The Essentials
Business name: Canvas Boutique Hotel
Address: Palawan North Road Corner San Juan, Barangay San Miguel, Puerto Princesa
Contact number: 0917-823-6884
Google Maps link: https://goo.gl/maps/2oqTHiDWghAciywC6