Since we can't really travel far, it looks like staycations in nearby destinations may be the new trend in the coming months. Any place that offers natural scenery and unique accommodations away from the crowds sounds like a welcome getaway.
If you're a fan of "Tiny House Nation" on Netflix, then the thought of staying overnight in a cozy RV house might appeal to you.
Creature comforts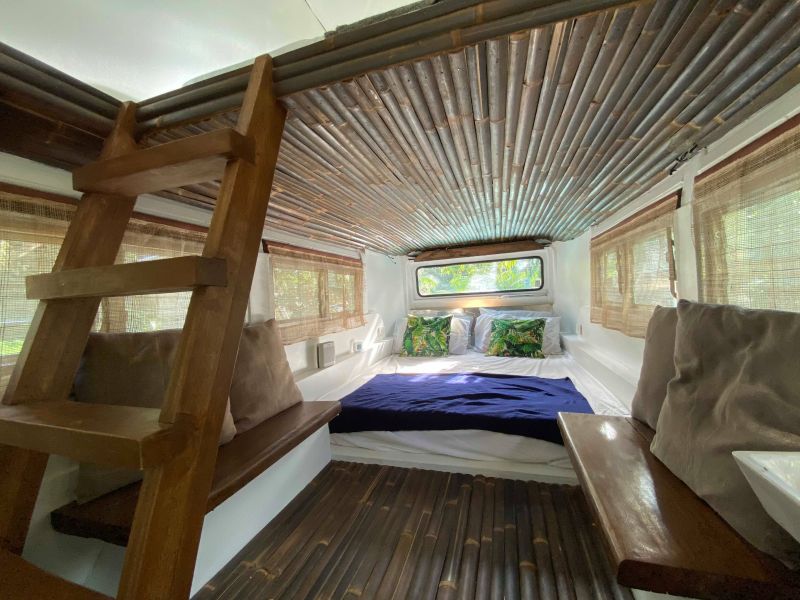 Here's a distinctly Pinoy twist on the van life concept – a Jeepney Camper! This quaint AirBnB in Balai Tanay, Rizal offers unique digs in the form of a Philippine Jeepney converted into a cozy glamping space. Glamping offers the feel of camping outdoors, but minus the discomforts of sleeping in a tent.
Located in the rainforests of Sierra Madre in Tanay, Rizal, the Jeepney camper comes with all the creature comforts you'd expect from a small hotel room, including air-conditioning, a queen-size and double mattress with clean bed sheets, pillows and blankets, hot water, and other amenities.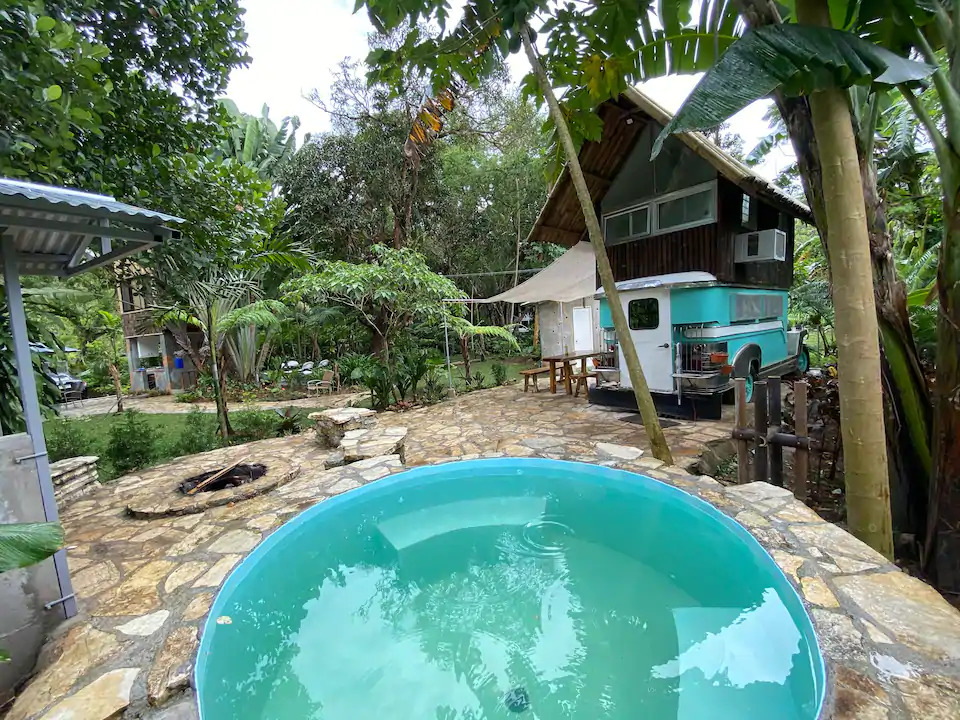 The outside of the jeep has been repainted in cool shades of teal and white, very reminiscent of retro camper vans. It's also been completely retrofitted with a little native bamboo hut addition on the roof. The interiors boast of clean white walls and bamboo floors with throw pillows adding a splash of color.
The space offers two separate sleeping areas that can accommodate 4 guests comfortably. The main jeep door leads to a small sink, mini fridge, sitting area, and snug sleeping spot. A short ladder also leads up to the airier loft area with another sleeping space. Both "rooms" have benches facing each other for additional seating.
Great for couples and small groups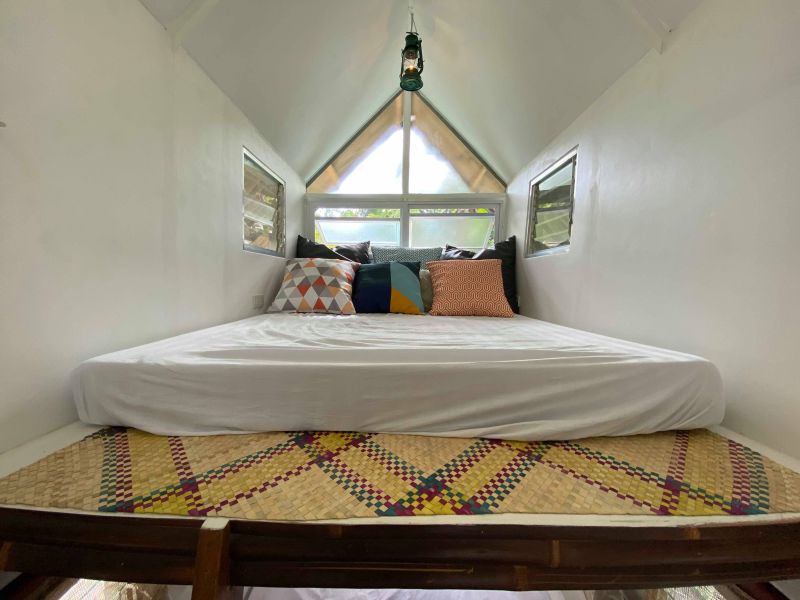 The compact quarters are ideal for outdoorsy families or small groups looking for a new place to explore. Take note that the headroom in the lower bed is quite low, making it more suited for kids. Meanwhile, the bed on the upper area provides more headroom.
The space is also ideal for couples celebrating romantic getaways and anniversaries who want to a secluded weekend getaway from the city. Couples can opt to stay in the loft room and use the lower bed for just stashing stuff.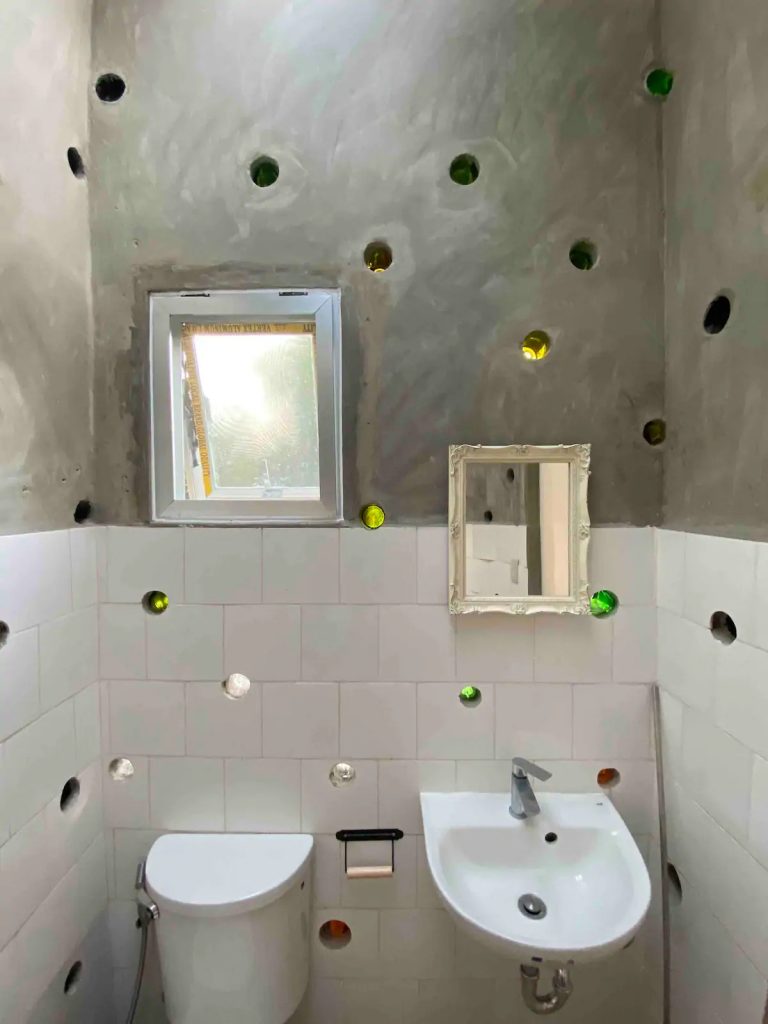 The clean and modern outdoor toilet and bath just a few steps away from the jeepney contains a heated shower and basic toiletries, which are welcome additions as it can get very chilly in the area.
Wooden chairs and tables outside the jeep serve as a dining area where guests can dine al fresco next to the campfire.
Perks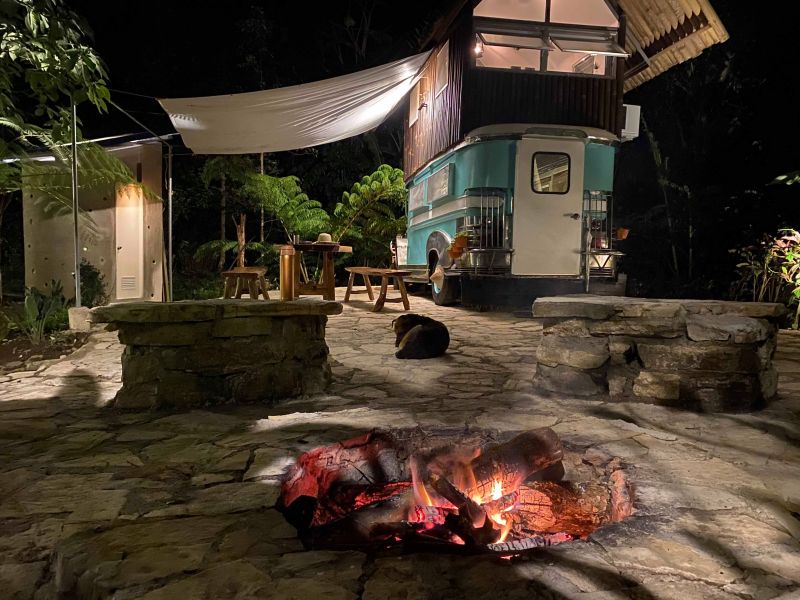 The Pinoy jeepney camper is located in a jungle, so guests may encounter wildlife such as insects and small mammals. The main perks of the place are privacy, access to fresh air, and the great outdoors.
Checked-in guests get free parking on the premises and use of various facilities including the kitchen, outdoor garden, backyard and more. Expect to unplug, as the property does not come with WiFi or a TV.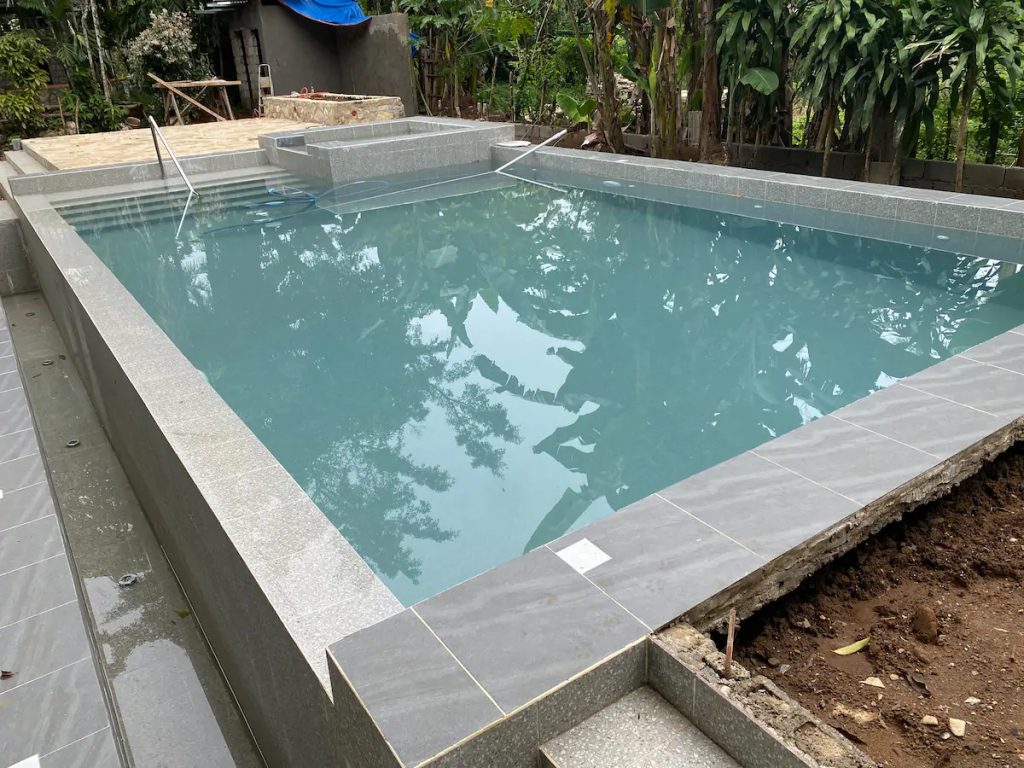 Instead, guest can enjoy the natural surroundings with the campfire pit and private mini 5" dipping pool as well as a 2" deep kiddie pool. Guests can also wander through the private gardens and nearby mango orchard to encounter exotic wildlife and plants.
Nature lovers will surely enjoy the natural surroundings of nearby sights of Rizal including Tinipak River and Mt. Daraitan, located just 4 kms away from the property. Daranak Falls, Calinawan Cave, Masungi Georserve and the Pilillia Windfarm are all within driving distance.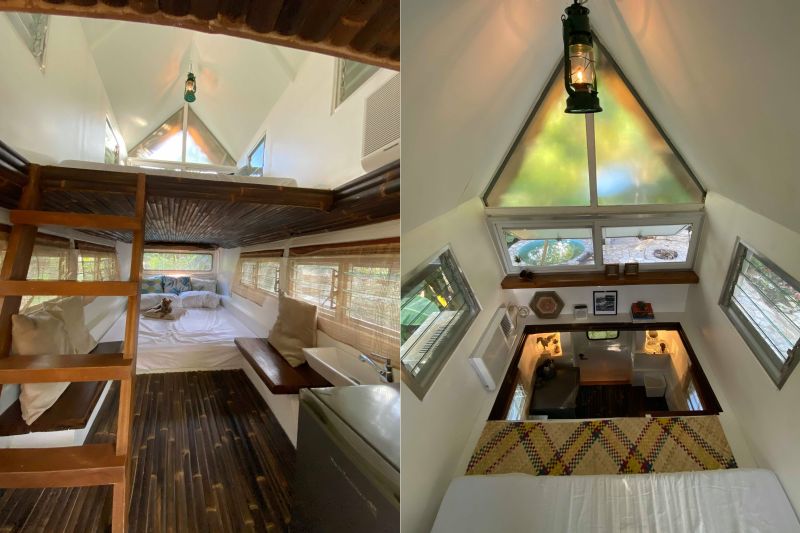 According to guests who have stayed in the property, the Jeepney Camper offers a cozy spot to reconnect with nature, feast on home-cooked meals and enjoy quality time with loved ones.
So far, the Airbnb property has gotten high ratings, averaging at 5.0 based on 8 reviewers, with guests praising the unique and immersive experience, peaceful vibe, and kind caretakers. The property has also been featured on local TV shows like GMA's Unang Hirit and Amazing Earth.
Enhanced safety guidelines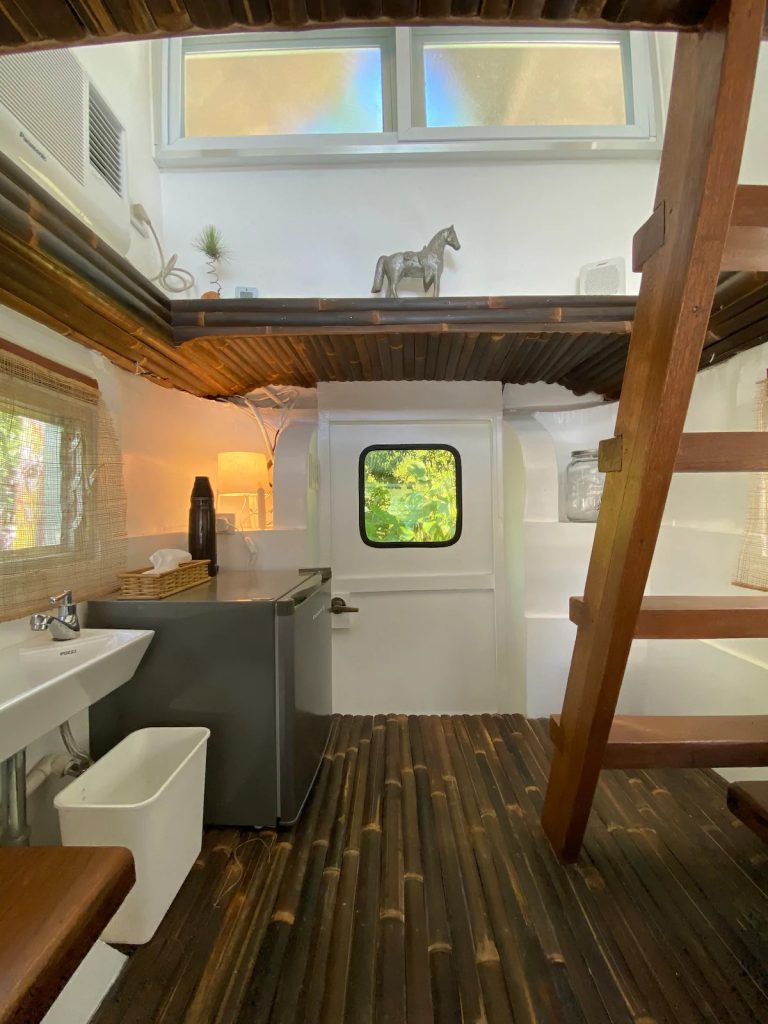 The host of this property has committed to Airbnb's enhanced cleaning protocol, which includes a rigorous set of cleaning standards developed by Airbnb with leading health and hospitality experts for the times of COVID-19 and beyond.
Hosts assure that the space is thoroughly cleaned and sanitized. Before every stay, all linens are washed at a high heat setting. As opposed to public camping areas which can get overcrowded, guests get the entire property to themselves, thereby limiting contact with other groups and achieving social-distancing requirements.
As part of their Airbnb policy, the host has also committed to complying with all local laws, including any additional safety or cleaning guidelines that may be needed.
While the province of Rizal is currently under MGCQ, Metro Manila is still under the stricter GCQ classification, where leisure travel is still not allowed. DOT is expected to release new guidelines regarding staycations, so hopefully we'll be able to plan a trip here soon.
The Essentials