With everyone being highly encouraged to stay at home, many Filipinos have decided to get their hands dirty in the kitchen by creating different recipes to cook! If you haven't released your inner chef yet, you have probably tried to order food for delivery either from food delivery apps or via Facebook food groups. Upon scrolling through a number of food choices, you may have come across the latest hype, baked sushi! Baked sushi or sushi bake is basically deconstructed sushi; it has all the flavors you'd expect from a typical roll, such as rice and crab sticks, but it's baked. Once out of the oven, you simply scoop a portion and place it on a nori wrapper and you're good to go!
Although the baked sushi trend rose during quarantine, early food blogs in 2011 have actually called it "sushi casserole," but it did not make that much of a buzz. Nowadays, many stores have even tried different variations of the baked sushi, with some adding cream cheese, mango, or other toppings. They are usually served in small or large trays, good for around 2 or 3 people for small trays, and feeding as much as 10 people for the large ones! If you're craving for some baked sushi right now, here is a list of some online stores offering baked sushi for pick-up and delivery around Metro Manila!
1. The Original Baked California Roll
Mini Qui Reyes, a Filipino celebrity nail artist, is known as the one who started the baked sushi craze in the Philippines. Last April, she sent some baked sushi samples to local celebrities, and the frenzy began from then on. Today, her baked sushi is incorporated in her store, The Original Baked California Roll, which was established in 2015.
To order, click here.
The Essentials
2. The Sushi Bake
The Sushi Bake is one of the most well-known bakes sushi stores in the Metro, and was even featured on Preview PH! Their sushi bake contains the usual elements of a sushi: Japanese rice, imitation crab (kani), and roe (tobiko). The rice serves as the base of the "casserole", with the kani mix as the second layer, and a generous layer of roe on top.
The Essentials
3. The Kitchen MNL
Looking for some quick baked sushi delivery in the North? Then you might want to try out The Kitchen MNL! This Caloocan-based store offers the staple baked California roll which they call "The Classic". Taking baked sushi to a whole new level, they also created "The Crunch", or baked salmon teriyaki roll.
The Essentials
4. Aburi Maki
For the southies, Aburi Maki is the store for you. With locations in BF Homes Parañaque and Cavite, they offer a unique variety of baked sushi flavors. Among them are classic Baked California Maki, and Quezo Spam N' Kimchi Aburi, which is topped with cheese and black masago caviar. They also sell California Maki in a jar for Php 375.
The Essentials
5. Big M Recipes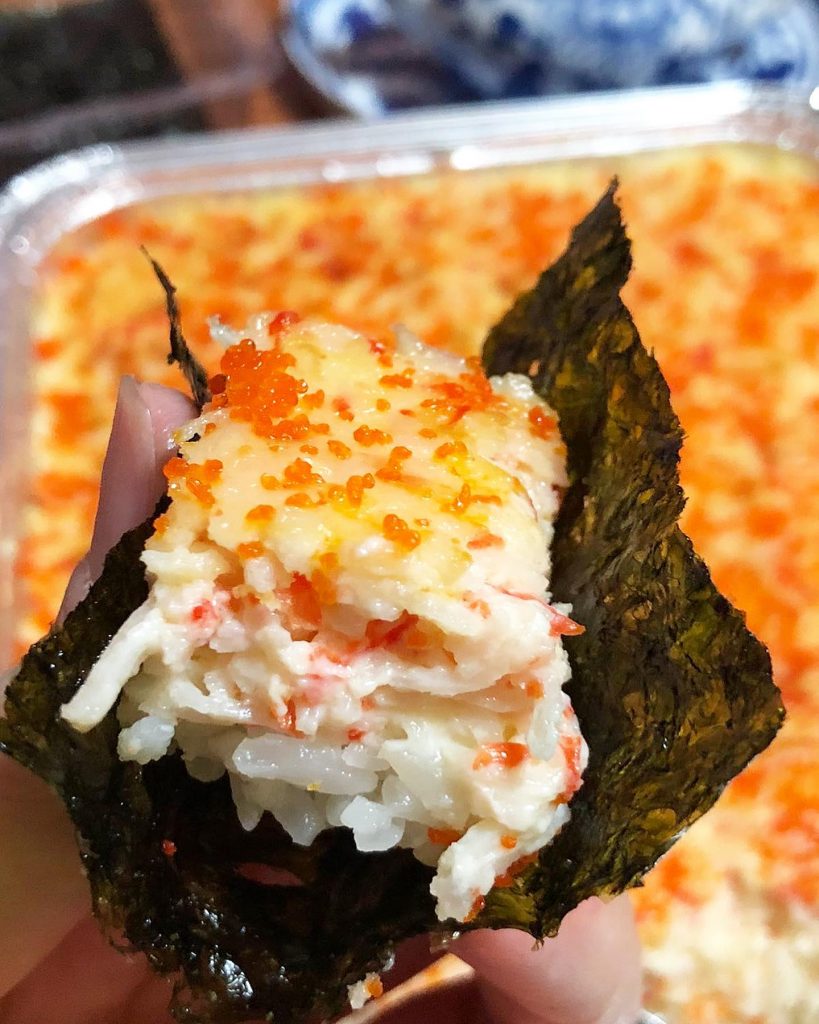 Here's another one for the southies. Big M Recipes has one of the creamiest baked sushi out there. Situated in Tahanan Village, Parañaque, their store is known for its Baked Cream Cheese California Maki. They also recently added a new flavor for spicy food lovers out there, the Baked Spicy Maki.
The Essentials