Gear up for this year's biggest and most awaited travel expo as the 27th Philippine Travel Agencies Association (PTAA) Travel Tour Expo returns on February 7 at the SMX Convention Center, Pasay!
Airlines, theme parks, resorts, hotels, cruise lines, tour operators and other travel providers from all over the country will participate in the PTAA Travel Tour Expo 2020, which happens until February 9, 2020. Serving as a "one-stop-shop for all travel needs", the expo will also host LGUs, regional and national tourism bodies, and embassies.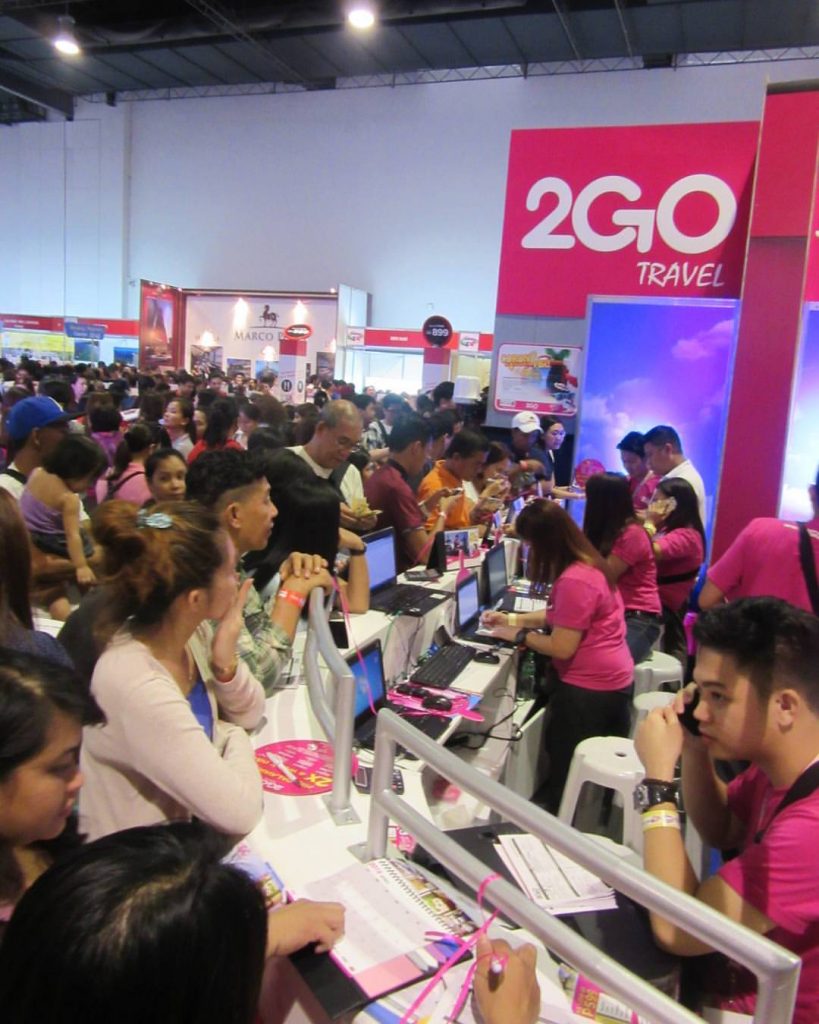 To date, there are 367 exhibitors that attendees can check out throughout its three-day run. There will be a separate B2B event that will be held alongside the public expo. Over 100,000 attendees participated in last year's expo.
Exhibitors will be offering exclusive discounts of up to 70% discount on domestic and international travel deals. Travel-related merchandise, such as luggage, will be on offer too. If you get ever get hungry shopping, there will be stalls offering food and beverages.
To learn more about the travel tour expo, visit PTAA's official website at http://traveltourexpo.ptaa.org.ph.
The Essentials
What: 27th PTAA Travel Tour Expo
When: February 7-9, 2020
Where: SMX Convention Center, Pasay
Maps link: https://g.page/smxccmanila?share
Here is the complete list of exhibitors to date at the PTAA travel tour expo 2020:
2GO Group, Inc.
Acacia Hotel Manila
Acuatico Beach Resort & Hotel Inc. (c/o ALRO)
Acuaverde Beach Resort & Hotel, Inc. c/o ALRO
Aerial Travel & Tours
Airesources Inc. / American Airlines
Airlite International Travel & Tours, Inc.
Airswift Transport Inc.
Alexa Waterpark
Amkor Travel and Tours, Inc.
Aneka Kartika
Anya Hospitality Group (Roxaco Land Corp.)
Aqua Boracay Hotel and Resort
Artstream Hospitality Management Group, Inc.
Asiana Philippines GSA Inc. (Asiana Airlines)
Association of Laiya Resort Owners (ALRO)
Astoria Hotels & Resorts
Attic Tours Phils, Inc.
Ayala Land Hotels and Resorts (El Nido Resort)
Azalea Hotels and Residences (Fog Horn Inc.)
Bai Hotel Cebu (Bai Global Properties Group, LLC. Inc.)
Batanes Travel and Tours
Batanes Wakay Travel & Tours Inc.
Bayview Park Hotel Manila
Berjaya Makati Hotel
Blue Coral Beach Resort c/o ALRO
Bluewater Resorts
Bohol Henann Resort Inc. (Henann Group of Resorts)
Boracay Ocean Club Beach Resort
Boracay Tropics, Inc.
Busuanga Bay Lodge
Caliraya Resort Club
Canadian Tourism & Hospitality Institute
Cebu Pacific Air
CGC Cosmo Get-Away Chain Travel & Tours, Inc.
China Airlines
Ciudad Christhia Resort, Inc.
Club Balai Isabel
Club Haven Resort Boracay, Inc.
Coast Boracay (Beach Design Hotel Group Inc.)
Corporate International Travel & Tours, Inc.
Crimson Hotels & Resorts / Quest Hotels (Chroma Hospitality, Inc.)
Discovery Hospitality Corporation
DMCI PDI Hotels, Inc.- Alta Vista De Boracay
Dos Palmas Island Resort & Spa
El Puerto Marina Beach Resort and Vacation Club
Ellens Travel & Tours
Enchanted Kingdom Incorporation
Estacio Uno Boracay & Bohol Shores (F&C Hotels and Resorts)
Eurotel Group of Hotels
Executive Resources , Inc.
F1 Hotel Manila
Fairways & Bluewater (Fil-Estate Urban Development Corporation)
Flushing Meadows Resort & Playground
Genesis Transport Service Inc. (Manila Genesis Charters & Tours, Inc.)
Getaway Tours International, Inc.
Globetrotters, Inc.
Golden Eagle Travel & Tours, Inc
Golden Sky Travel & Tours Corp.
Guam Visitors Bureau
Herald Suites Nipad Inc.
Horizon Travel & Tours, Inc.
Hotel 101 Management Corp.
Hotel Celeste c/o Boracay Tropics
Hotel Centro (Greenmountain Philippines Corporation)
HT&T Travel Philippines (Qantas Airways)
International Education Specialists
Ipil Suites
Island Paradise Tours & Convention
Island Resort Club / Jeju Air c/o KTO – Click Solutions Inc.
Japan Airlines Co. Ltd.
Japan National Tourism Organization (JNTO)
Jeron Travel & Tours Corp.
Jetstar Airways (HT&T Travel Philippines, Inc.)
JTB Asia Pacific Phil. Corp.
Korea Tourism Organization Manila Office
Korean Air (Korean Airlines Co., Ltd.)
La Carmela De Boracay Hotel and Convention Center Corporation
Lancaster Hotel Manila
Las Palmas Tours and Travel, Inc.
Le Soleil De Boracay Resort Inc.
Lee Boutique Hotel
Lio Resort Venture, Inc. (Ayala Land Hotel and Resorts)
Luxury Vacation Holidays and Tours
Manila Ocean Park / H2O Hotel (China oceanis Philippine Inc.)
Mariposa Travel International Corp.
Misibis Resort and Hotel Management, Inc.
Movenpick Resort & Spa Boracay
Networld Hotel Spa and Casino
New Era Travel and Tours, Inc.
One Tagaytay Place Hotel
Pacific Cross Insurance, Inc.
Palm Beach Resort (c/o ALRO)
Pan Pacific Travel Corporation /Trafalgar
Panda Travel Service, Inc.
Paradise Garden Boracay Resort & Convention Center
Patio Pacific Boracay
Pearl Farm Beach Resort (ANFLO Resort Development Corporation)
Phinma Microtel Hotels, Inc.
Princesa Garden Island Resort & Spa (Modern Asia Hotel & Resort)
Princesa Suites (Empire Suites Hotel and Holiday Suites Hotel and Resort)
Puerto Del Sol Beach Resort
Qatar Airways Company with Limited Liability
Rajah Travel Corporation
Rakso Air Travel & Tours Incorporation
Ramyer Travel & Tours
Red Coco Inn De Boracay c/o Red Coconut Beach Resort
Red Coconut Beach Hotel Boracay
Red Planet Hotel
Reli Tours & Travel
Richworld Travel & Tours
Rio Grande de Laoag Resort
Royal Brunei Airlines
Sabangan Beach Resort Inc.
Sabre Travel Network Philippines, Inc.
Sea and Sierra Vista Inc. (Costa Group of Hotels)
Sea Wind Resort
Seda Hotels (ALI) – Bonifacio Hotel Ventures, Inc.
Sharp Travel Service Philippines, Inc.
Sheridan Beach Resort & Spa (Palawan)
Shroff Travel
Singapore Tourism Board
Skynet Travel Corporation
Skywin Int'l Travel Agency
Sofitel Philippine Plaza Manila
South Palms Resort Panglao
Southwest Tours (Boracay), Inc.
Sparkle Holidays & Travel Corporation
St. Francis Hotels c/o Caliraya
Star Cruises PTE LTD
Subic Bay Metropolitan Authority
Swire Travel Philippines, Inc.
Taiwan Tourism Bureau KL Office
TDG Travel – Adventure International Tours, Inc.
TDG Travel – All Nippon Airways
TDG Travel – Universal Holidays, Inc.
The Baron Travel Corp. & Royal Caribbean Int'l
The Bellevue Hotels and Resorts
The District Boracay
The Legend Palawan
The Lind Boracay (Scottland Leisure, Inc.)
The Orient Beach Boracay
Thousand Miles Leisure Pro Travel & Tours
Thunderbird Resorts and Casinos
Tourism Authority of Thailand
Tourism Infrastructure and Enterprise Zone Authority (TIEZA)
Travel 101 Company Corporation
Travel People Ltd., Inc. (Sun Cruises, Inc.)
Travel Specialist Ventures Group, Inc.
Travel Warehouse, Inc.
Travellers International Hotel Group Inc. (Resorts World Manila)
Travelplus International, Inc.
Travelpros, Inc.
Triple Eight International Travel & Tours, Inc.
Trusty Travel & Tours, Inc.
Tuan Chau Five Star Yacht JSJ / Paradise Hotels & Cruises Vietnam
Turkish Airlines Inc.
Two Seasons Hotels & Resorts
U-Huat International Travel, Inc.
Uni Orient Travel Incorporation
Velca Travel & Tours, Inc.
Wideworld Insurance Agency, Inc.
Wintrex Travel Corporation
422 Stonehill Suites, Inc. (Stonehill Suites)
Abanes Bosay Resort Corp.
Aboex Travel and Tours
Accor Advantage Plus Phils., Inc.
Ace Hotel & Suites (USA Development Corp.)
Age of Travel, Inc.
Albay Pilinut Candy
Alisto Travel & Tours Co Inc.
Ambik Travel & Tours
Amorita Resort / One of Collection
Anantara Vacation Club (MI Squared Limited)
Ancorp Healthy World Inc.
Apex Chung May Properties Corporation (H Hotel)
Ar8 Technologies (Bagskinz)
ARTravel and Tours, Inc.
Ate J Foodhaus
Aureo Hotels / Ferenzo Holdings & Development Corp.
Baguio Country Club
Bali Nusa Dua Theatre – Devdan Show
Bamboo Boracay Beach Resort
Bel Air One Ventures, Inc.(Via Mare)
Belly Monster (ABC & ER Food Services)
Bonjour Travel and Tours
Boracay Foundation Incorporated
Bridges Travel & Tours
Brisa Marina Beachfront Resort Corp.
Buymixx Catering Services / Lemon Feels
Calamianes Association of Tourism Establishments, Inc.(CATE)
Canyon Hotels & Resorts (G2 Global Inc.)
Carehealth Plus System International
Cherry Mobile Communications Inc.
China Eastern Airlines Co. Ltd.
China National Tourist Office in Singapore
Chris Sports Inc.c/o Dynamic Sports
Citic Hotel Boracay (All Link Hotel & Resorts Group Limited Inc.)
City Garden Suites
City of Dreams / Melco Resorts Leisure Phils. Corp.
City Travel and Tours Corporation
Clark Development Corporation
Conrad Manila (SM Prime Holdings Inc.)
Conrey Specialty Foods, Inc. (Michelle's Homemade Putong Ube
Constellation Travels, Incorporated
Coron Soleil Garden Resort, Inc. c/o CATE
Coron Underwater Garden Resort c/o CATE
Creative Retail Storage Solutions Corp.
Crown Regency Hotels & Resorts
Cruise Professionals Inc. (Princess Cruises )
CTS Travel Recommends Inc.
Curaprox Trading Inc.
D' Famous Red Box Corp. (Polland)
Darayonan Lodge c/o CATE
Delfines Hotel Management Corp
Diamond Hotel Philippines
Discovery Adventure Travel & Tours
Discovery Tour, Inc.
Diwa Travel Agency
DLI – Best Western Plus The Ivywall Hotel
Don Nick's (Okaymiyakifood)
Dreamspree Travel & Tours
D'World Specialist Travel and Tours Corporation
Dygen Food Ventures Inc. (Dyna Drug Corporation)
Dynamic Sports Corp.
Earth and Shore Tourism Ventures Corporation (Camaya Coast)
Eastern Pacific Travel & Tours
Edams Dormitel c/o CATE
El Nido Bayview Resort
Ellen's Foodhaus
Emirates
Enrison Land Inc. (Be Hotels & Resorts)
Eon Travel & Tours Corp.
ESSENS VFC
EVA Airways
Everybody's Choice Shoppe
Express City Tours Travel Services
Expressmiles Travel and Tours
Far Travel, Inc.
Fiesta Tours & Travel Corp.
First Choice Travel Hub, Inc.
First United Travel, Inc.
Fly Me Travel and Tour FZ LLC
Friendship Tours & Resorts Corp.
Gateway Hotels
GDT – G. Denaga Trading
Global Pinoy Travel and Tours, GPRS Inc.
Gloria's Goto
Glory's Ilocos Empanada
Gratitude Corporation
Guatson Travel
Happy Delights Inc. (Potdog YummyYes Delights) / Go Han
Happy Sun Travel & Tours,, Inc.
Heart of Phoenix (HOP) Travel, Inc.
Hilton Manila (Deluxe Hotels and Recreation Inc.)
HIS Philippines Travel Corp.
Hong Kong Airlines
Hopia King Bakery / Eng Bee Tin Chinese Deli
Hoshicare Healthcare Co.
Hospitality Innovators, Inc.
Hotel Lucky Chinatown Inc.
I'm Hotel
International Journeys, Inc.
Jaera Travel & Tours Corporation
Jake Bros. Inc.
Jaycee Co.
Juness Beach Resort
Kandaya Resort
Karilagan Intl. Travel and Tours Corp. "KITTCO"
Kidzania Manila (Play Innovations Inc.)
Kyoritsu Maintenance Co. Ltd.
Lakawon Island Resort & Spa
Le Grand Boutique Phils., Inc.
Lemon Squeezy
Liberty Insurance Corporation
Local Government Unit – Naga
Lub d Philippines Makati (Sleep Well More Fun Corp.)
Luminous Travel and Tours, Inc.
Luxury Star Travel & Tourism Inc.
Mailyn Bihis Enterprise (Mshoppe / Sneaker Box Manila)
Malayan Insurance Company Inc.,
Manejkom Travel and Tours / Tourist Information Bureau
Mango Tours and Travel, Inc.
Margaret House of Cakes
Marina De Bay Hotel Restaurant and Spa
Mithi Resort & Spa
Mount Sea Resort
Mountain Lake Resort
Mountain View Garden Inn c/o CATE
Movenpick Hotel Mactan Island Cebu
Multi Destinations, Inc.
Multipixel Corporation
Nei Refreshment Hub
Newscapes Haven Development Inc.
Nominom Food Service
Nouveu Resort
Oceans Edge Resort
Oman Air
Oriental Assurance Corp.
Pablo's Chorizo Burger
Paccube Trading
Palawan Uno Hotel
Pan Malayan Express, Inc.
PGA Sompo Insurance Corporation
Phil Bxt Corp. / Jpark Island Resort & Water Park
Philippines Air Asia Inc.
Philpost Corporation (Philippine Postar Corporation)
Pioneer Insurance & Surety Corp.
Prime Travel & Leisure
Province of Guimaras
Province of Negros Oriental- Tourism Office
Prudential Guarantee & Assurance Inc.
RA Ventures & Innovations Int'l Corp.
Red Heirlooms Furniture and Home Decors Shop
Regent Travel Corporation
Robinsons Hotels and Resorts
Ronrox Corporation
Royal Kites Travel & Tours
Rustan Marketing Corporation
Samsonite
Savoy Hotel Boracay
Savoy Hotel Mactan
Serenitea
Sole Destinations Travel & Tours
Solina Beach and Nature Resort
Sophia's Garden Hotel & Resort by Calla Lily Hotel & Resort Corp.
Sri Lanka Tourism Promotion Bureau
Standard Insurance Co. Inc.
Starr International Insurance Philippines / Assist Card
Sunada Matsuura and Company (SMaC), Inc.
Sunlight Hotels and Resorts
Super Jay Food Venture, Inc.
Taisho Pharmaceuticals (Phils) Inc.
The Farm at San Benito
The Marvels of Travel
The Palladium Hotel c/o CATE
Tinapa King Pro-Food Corp,
Tokyo Convention & Visitors Bureau
Top Fusion Inc. (Potdog)
Toyama Nagano Gifu
Travel Bounty
Travel Geeks Co
Travel Scene, Inc.
Travel Scene, Inc.
Travel Wide Associated Sales Phil, Inc.
Travelite Travel and Tours
Tree Top Adventure Baguio, Inc.
Trends Travelmart International Corp.
Trillionmines Trading Inc.
Twin Lakes Hotel
U Hotels Makati
UCM Group of Companies Inc. (UCM ATV Adventure Park)
UCPB General Insurance Company, Inc. (COCOGEN)
Uniglobe Travelware Co., Inc. (The Travel Club)
United Limsun International Trading Corporation
Uniwander Travel & Tours
Venus Parkview Hotel
Villa Negrense Guest House
Waffles & Soda Corporation
Walvis
Warner Barnes Travel
Waterfront Hotels and Casinos
Widus International Leisure Inc.
Wild Fern Coron Villa c/o CATE
Wireless Services Asia, Inc.
World Wings International Travel and Tours Corporation
YSP Wellness & Spa (Yashita Spa Palawan)