Long before glitzy malls and private resorts filled Pampanga's capitol, Arayat National Park in Barangay San Juan Bano was the go-to destination of both locals and foreigners seeking respite from searing tropical heat.
Interest for Mt. Arayat's 3,715-hectare expanse began in the Spanish colonial period. Located on the base of Mt. Arayat, the park was a favorite among friars who gathered at its nippy springs to revitalize in privately installed baths.
Here's why a visit to the park is still relevant and enjoyable in these times.
It's a President's favorite.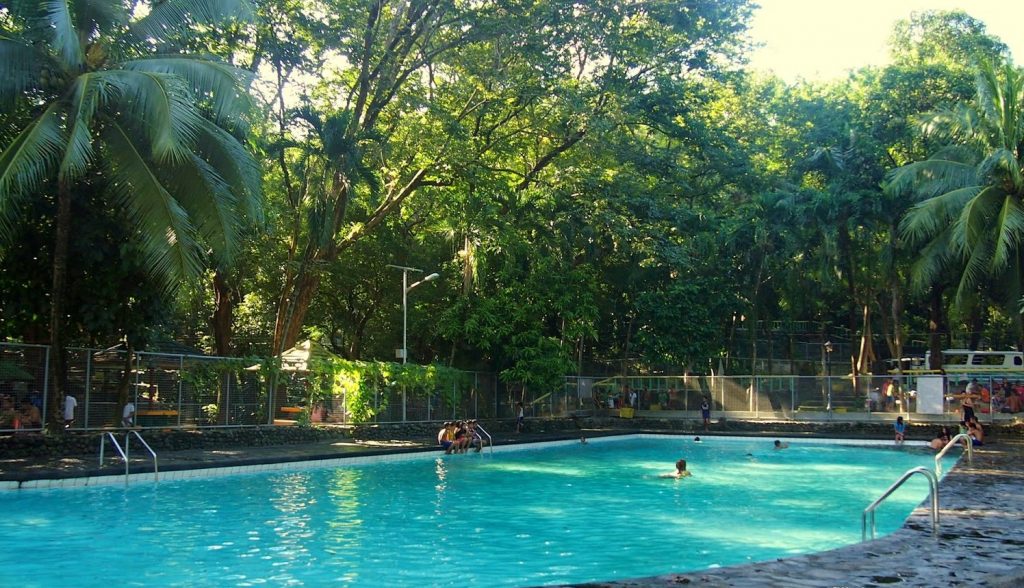 A nature lover himself, President Quezon often retreated to the mountain after working in his nearby hacienda. In 1933, he decreed that Arayat be declared a national park.
To coax tourists, the former president established points of special interests, including spring baths, children's slides, and a wildlife reserve.
And coaxed, they were. Busloads of tourists on excursions and business conferences arrived week after week to indulge in the mountain's natural splendor.
If you're into history, then this park is definitely for you!
It offers child-friendly spaces.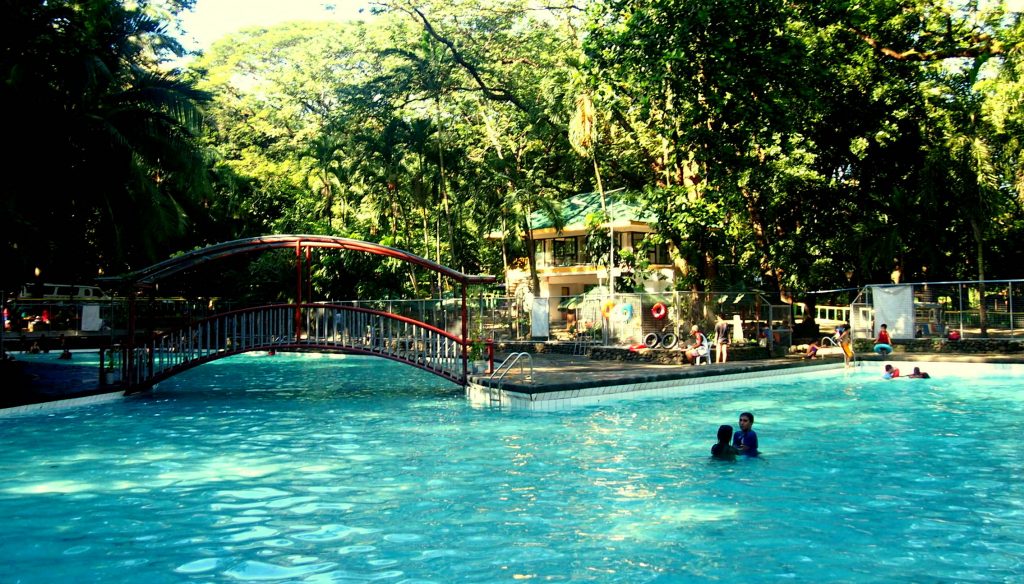 Some of the original amenities from the park's pre-war heyday still rest there today, though a bit bereft of color. There are a few species of live wildlife on display, including avians, monkeys, and civets.
There is a playground composed of slides, swings, and monkey bars. Children, just like adults, seem to prefer the inviting, foliage-covered cascades gushing down to two spring-fed pools, and the "7" lap pool (so called for its shape) – the biggest of the three.
Wintry and soothing, the pool water is sourced directly from the mountain springs, which stay bountiful even in the summer. The pools are not chlorinated but remain surprisingly sparkling, odorless, and refreshing despite the hordes of visitors that flock to the park every day.
It is a good picnic spot for families.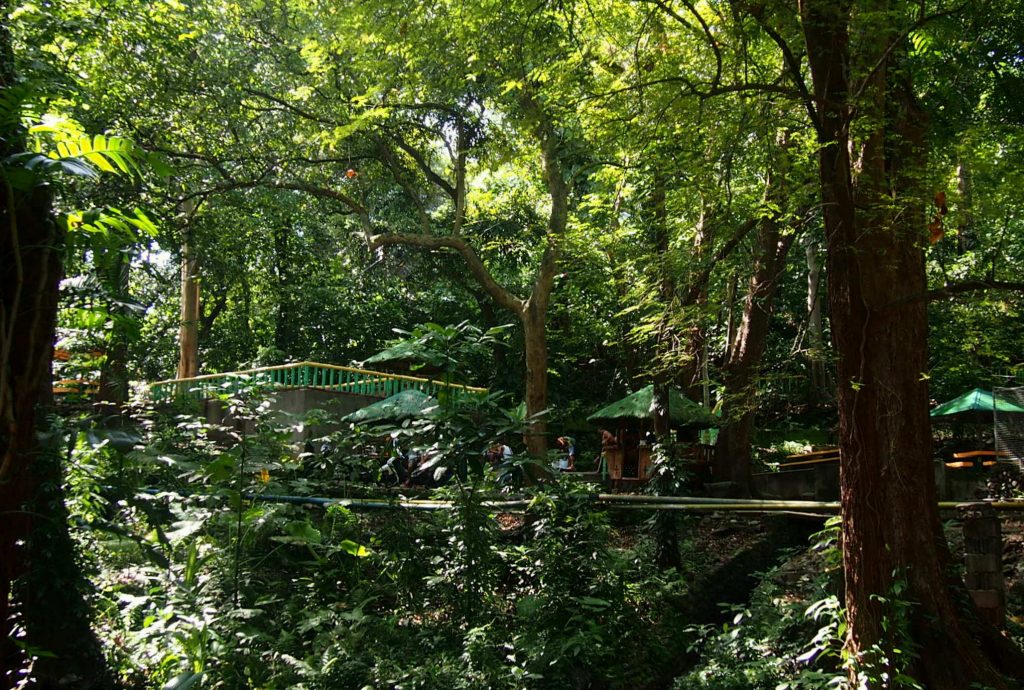 As a facility that centers on families, shared meals and barbecuing under the trees are a common sight here. Foodstuff, with the exception of liquor, may be brought in at no extra charge.
Conference areas, as well as picnic sheds with umbrellas and monoblock chairs, (maximum of 5 to 6 people) are available at P150. Bigger nipa huts can be rented for P250. There are also stalls selling assorted snacks, sandwiches, and beverages.
It offers thrills for outdoor junkies.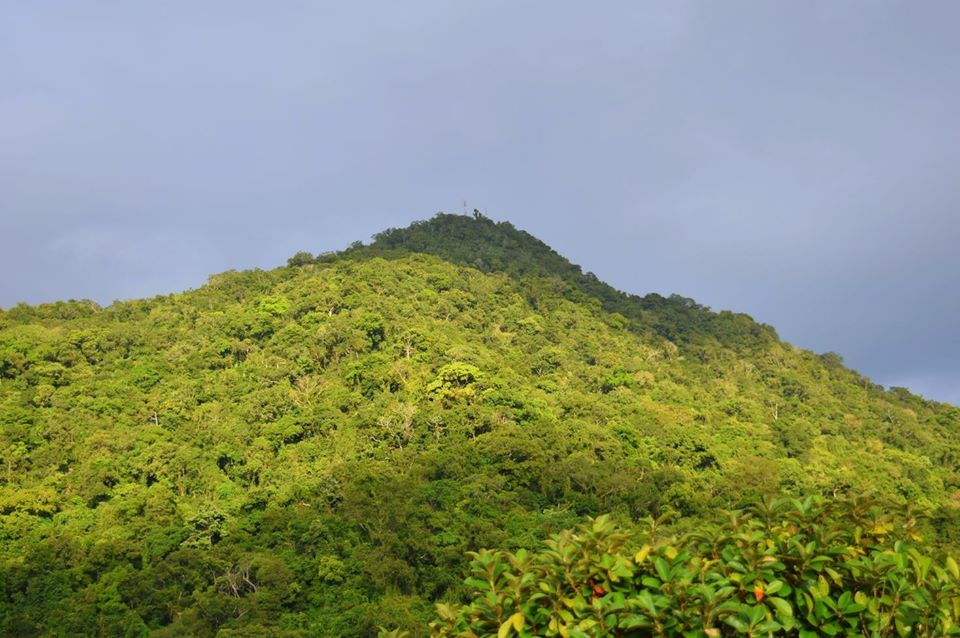 Outdoor enthusiasts, including bikers and mountaineers, comprise a sizable contingent of the park's regulars. A trail opposite the pool complex leads to the famous Tree House, a collection of tree-fringed rest huts. Coupled with bike racks and refreshment stores, the rocky, grassy, and tree-lined uphill terrain attracts bikers of all ages and levels.
If you crave a more thrilling manner of sightseeing, a trek to Mt. Arayat might just be for you. At 1,026 meters, the twin-peak mountain is among the most popular dayhike destinations near Manila for urbanites.
The challenging three to four-hour hike toward Mt. Arayat's south summit rewards hikers with lush forests and an expansive vista of the Central Luzon plains, Sierra Madre, and Pampanga river.
Guides are available at the park's entrance for P1,000 per group of 5 or less. Prepare for a sweltering hike. Portions of the trail offer little shade and suitable gear like hats will come in handy.
Some seasoned mountaineers opt for a more challenging traverse hike, which commences at the Ayala jump-off point in Magalang onward to the north peak going to the south peak. Rate is P700 for a hike to the North Peak only, and higher for a traverse hike.
And there's something for mysticism lovers, too.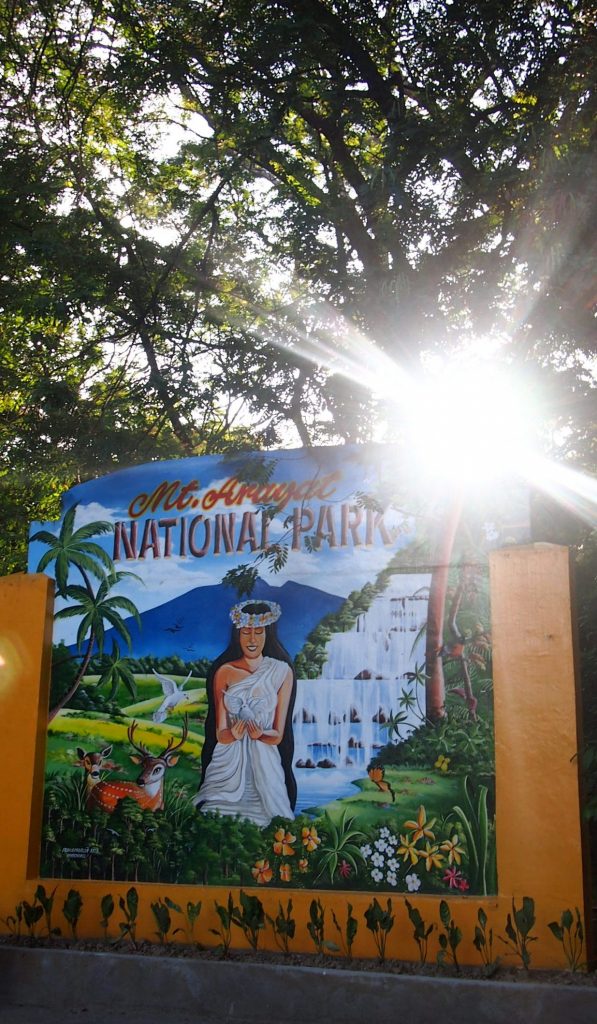 The North Peak is where diverse wildlife like civets and wild boar dwell, along with the fabled Apung Sinukuan. Stories are rife with intrigue about a famous lava formation called "White Rock", a favorite selfie spot for hikers on the northern peak, that serves as the abode of the mighty Sinukuan.
There is also a legend that tells of Mariang Sinukuan, a fairy that lives in Arayat's forest. Folklore claims her to be Maria Makiling's sister, and to the Rizalistas, she is Rizal's incarnate who drew the group to the mountain in the 1940s.
This mystic charm only adds to Arayat's magical appeal. Today, the diverse ecosystem that make up Arayat National Park, along with its peaceful scenery and family-friendly offerings, continue to drive in tourists as it did during President Quezon's time.
No matter what fable it carries or the state it is in, Arayat National Park will always be a crucial pillar of the Kapampangan history. Not only is it a park that speaks volumes about our ancestors' cultural beliefs, it is also home to an astounding diversity of flora and fauna native to the Philippines.
How to get there
Via private vehicle: Take the NLEX and exit at San Fernando. At the rotunda, ply east (to the direction of SM City Pampanga) to Arayat.
Via public commute: From Manila, take a bus going to San Fernando. Take an Arayat-bound jeepney or bus in front of Robinson's Star Mills Pampanga (P29). At the Arayat market, board a tricycle to Mt. Arayat National Park in Barangay San Juan Bano (P50).
Entrance fees
Swimming rates areP50 for adults, P20 for kids, and free for toddlers. Pay a separate fee (same rates as swimming) if you are going to the treehouse.
Parking
There's plenty of parking space inside the compound.