The Philippines's last frontier – Palawan is welcoming more and more tourists each year.
One of the destinations in Palawan that continues to make a mark in the global scene is the town of El Nido. With its crystal clear waters, pristine beaches, and unique rock formations, no wonder it is a place on every traveler's bucket list.
Ready to explore El Nido? Here's how to a quick and easy guide on how kickstart your journey.
Things to do and sights to see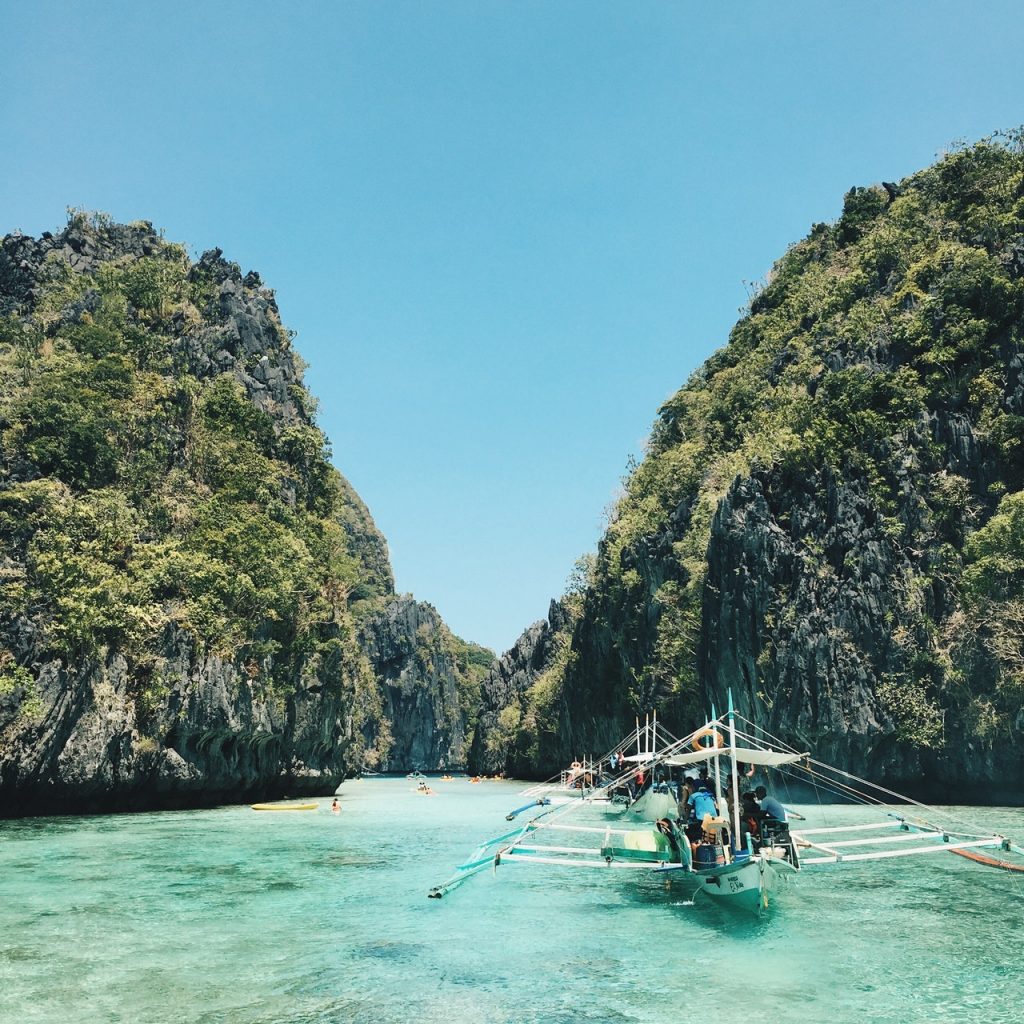 What is a trip to El Nido without island hopping?
There are countless travel agencies that can arrange tours for you. Some hotels have their own tours, while some partner with travel agencies for easier arrangements. Most travel agencies are authorized by the municipality, and they adhere to standard rates and rules as well.
El Nido tours start quite early, so make sure that you get a good night sleep first.
Majority of the island tours are offered in four different itineraries namely Tour A, B, C, and D. All four are well-promoted across the island.
Most tourists opt for Tour A and C because they cover more islands and the views are better. While some book all four tours in two different days, it really depends on how you want to spend your time.
The best-reviewed tours are often arranged by Sealand Venture El Nido. They are known for their well-trained staff and safe boats. Here are their rates as of 2019 and the specifications:
Tour A (PHP 1200/pax)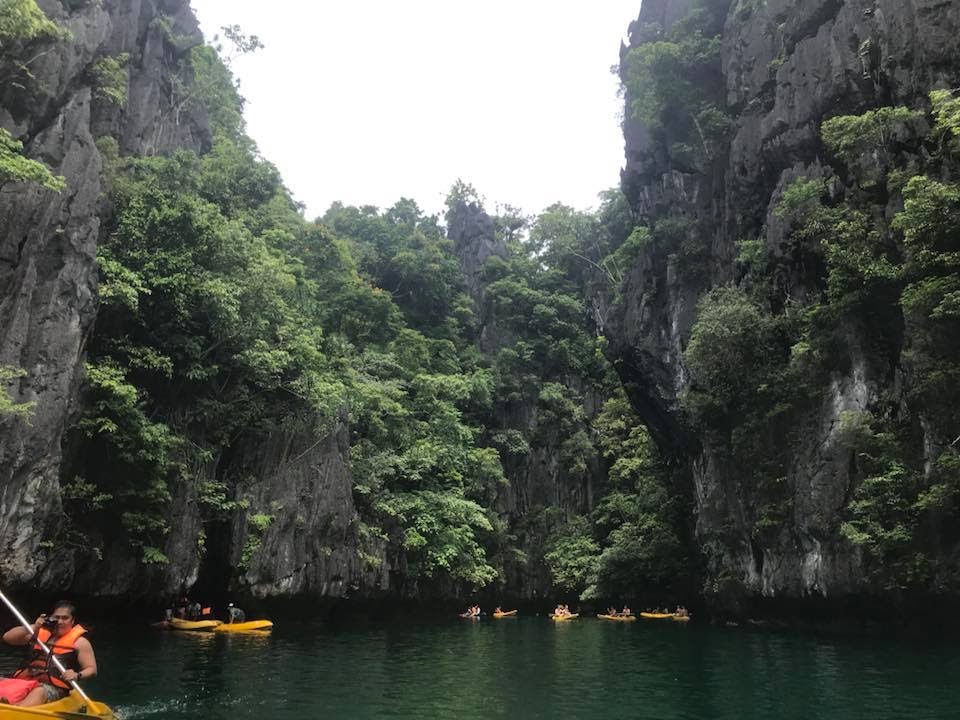 The famous Small Lagoon is the highlight of this tour as it is famous for its turquoise waters and limestone formations. After this, you'll get to visit the Big Lagoon, which has more expansive waters. Secret Lagoon is just close by, where you can see an enclosed lagoon that resembles a volcanic crater. Shimizu Island is also a picture-worthy part of the tour.
Enjoy the sunset and white sand at Seven Commandos Beach, the last stop of the tour.
Tour B (PHP 1300/pax)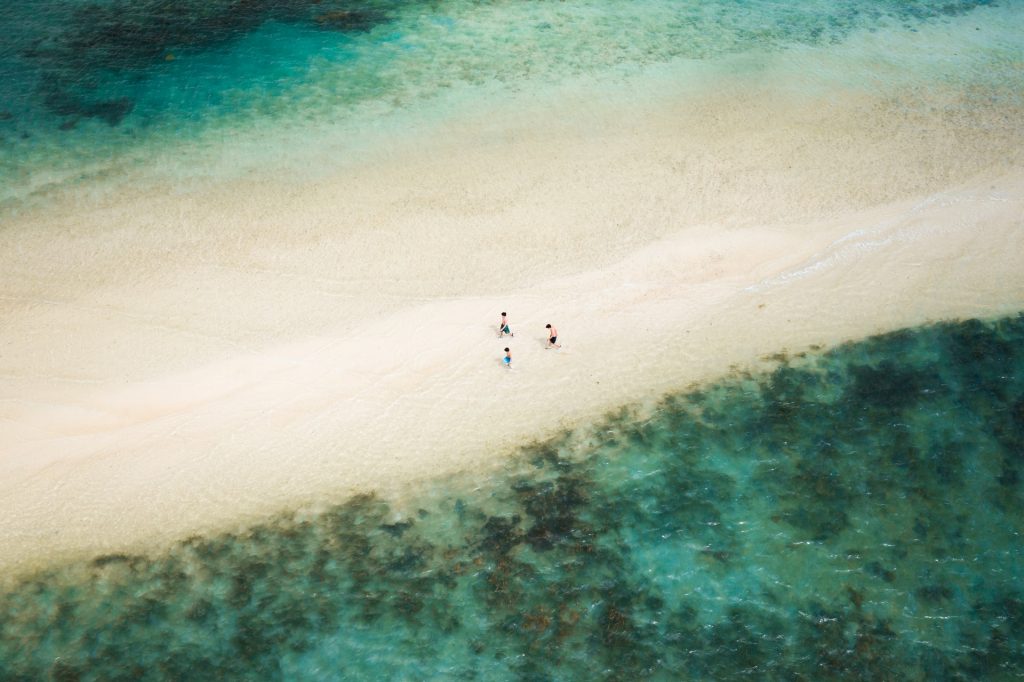 You'll get to explore one of the famous sandbars in Palawan, Snake Island, as well as Pinagbuyatan Island where you can snorkel in crystal clear waters. Cudognon Cave is also a must-see as this is where important artifacts can be found. Another historic cave included in this tour is the Cathedral Cave.
Last in the tour is the Pangulasian Island, also known as "the island in the sun" for its pristine beach on one side and tropical forest on the other side.
Tour C (PHP 1400/pax)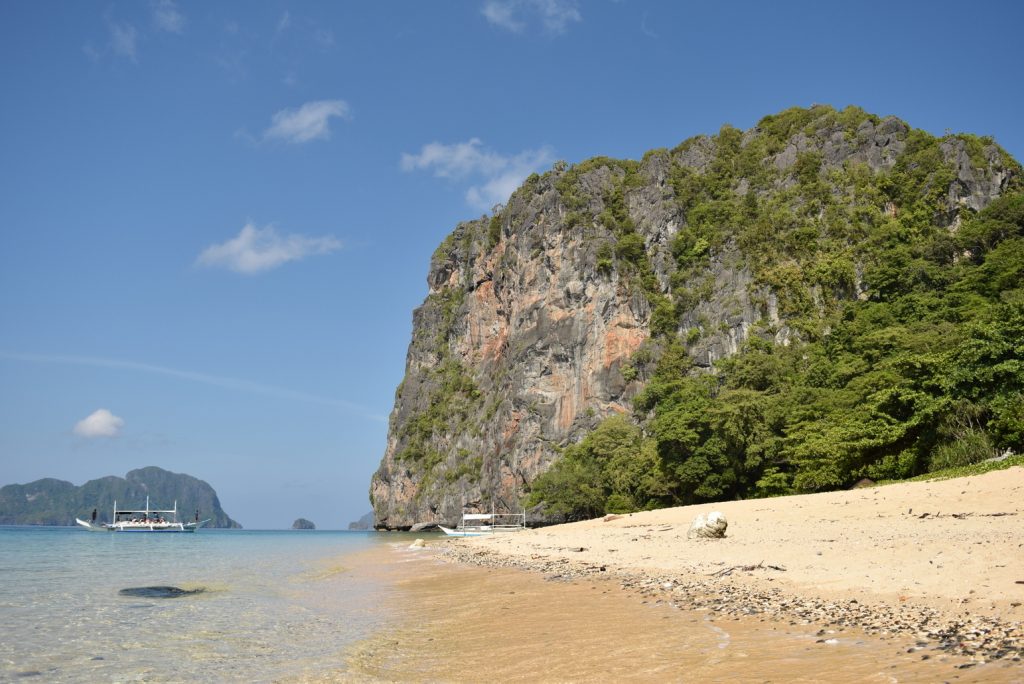 Tour C includes a visit to Helicopter Island. It resembles the shape of a helicopter and features a long, white sand beach, crystal-clear waters, and towering karst formations. You'll also get to see the beautiful beach of Tapiutan Island.
After this is Mantiloc Island where you can find a famous Catholic shrine and mansion built in the 1980s. In the same island is Secret beach and Hidden Beach, a lagoon completely enclosed my limestone and cliffs.
Tour D (PHP 1200 / pax)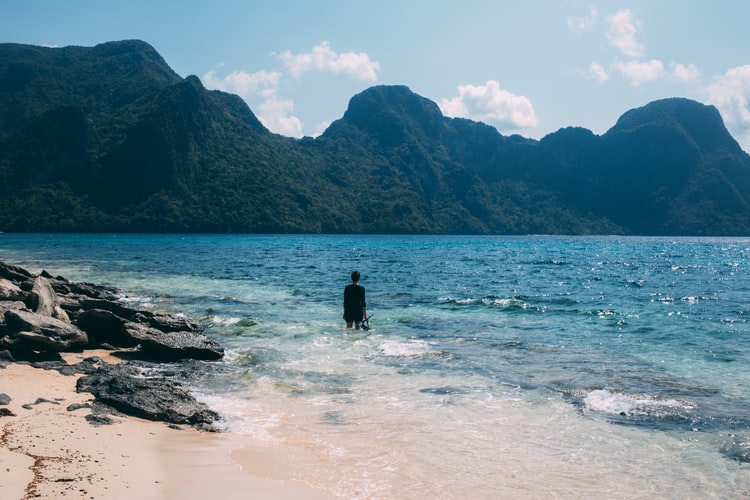 This tour features Nat-nat Beach, known for its soft white sand, clear waters, and towering limestones. It also includes a visit to Cadlao Lagoon, which is a good place for snorkeling. Next stop is Pasandigan Beach, a tropical paradise that features fine white sand and turquoise waters. Last is Bukal Island, a small, quiet island where you can relax and unwind.
Tour rates are inclusive of licensed boats, licensed tour guide, passenger insurance, picnic lunch, drinking water, snorkeling equipment, and hotel pick up. Most of these tours start at 9:00 AM and end at 4:00 PM.
The Essentials
Business name: Sealand Venture El Nido
Address: Serena St, Barangay Buena Suerte, El Nido, Palawan
Contact: 0908 406 8506
Operating hours: 6:00 AM – 7:00 PM
Recommended Restos
El Nido has many restaurants that offer different types of cuisines. There's something for everybody!
There's also no better place to eat seafood! While you're on the island, try Squido's. They are best known for their seafood curry and stuffed squid. Most of their dishes range from PHP 500-700, good for two people.
The Essentials
Business name: Squido's
Address: Barangay Masagana, Abdulla Street, El Nido Palawan
Contact: +63 935 243 2876
Operating hours: Monday to Sunday, 9:00 AM – 10:00 PM
If you're in the mood for some drinks, then visit Sava Beach Bar. Here you can enjoy a stunning view of the islands while sipping on cocktails or cold beer. They have a modern aesthetic that attracts a wide range of tourists. They offer both local and foreign liquor brands. The price of their mixers and drinks range from PHP 400-500.
The Essentials
Business name: Sava Beach Bar
Address: Barangay Masagana, Calle Hama, El Nido, Palawan
Contact: 0946 350 9188
Operating hours: Monday to Sunday, 4:00 PM – 2:00 AM
What are you waiting for? Explore El Nido and see for yourself why everyone just can't stop talking about it!
Getting to the Island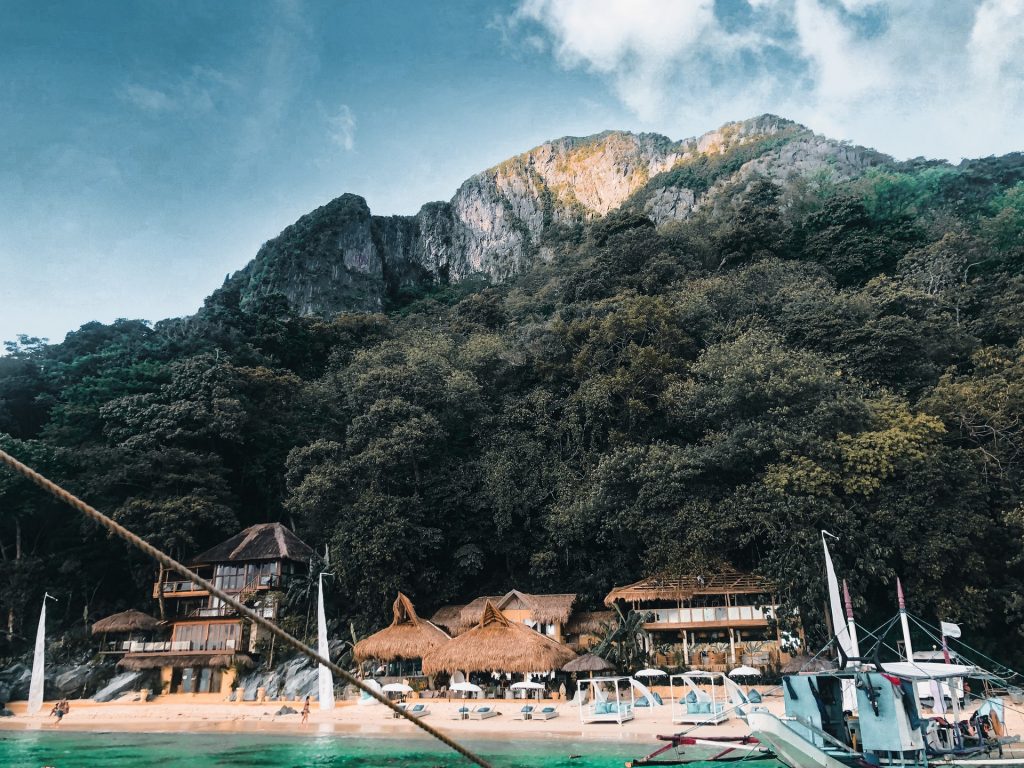 You can travel to El Nido two ways. First is by booking a flight to Puerto Prinsesa, then taking a van or bus to El Nido. El Nido is about 5-6 hours away. Travelers can also book a van through online travel agencies or book outside the Puerto Princesa airport.
One company that can assist you is Eulen Joy. They charge PHP 600 per head per trip. They also have experienced drivers.
The Essentials
Business name: Eulen Joy Travel and Tours
Address: Real St, Barangay Buena Suerte, El Nido, Palawan
Mobile: 0999-7093-766 / 0915-8293-735
As of the moment, the only commercial flight to the island is one that flies out of Manila and is operated by AirSWIFT. This can be quite costly, though.
Another option is by sea, if you are coming from Coron. There are passenger ferries that offer this route, but they are highly dependent on the weather. So make sure you have a backup plan.
Getting Around
Once you arrive on the island, it won't be that difficult to get around. The locals are very accommodating. For transportation, tricycles, vans, and "habal-habal" are used. You can also rent a motorbike if you want to explore the island by yourself.
Where to Stay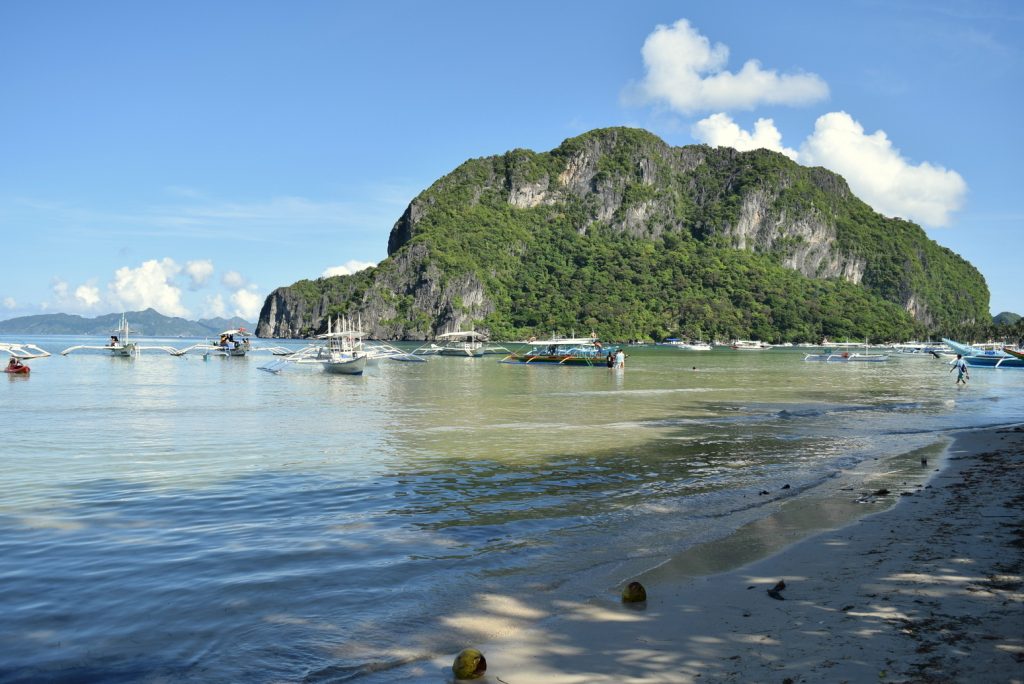 Due to El Nido's massive tourism growth, booking an accommodation in El Nido is now hassle-free. From hotels to hostels to airBNBs, you can definitely find an accommodation that suits your preference.
There are three main areas you can look at. First is El Nido Town, also known as Corong Corong. If you are on a budget and looking for affordable hostels, the town proper is right up your alley.
Next is Las Cabanas, which is situated by the seashore. If you love sunsets, then this is the place for you.
Last is Lio Beach, which offers spacious, luxurious, and relaxing hotels, away from the hustle and bustle.
If you are looking for a mix of all three, then consider staying at Fisheye the Rooms. It is located right by the beach and offers different facilities such as twin rooms, deluxe rooms, an apartment-type unit, a swimming pool, and gym. Its style is a mixture of modern and tropical.
The Essentials
Business name: Fish Eye the Rooms Hotel
Address: Del Pilar Street, El Nido, Palawan, 5313
Contact: 0917 501 0545