Like an enchanted treasure from a time long-gone, Vigan City transports each traveler to Hispanic Philippines. Every clip-clop of kalesa, every solid stone house, and gastronomic delights along Calle Crisologo paint a vivid picture of Ilocos Sur during the Spanish colonial era.
With almost every facet of the town's art, culture, and history popularized, it is exciting to find secrets still hidden inside every building, some of which lie behind the immaculate white walls of the luxurious Hotel Luna– one of the most sought-after accommodations in Vigan.
Hotel Luna's history dates back more than a hundred years ago, when Don Jose Florentino gifted it to his daughter, Doña Carmen, for her wedding. Fast forward to the 21st century, its Spanish heritage still marries modern elegance and Filipino hospitality.
Rooms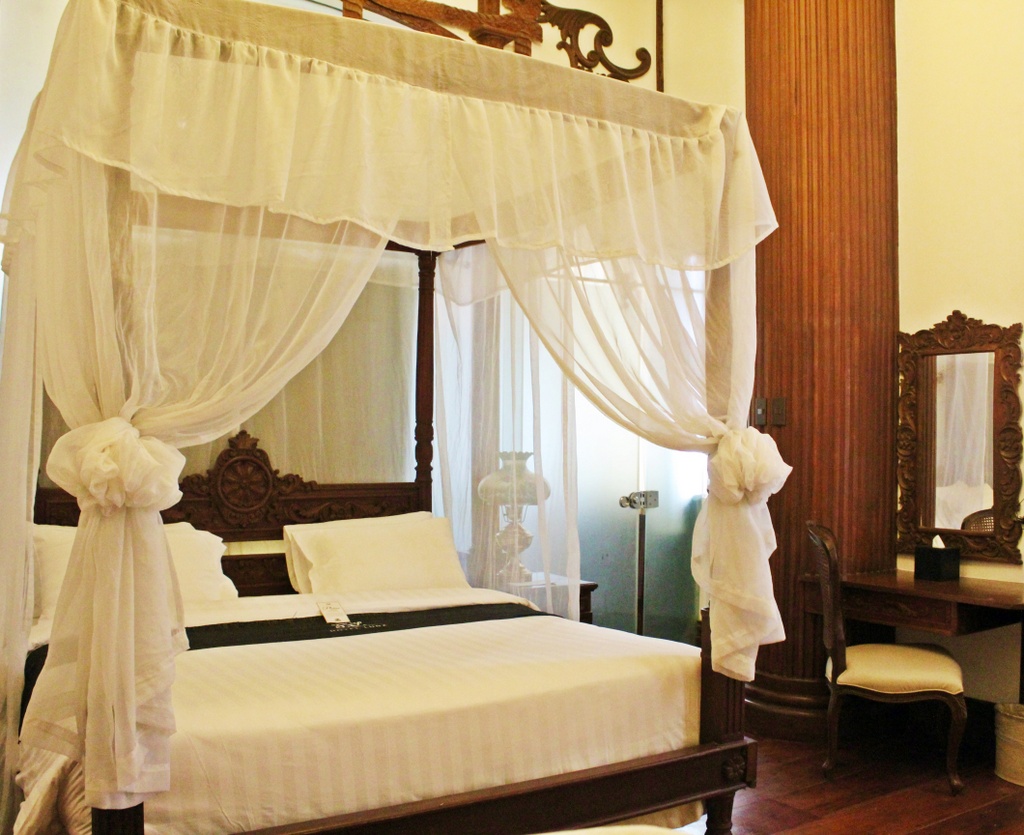 Hotel Luna's rooms, for example, carry an immaculate and luxurious appeal. Snowy fabrics lay on comfortable beds, with a backdrop of paintings hanging on white walls, and wooden accent furniture. All these lend an old world charm that is characteristic of the Spanish era.
Guests can choose from four types of rooms, all equipped with free WiFi access, hot and cold shower, and intercom. There's also concierge service; laundry, pressing and dry cleaning service; and pool access.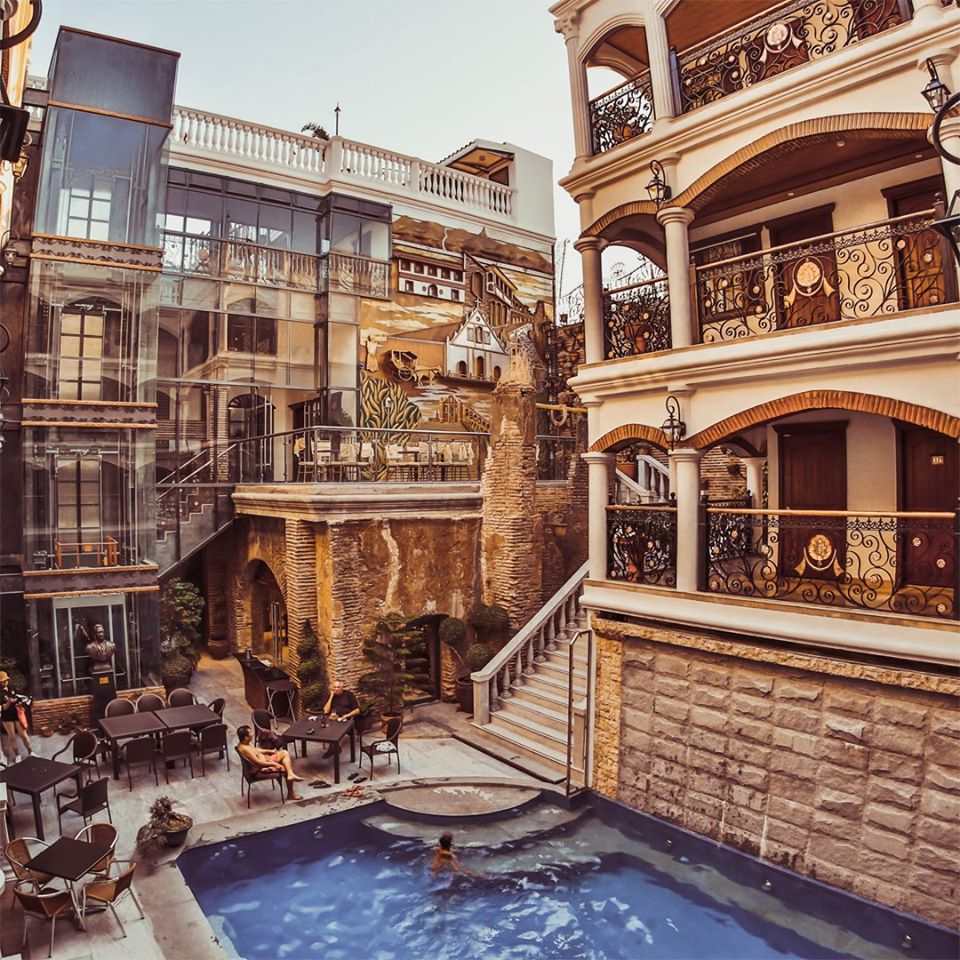 Queen Standard Rooms are specially tailored for differently abled people, offering guests the convenience of being just a few steps away from the Comedor and the pool area.
The Double Queen Deluxe Room has a mini bar, lavatory, and wide-screen television that guests may enjoy, while the Loft Suite boasts a living area, where families may bond with each other.
Newlyweds might want to stay in the elegant Executive Suite, which has its very own coffee Nespresso machine, 55-inch high definition television, and a luxurious bathroom that is equipped with a bathtub, rain shower, and a spacious vanity area to boot.
Rates
Queen Standard Room – good for 2; Php 6,180/night
Double Queen Deluxe Room – good for 4; Php 7,380/night
Loft Suite – good for 4; Php 13,200/night
Executive Suite – good for 4; Php 15,000/night
Published rates are inclusive of all applicable taxes. For additional guests, a fee of Php 1,300/night will be charged.

Comedor
Hotel Luna further delights with Comedor, one of four in-house dining choices inside the museum-hotel. This Fil-Spanish restaurant serves sumptuous Ilocano favorites like bagnet (crispy pork belly). Mouthwatering Spanish and international cuisine are also on offer.
Other dining options you might want to visit are the Chula Saloon Bar, the Azotea, and Hotel Luna's poolside dining.
But more than its pristine, sophisticated rooms and sumptuous Ilocano dining, Hotel Luna is yet to be fully discovered for the secrets within it.
Sculptures & paintings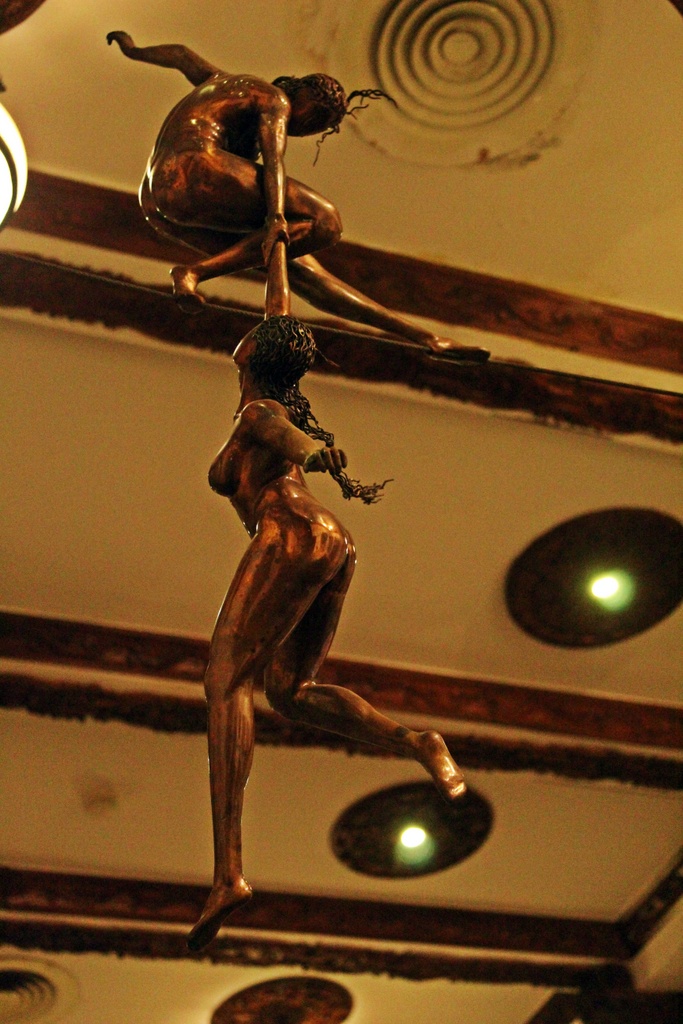 Art lures every visitor of Hotel Luna as seen by paintings on the walls and sculptures displayed in every nook and cranny. Going past a flight of stairs, before reaching the Grand Sala that serves as the hotel's museum, you will be drawn by a mixed metal sculpture of what seemed to be lovers hanging on for dear life.
This work of art entitled, "To Walk in His Path", is part of Daniel de la Cruz' assemblage, Silent Eloquence.
Upon entering the Grand Sala Museum, you will be astonished by the hidden collection of ouvres by classical and contemporary artists alike. Lovers of history and art will be pleased to find paintings of National Artists like Benedicto Cabrera (BenCab), Fernando Amorsolo, and Juan Luna, from whom the hotel was named after.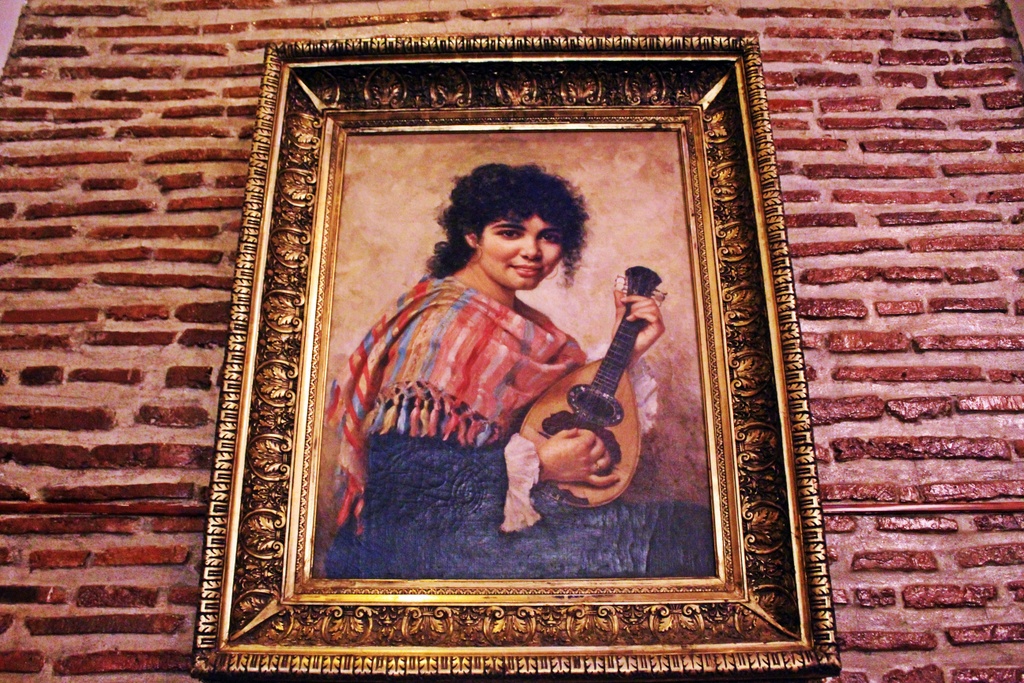 The inviting, gentle smile of Juan Luna's The Mandolinera across BenCab's own sculpture are just some of the masterpieces to behold inside the Grand Sala.
The Boardroom relics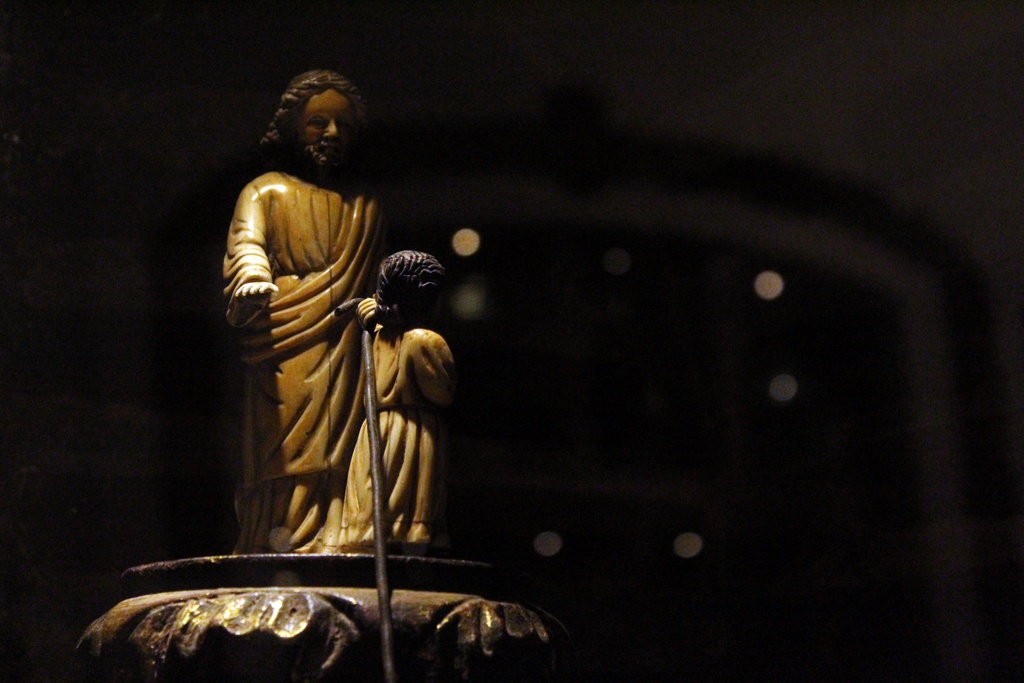 Apart from sculptures and paintings, Hotel Luna also displays religious antiques and valuable ivory jars behind a glass cabinet in the boardroom. This meeting room can seat up to 16 guests – perfect for those who would like to experience a grand, private get-together with their friends and colleagues.
The Mural by Rene Robles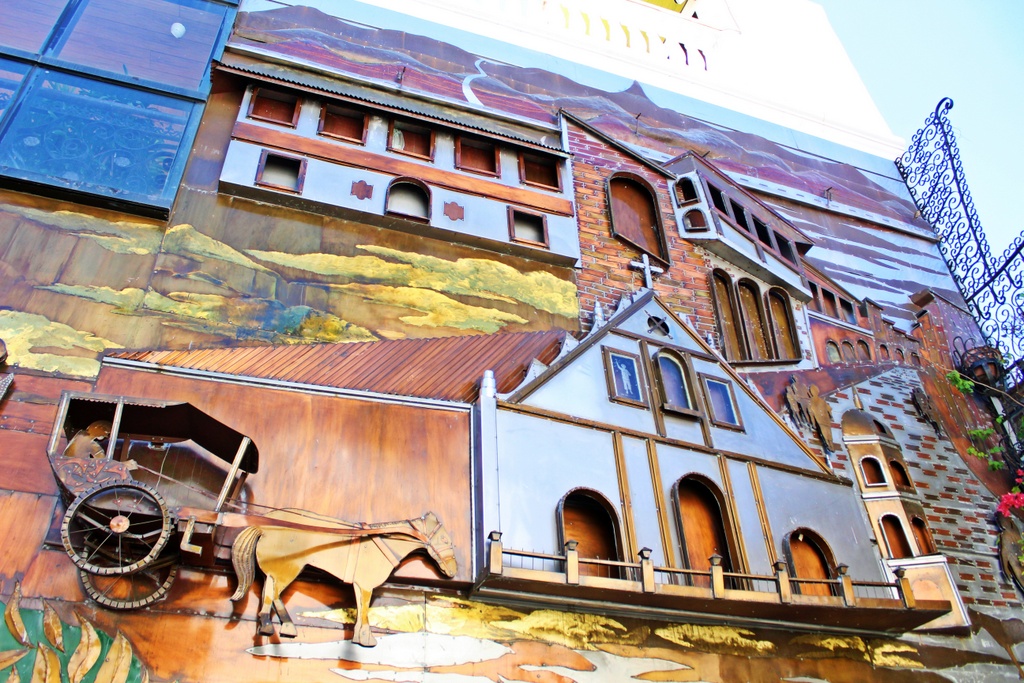 To quench the thirst of art lovers even more, Hotel Luna also exhibits a mural by none other than the pioneer of Assertionism, Rene Robles, whose works have graced the presence of kings and presidents.
This top-to-floor mural displayed on one wall depicts the story of Ilocos Sur and the landmarks the province is most known for.
Included in the mural is Tirad Pass, where the young General Gregorio del Pilar and his soldiers died in the battle against the Americans, as well as the Sta. Maria Church, a UNESCO World Heritage site.
Bottomline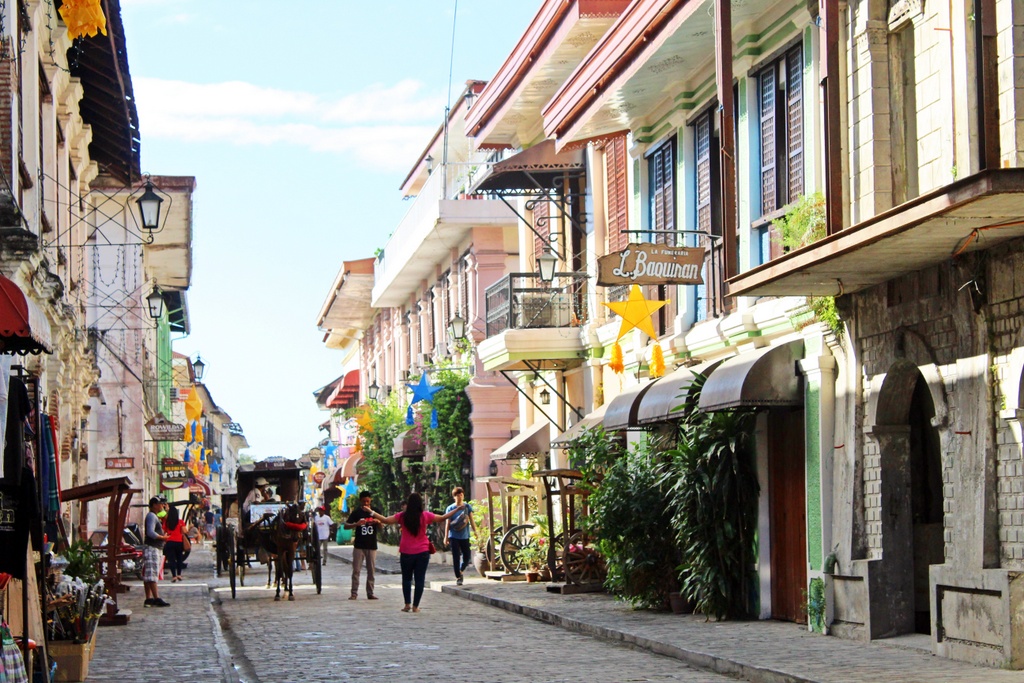 A treasure trove of deluxe accommodations, fine dining, historical artifacts, and artistic expression, Hotel Luna holds a world of delightful secrets, all just waiting to be uncovered, along with the Filipino artists behind them.
Note: Due to the COVID-19 pandemic, Hotel Luna has suspended their operations from March 17, 2020 until further notice. The hotel will reopen once it is safe to continue operations.
The Essentials

Business name: Hotel Luna
Address: V. De Los Reyes cor. General Luna Street, Vigan City
Contact number: 0917-564-0727
Operating hours: Check-in at 2 p.m.; Check out at 12 p.m
Facebook page: https://www.facebook.com/HotelLunaVigan
Maps link: https://goo.gl/maps/aMSzZFixZsZmxJfN9
How to get there
By public transpo: Several buses serve the Manila-Vigan route. You may also take a bus bound for Laoag. It makes a stop at Vigan.
By private car: From Manila, take the NLEX, then the SCTEX, and finally, TPLEX. You may reach Vigan town proper in around 8 hours, depending on traffic. Hotel Luna is within walking distance from Calle Crisologo.