There's probably no grownup that hasn't heard "Eat your veggies" once – and the 'rents are actually right. Studies suggest that a vegan diet, known to be low in harmful saturated fats and high in those super nutrients, reduces the risk of cardiovascular disease and type 2 diabetes and helps combat cancer.
Researchers also find that people with vegan diets are more likely to have healthier body mass index and experience more significant weight loss than their omnivorous counterparts. Animal-based meals are said to have higher fat and calorie content than a vegan diet (plant-based dishes also do a better job at providing much-needed macros.
Whether you're contemplating a healthier lifestyle or want to lose weight, these vegan meal plan providers help you achieve both, while also helping Mama Nature.
TitaMommy's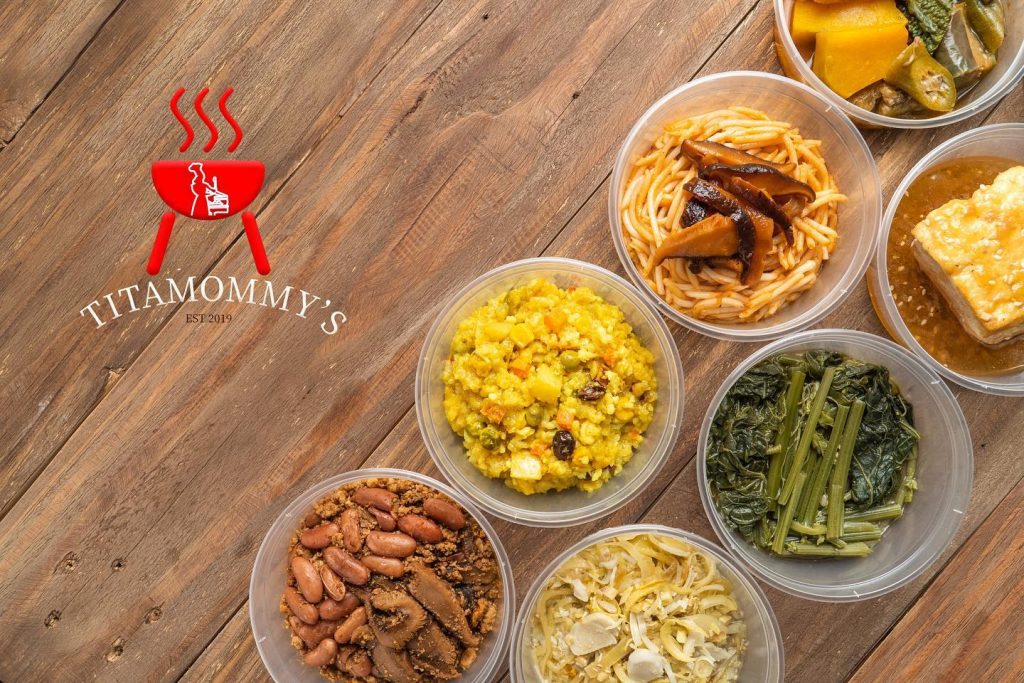 Well-known for its affordable 7-day ulam plan, TitaMommy's is a go-to for many people who are trying to transition to a plant-based diet and vegans who are looking for a masa-friendly weekly vegan ulam plan.
The weekly plan is sold in a fixed set of 21 viands – or three per day – with each mouthwatering dish costing only P35 or P100 per day (P700 a week). The dishes are safe to store in a fridge for two weeks, and are cooked by owner Norie (who's a vegan herself) using only vegan ingredients. You can also order their signature vegan burrito, a certified bestseller.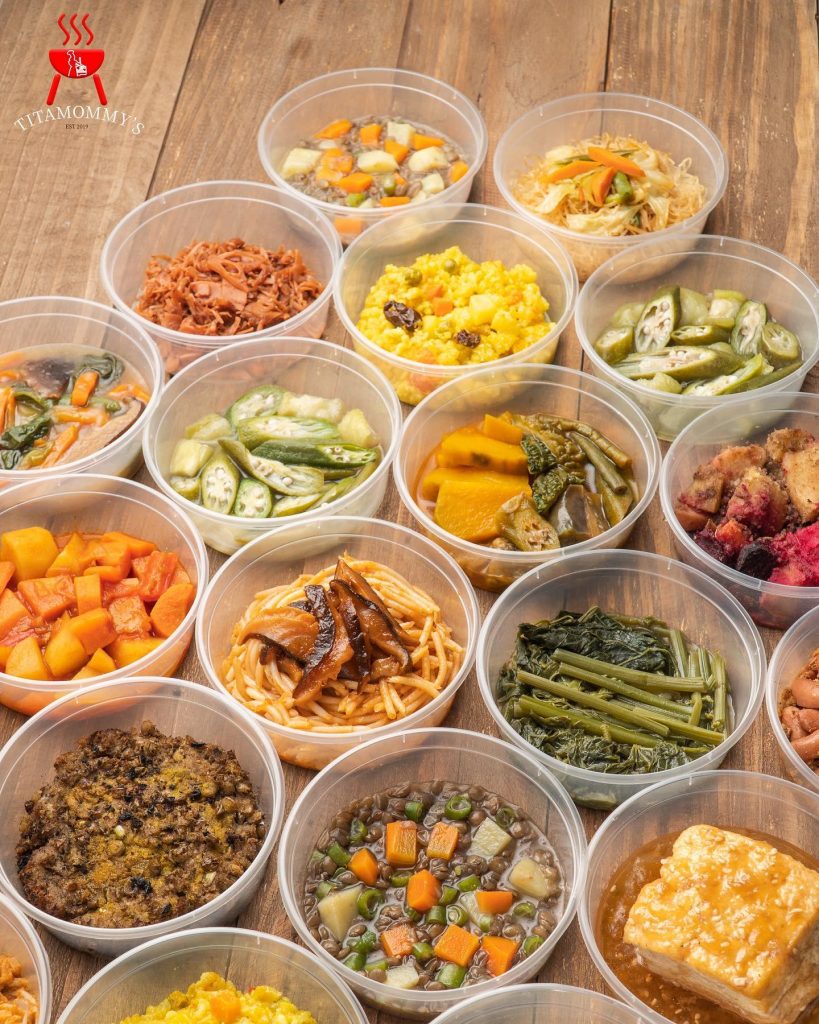 The meal plans are such a hit that Norie has already opened slots for October, and they are filling up fast!
Depending on the vegetable available during the season, some ulams might be repeated. But if it tastes as good as TitaMommy's, what's there to complain about, really?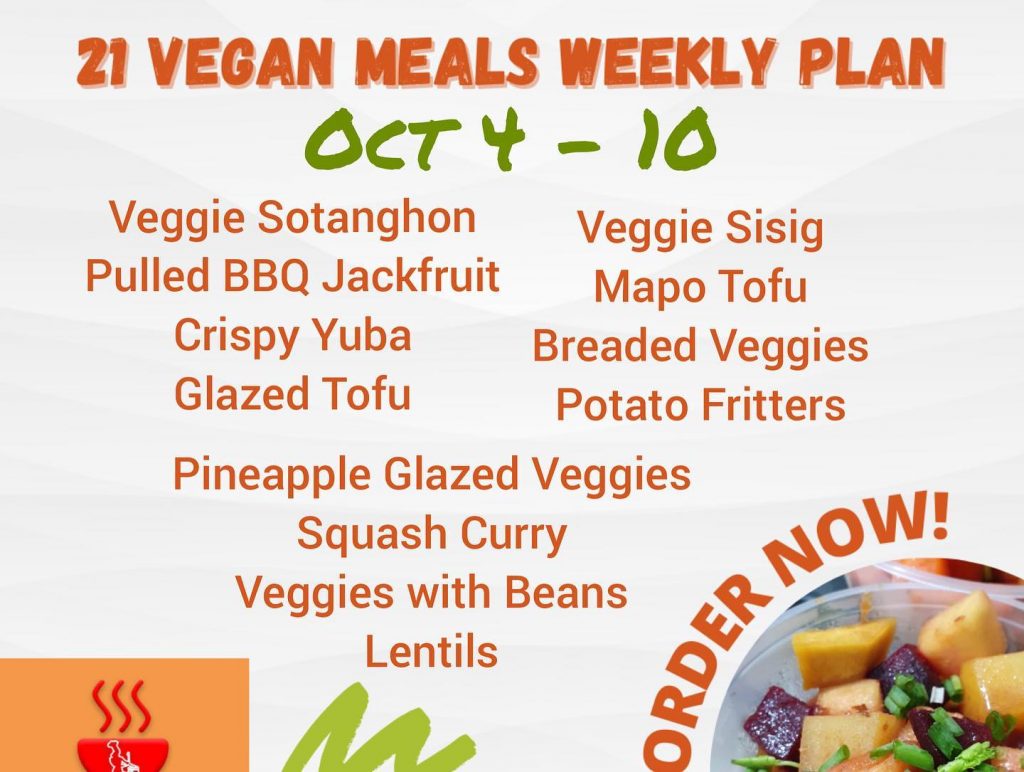 How to order
Order via: Send them a message on Facebook to pre-order.
Mode of payment: Payment upon confirmation basis only
Delivery: Delivery every Sunday via Lalamove, Grab, Toktok, and Mr. Speedy
The Essentials
Greenery Kitchen
Undergoing vegetarian mentoring from friends, owners of the Greenery Kitchen, or GK, began serving vegetarian meals in 2000 in Makati's bustling CBD. A few years later, they ventured into delivery services to homes and offices in the city, then later on setting up shop in Ambay Beach Resort in Zambales. Their healthy, chef-designed vegan meals became such a hit that they have since expanded into a full-pledged food delivery and catering business offering plant-based dishes.
Gorge on plant-based homegrown dishes like dinakdakan, binagoongan rice, kare-kare, and sinigang without the guilt.
Apart from ala-carte meatless Pinoy favorites and vegan desserts, they also offer a 14-day plan consisting of tasty and pocket-friendly meat-free meals. Order P1,000 worth of meals and enjoy free delivery to Manila, Pasig, Las Pinas, and Paranaque.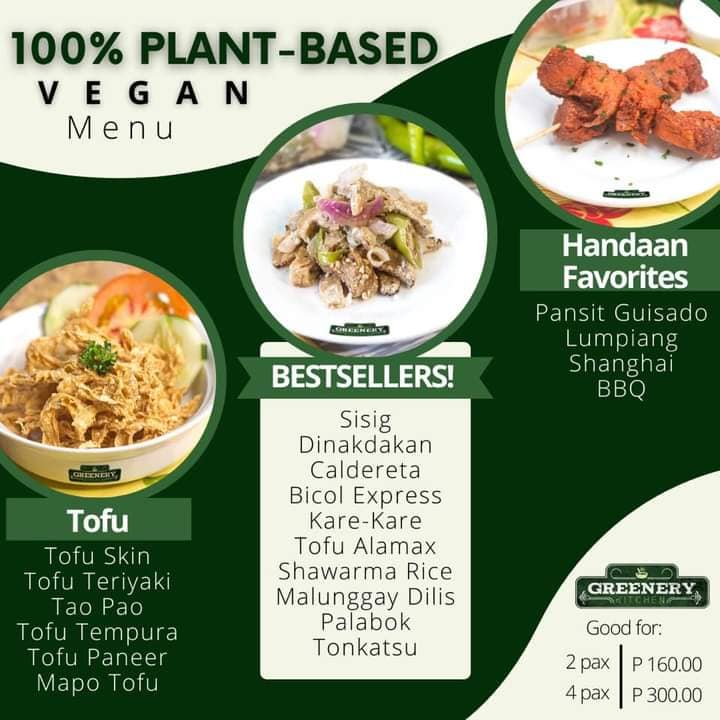 How to order
Order via: Pre-order via their hotline at 0917-175-4574
Mode of payment: BPI and Gcash
Delivery: In-house delivery
The Essentials
GrassFed PH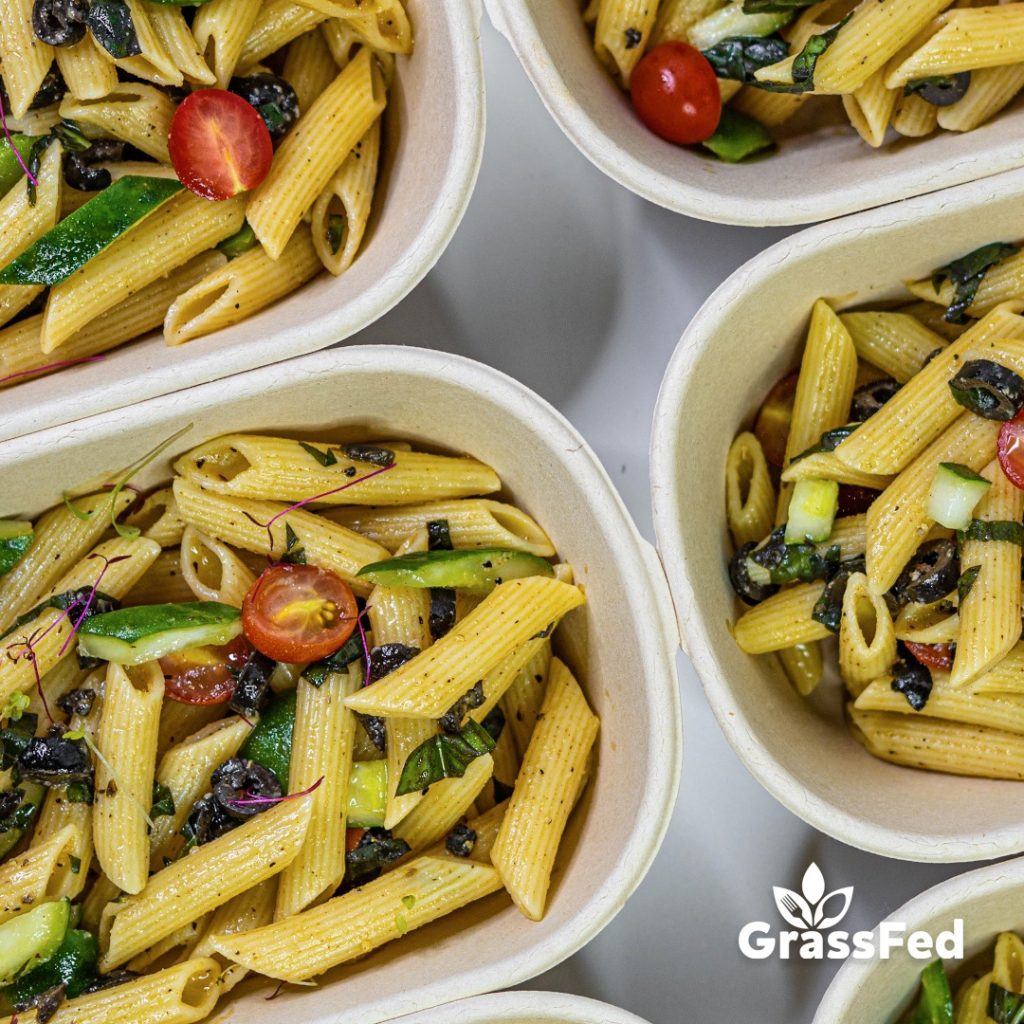 If you're keen on going for a strict, no-TVP diet, GrassFed PH is your go-to meal provider. Though rates are quite on the upmarket side (P5,500 for 5 days or P20,000 for 20 days, inclusive of deliveru to any point in Manila), this ambitious vegan meal provider promises premium plant-based "not-run-of-the-mill" dishes that are "designed to change your mind".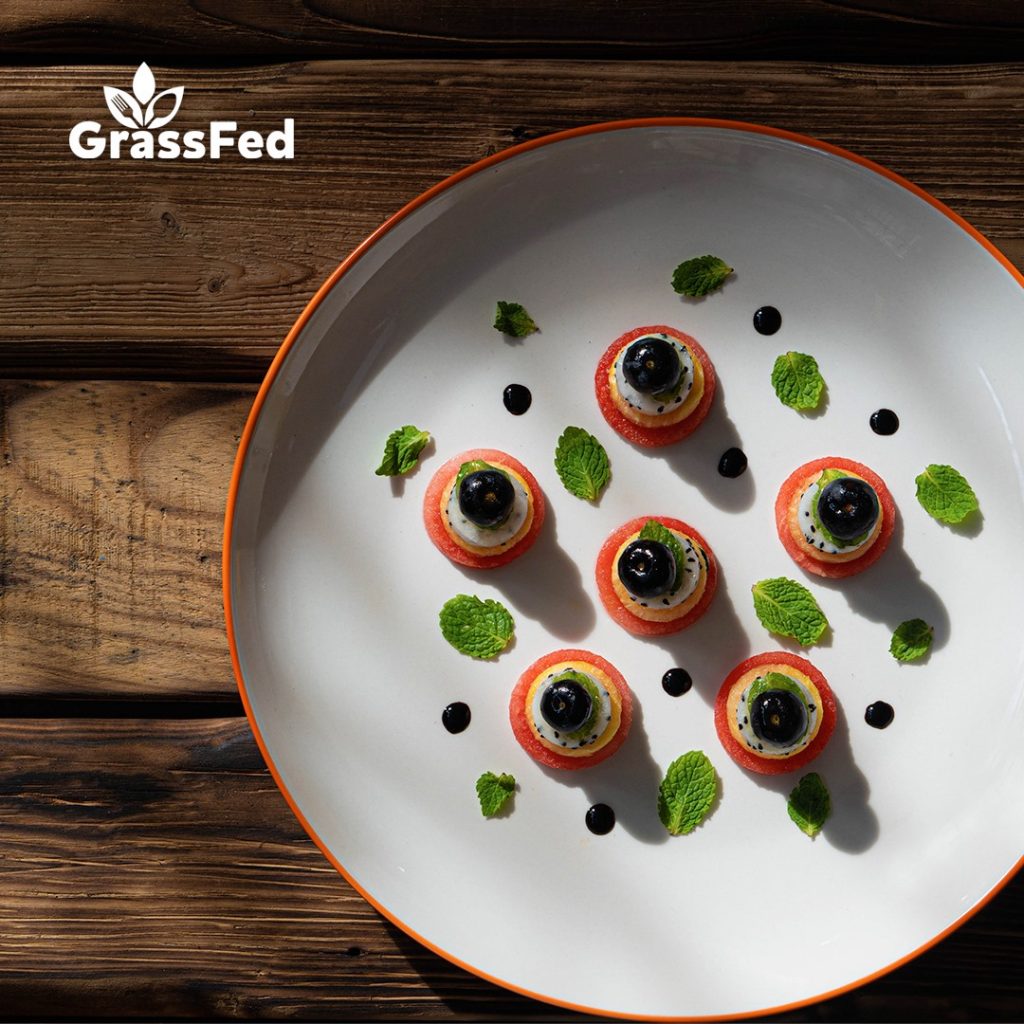 The 5-day weekday GrassFed meal plan covers breakfast, lunch, dinner, and snacks from Monday to Friday. It does not incorporate palm oil, and TVP (texturized vegetable protein) – which is quite popular with vegan dish creators – and commits to minimal use of meat substitutes. Instead, they use fresh and tasty raw ingredients from nature's arsenal, from plump tomatoes and mushrooms, to herbs and nuts, for that burst of flavor in each bite.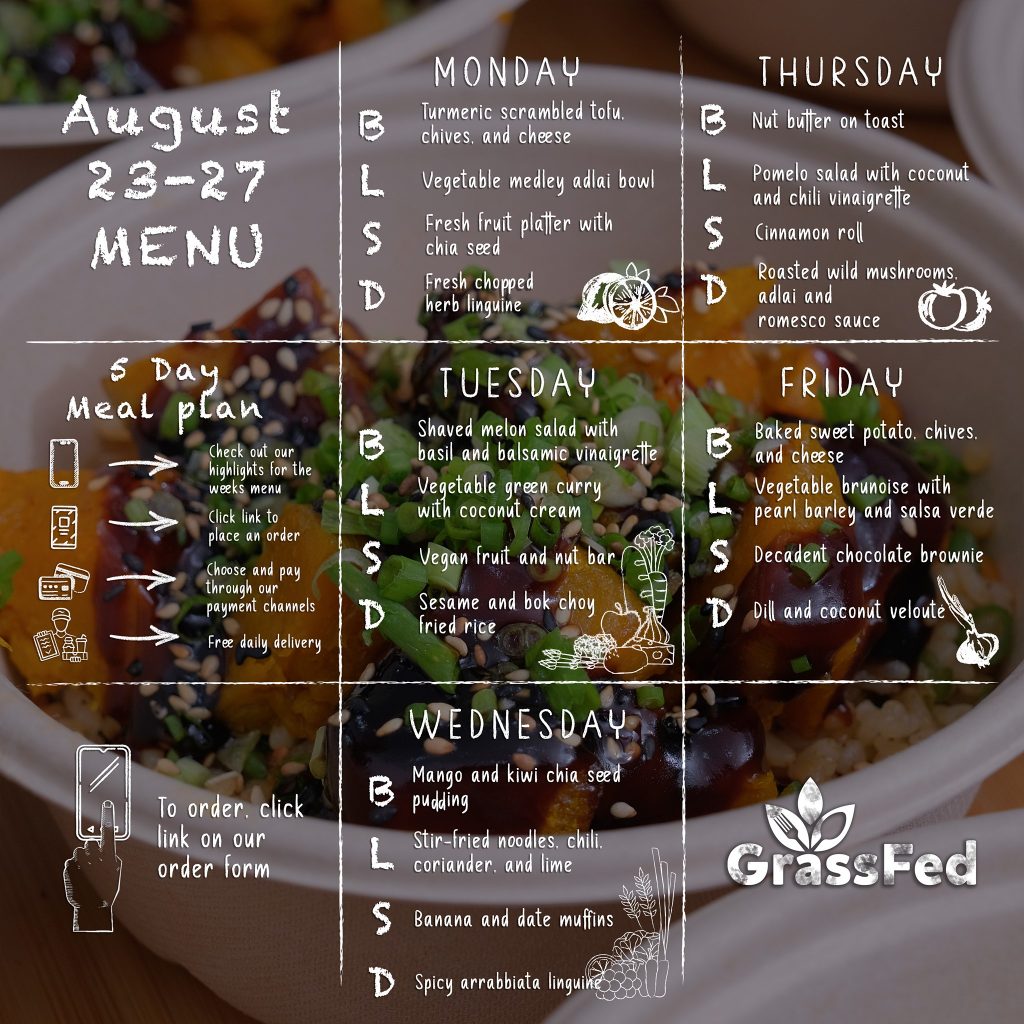 Aside from meals being 100 percent chef-designed and chef-prepared, GrassFed PH is also stringent in terms of food prep and delivery: all kitchen staff are vaccinated, and they only offer in-house, contactless delivery.
How to order
Order via: Sign up for GrassFed's meal plans through their order form at bit.ly/3biORVA
Mode of payment: Unionbank and GCash
Delivery: GrassFed PH's delivery personnel deliver meals in the afternoon of the previous day as to when the meals are intended to be consumed (e.g. meals for Monday will be delivered Sunday evening) they will be delivered on Sunday evening).
The Essentials
Facebook page: https://www.facebook.com/grassfedph/