Nothing beats a relaxing stroll in a wonderfully kept garden surrounded by peaceful butterflies.
Experience Philippine culture, rekindle your passion for the environment, and bask in the serenity of these beautiful butterfly gardens that are a great experience for the whole family.
1. Weny's Butterfly Garden
Who knew the passion for environmental awareness and preservation could strongly flow through the veins of one man: Sir Wences G. Dimo-os, the proud owner of his butterfly garden. Visitors must listen to a short orientation on the lifecycle of a butterfly and simple gardening tips to help grow your very own butterfly garden.
Children and adults alike could get up close and personal with the insects, rabbits, and turtles that can be seen throughout his half-hectare of land. It is a great place to not only to relax and learn more about these gentle creatures but to acquire the same passion for the environment and its preservation.
Guests could also purchase rabbits (₱250 each), hamsters (₱150 each), and other plants. Entrance fees only cost ₱20 for adults and ₱10 for children, making Weny's Butterfly Garden a good pit stop to visit while in the area.
The Essentials
Business Name: Weny's Butterfly Garden
Address: Panay, Capiz, Philippines
Contact Number: 09214352788
2. Habitat Bohol Conservation Center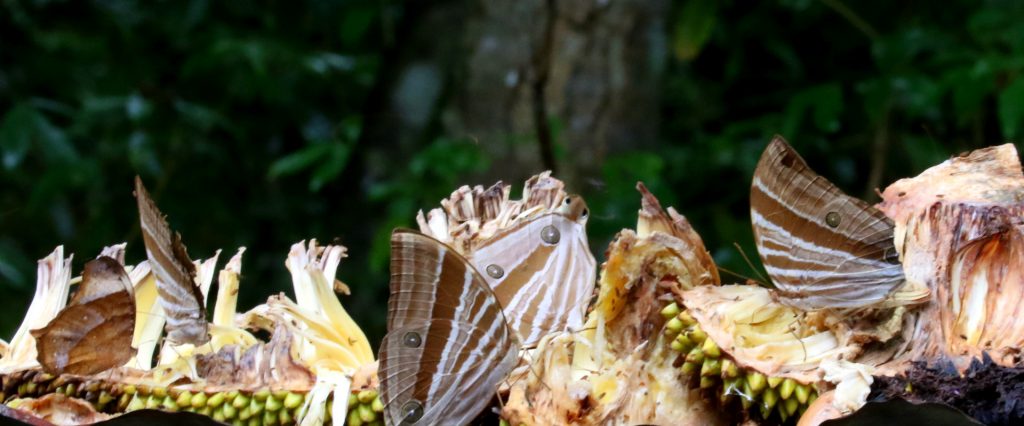 A home to different species of animals and flora native to the area, especially a wonderful collection of the local butterflies and moths that look like decorations when unmoving. Visitors can tour around the area with entertaining tour guides for ₱45 per person.
Neighboring nature trails located outside the vicinity also attract many species of wild butterflies attracted to the lush greens. Around 60 wild species have been accounted for that visit the sanctuary on a daily basis. The center also offers night safari packages that allow tourists to chance upon some wild tarsiers, owls, civet cats, fireflies, and other animals.
Other facilities around the area include a small restaurant, barbeque stand, and a butterfly collection museum tourists could make the most out of. Certainly, this is the perfect place to have a short brunch amidst the beauty of nature before continuing on to other attractions.
The Essentials
Business Name: Habitat Bohol Conservation Center
Address: Bilar, Bohol, Philippines
Contact Number: (038) 535 9400 / (038) 544 5038
Operating Hours: 7:30AM – 5:00PM
3. Palawan Butterfly Garden and Tribal Village
Lustrous trees housing a handful of butterfly species and breeding areas could be found all around the garden as well as local flora that serves as a source of food for these insects. Beyond the garden lies a small pond where guests can dip their arms in and allow tiny fishes to remove dead skin cells.
Entertaining tour guides would also tour guests around the Tribal Village where indigenous tribes gather to teach tourists their musical and hunting tools when they are in the area. Natives demonstrate the melodious sound of the Agung and Kudyapi, a rare first-hand experience for many. Others showcase their own talents such as making baskets they call Bagtik.
Since they communicate with their own dialect, visitors who wish to strike conversations would have someone interpret it for them. It won't be a struggle to do so since most of the guides are fluent with the language. If you are one for experiencing culture while basking in the presence of beautiful butterflies, then this is the place for you.
Entrance fees cost ₱50 for adults, ₱40 for senior citizens, ₱35 for children, while the teachers of Palawan and Puerto Schools Division Office can get in for free.
The Essentials
Business Name: Palawan Butterfly Garden and Tribal Village
Address: Santa Monica, Puerto Princesa, Palawan
Contact Number: +639175975544
Operating Hours: 8:30AM – 5:00PM