Burrow Café is a hidden restaurant in Antipolo ideal for romantic dates and intimate gatherings with family and friends. Located adjacent to Antipolo Beehouse – a private residence and creative space venue – Burrow Café literally takes visitors underground.
The charming space is carved beneath sloping terrain. Getting here requires climbing 76 steps down from the main gate into a garden area with an entrance that looks like a bunker leading underground. A shorter 19-step staircase further leads down to a wooden door and into the restaurant.
Interiors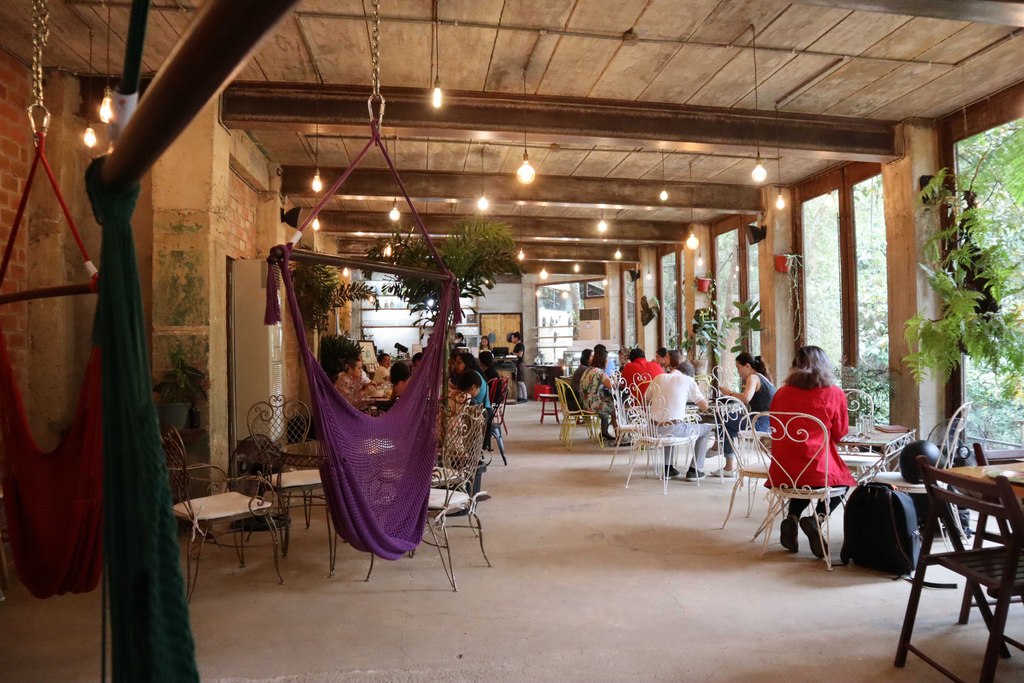 The main dining area is a lovely, well-lit space with large, airy windows giving diners a view of the surrounding forest and a river. The whole experience of dining at Burrow Café feels like you've stepped into the pages of Alice in Wonderland. Everything about it, from the interiors to the food, is charming and beautifully presented.
The interiors are rustic, with a hammock lounge serving as the waiting area. The cozy café can seat up to 50 to 60 guests. Walk-ins are welcome, though seats are not guaranteed. Because of its popularity, reservations are preferred especially for those who plan to visit during weekends and holidays.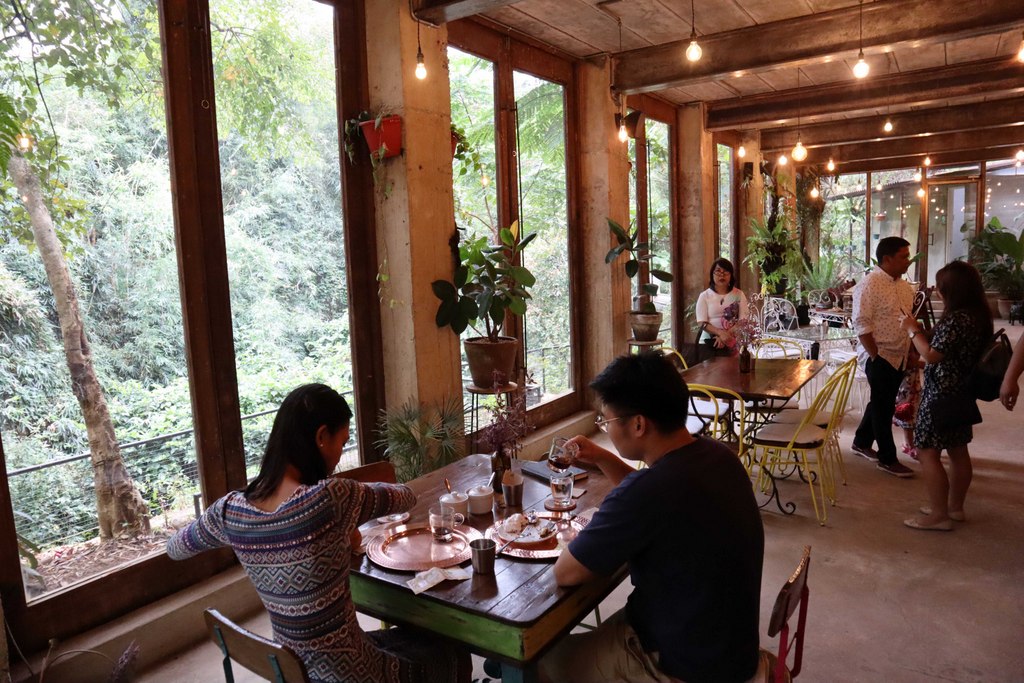 Burrow Café exudes a very peaceful vibe. You can experience the outdoors inside, because of the view of green foliage and the use of vintage metal lawn chairs and wooden tables in the dining space.
The café has a fully operable kitchen, which serves a focused and evolving menu of appetizers, salads, ala carte all-day breakfast and all-day lunch meals, kid's meals, desserts, and beverages. Just browsing through the menu itself is a treat, as it's inserted in the pages of a hardbound book.
Since the kitchen is small, they only serve about 20 dishes on the menu at any given time.
Menu
For appetizers, try their flatbread with assortment of dips (P320), truffled wild mushroom soup (P350), or squash flowers with banana ketchup (P225).
The all-day breakfast menu includes options like granola, yogurt and fresh fruits (P360); 14-Day corned beef brisket (P340), tender beef tapa (P330); and eggs Benedict with smoked salmon and bacon (P530).
For lunch, there's slow braised beef shank with cauliflower rice (P730), grilled chicken with mushroom Bordelaise (P330) and salmon fillet with chimichurri cream (P570), to name a few.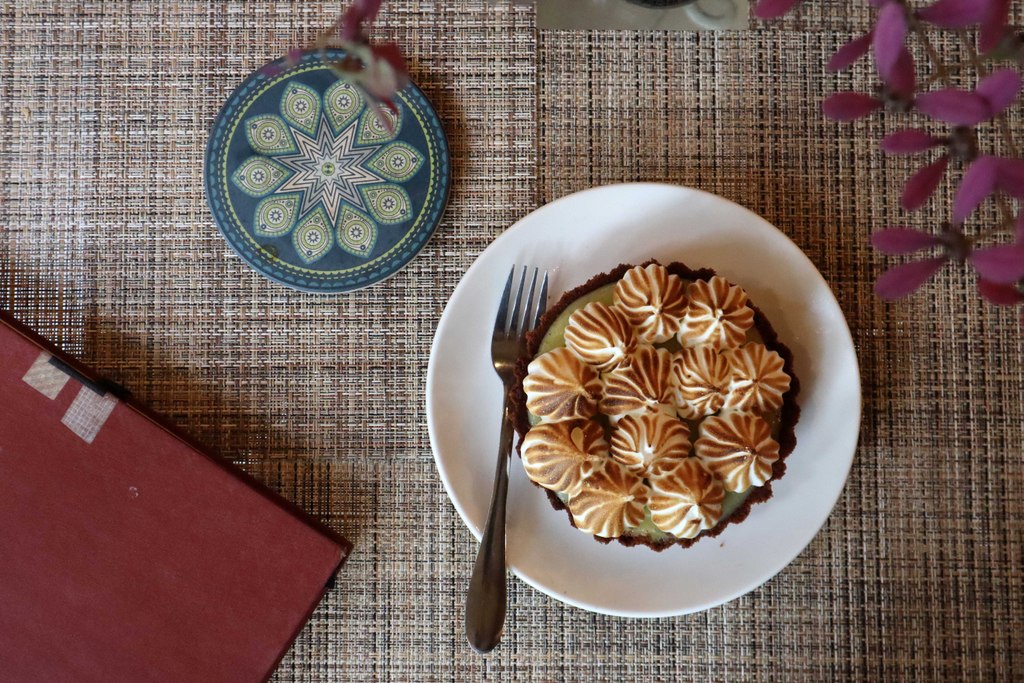 Kids can enjoy dishes like spaghetti Bolognese (P350), chicken fingers (P350) or Salisbury steak (P350).
There are also a couple of vegetarian and vegan dishes including Mushroom Cauliflower Rice (P380) and Tofu & Barley (P265).
For desserts, try their kalabasa cake (P250), dayap crème brulee (P160), ube cake (P260), and calamansi pie (P190).
For beverages, the café serves coffee, tea, seasonal fruit shakes, and local craft beer from Antipolo-based Santiago Brewery.
Reasons to come and return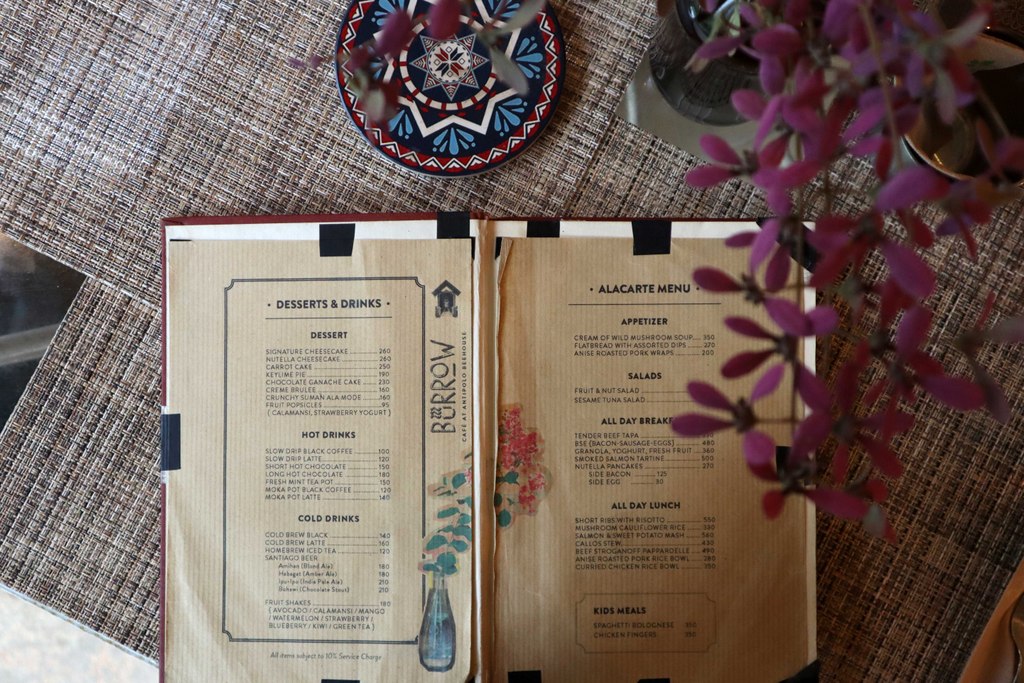 The dishes offered here are not the usual fare, making it a unique dining destination for special occasions. Every three months, new dishes are conceptualized, depending on the availability of ingredients and in-season local produce, giving customers a reason to come back.
The secluded location and romantic atmosphere have made the Burrow Café popular for intimate family gatherings, dates, pictorials and pre-nuptial photo shoots.
Burrow Café hosts bi-monthly dinners (by reservation) for occasions and special events. They also offer their versatile space for private gatherings and events.
The Essentials