With the state of travel seemingly continuing to veer toward essential-travel-only in the foreseeable future, virtual museum tours serve as a respite for travel-thirsty Pinoys. This week, Ayala Museum kicks the usual digital museum experience up a notch with a free, interactive museum tour, "Where is the Filipino?"
Kicking off on May 21, the interactive tour affords participants full control of their museum experience in a 2D world reminiscent of those in 90s video games, using their own avatar. During the tour, they can interact with other guests, explore a 2D map of the Philippines, and ride boats to various islands where over 100 indigenous and ethnographic and objects from Ayala Museum's collection are located.
Here's a glimpse of how the game/ tour looks like:
Through this, participants can familiarize themselves with the history and culture of the Philippines, including olden trades, colonization, migration, origins, and ultimately, "what makes us Filipino" – a fitting way to cap off Museum Month!
Guided tours
Guided tours will be hosted on May 21 in gather.town – a social platform with video calling and other features in a 2-D world. After pre-registering, a tour link will be sent to the participants. An Ayala Museum virtual tour guide, assisted by docent guides, will be present to conduct the one-hour tour. It's open to participants ages 14 and up.
Self-guided tours
If you weren't able to join the guided tour, fret not! Self-guided tours are completely possible from May 22 to May 30, anytime during the day. After registering, you will be able to choose a preferred timeslot. Note that only 25 participants at a time can be accommodated.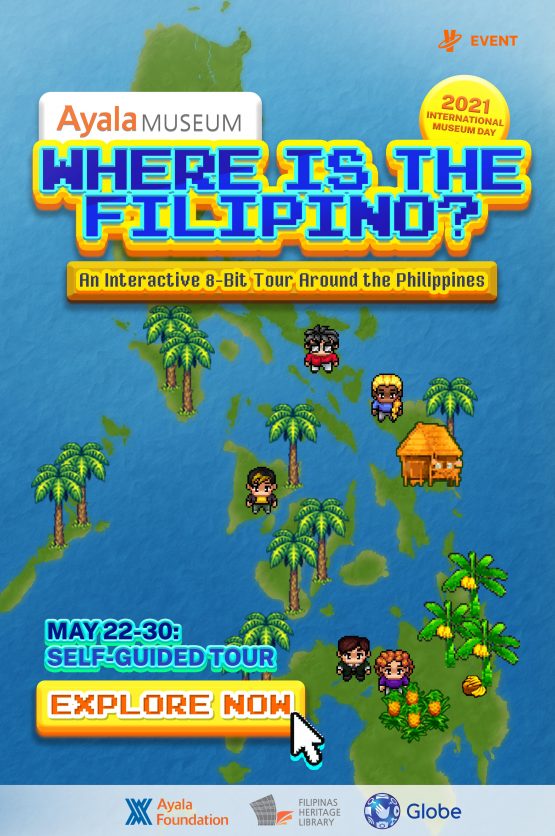 Things You Need for the Tour
The tour is best taken using a laptop or desktop computer using Google Chrome or Firefox. Other browsers, as well as mobile gadgets like cellphones and tablets are not recommended as mobile access is still in Beta mode.
You will also need a stable internet connection.
To begin, fill out the participants' form here first.

You can also find out more by visiting Ayala Museum's website.