While bodybuilding may still be considered by many as a men's sport, more and more women are starting to make a name for themselves here. Female bodybuilders are out to prove that it is possible to succeed in this male dominated field through dedication, hard work, and discipline.
If you are looking for some inspiration, here are three Pinay bodybuilders whose stories may inspire you to start your own bodybuilding journey.
Liza Fielder
Who: Chef, entrepreneur, Bikini Athlete competitor, fitness coach
A recognized chef here and abroad, Liza's impressive background includes serving for Burj Al Arab Hotel – Dubai's foremost 5-star hotel – and Mandarin Oriental. With over a decade of active fitness routine, she decided to merge her passion for physical fitness and cooking by creating a diet delivery business, CHEFitness, which offers clean and lean five-day menus ranging from European to Arabic.
Liza studied personal coaching and training in the American Council on Exercise at the FIT Manila. She is currently a member of Philippine League of Bodybuilding and Fitness.
Liza is also an animal advocate and a fur mom to 17 pomeranians, three aspins, and eight cats. Aside from bodybuilding, she also decided to take Veterinary Medicine in the University of the Philippines Los Banos as a second degree.
Where you can follow her:
Hilary Isaac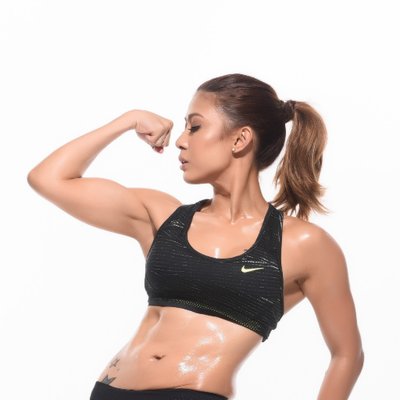 Who: Fitness competitor, events host, voice talent, and former CNN Philippines and Solar TV news anchor and radio DJ

A former news anchor and radio DJ, Hilary Isaac left the limelight to pursue something unexpected: bodybuilding. What started as purely out of fun became a lifestyle for the single mom, who won as Ms. Gold's Gym Philippines in 2016. During the same year, she joined the PCBF Open Bodybuilding and Physique Championship in Bacolod and bested other contestants in the  BIkini Fitness category.
She now runs The Tiny Kitchen Blog, a fitness blog that offers exercise tips and low-carb recipes.
Where you can follow her:
Sel Guevara
Who: Women's rights advocate, sideline reporter for Maharlika Pilipinas Basketball League  (MPBL), and former radio DJ
Thistle 'Sel' Guevara started bodybuilding in 2015 after she acquired pneumonia from "smoking two packs a day" and dropped 80 pounds. Her physician warned her that not regaining the weight she lost meant she was always going to be sick. It was the wakeup call that the former courtside reporter needed to turn her life around.
She has remained healthy and maintained her lifestyle since. Today, Sel is one of the country's most decorated bodybuilding athletes. She is the first Pinay to have won the IFBB Bikini Pro Competition Thistle "Sel" Guevarra was named the first Filipina IFBB Bikini Pro on Philippine soil.She is now eligible to compete in the most prestigious shows in the world under the IFBB Pro League.
Where you can follow her:
Were you inspired by these Filipina bodybuilders? Share your thoughts in the comments below!