Back in second year high school, I recall watching a documentary film by National Artist Kidlat Tahimik. The film, entitled "Holy Wood" (a play on the word "Hollywood" and its literal Tagalog translation, Banal na Kahoy), was about the use of trees struck down by natural calamities to create beautifully detailed wooden artworks, statues, and sculptures.
The pieces were meant to represent life and rebirth, and how remnants of devastation can be turned into rich and vibrant reminders of history. It also showed how intricate the process of wood workmanship is, and how artworks, in every form, are sacred vessels and depictions of the nature of reality and variations of human experience.
Having viewed this film previously definitely heightened my respect for visual artists, and made me appreciate my monumental experience more at the Victor Oteyza Community Art Space (VOCAS) Gallery.
Ili-likha
When it comes to art hubs in Baguio, going where is a no-brainer. ili-likha is the first spot that comes to mind and is also probably one of the first things on every artsy non-local's bucket list. The place itself is an eye-catching installation piece, a multi-leveled display of discarded logs of wood, shards of glass, and chunks of metal webbed – a stark contrast to the busy cityscape of Session Road.
Upon entering the tree house-like structure, you'll be greeted by disarrayed pathways branching out in all directions, leading either to chairs and tables, diners and cafés, a micro-cinema, or a random dead end. Thoroughly exploring this place is a surreal experience, as you are sure to find colourful, unique, and evocative sculptures, mosaics, and pieces of Baguio and Igorot culture.
VOCAS Gallery: Ili-likha's sophisticated older sister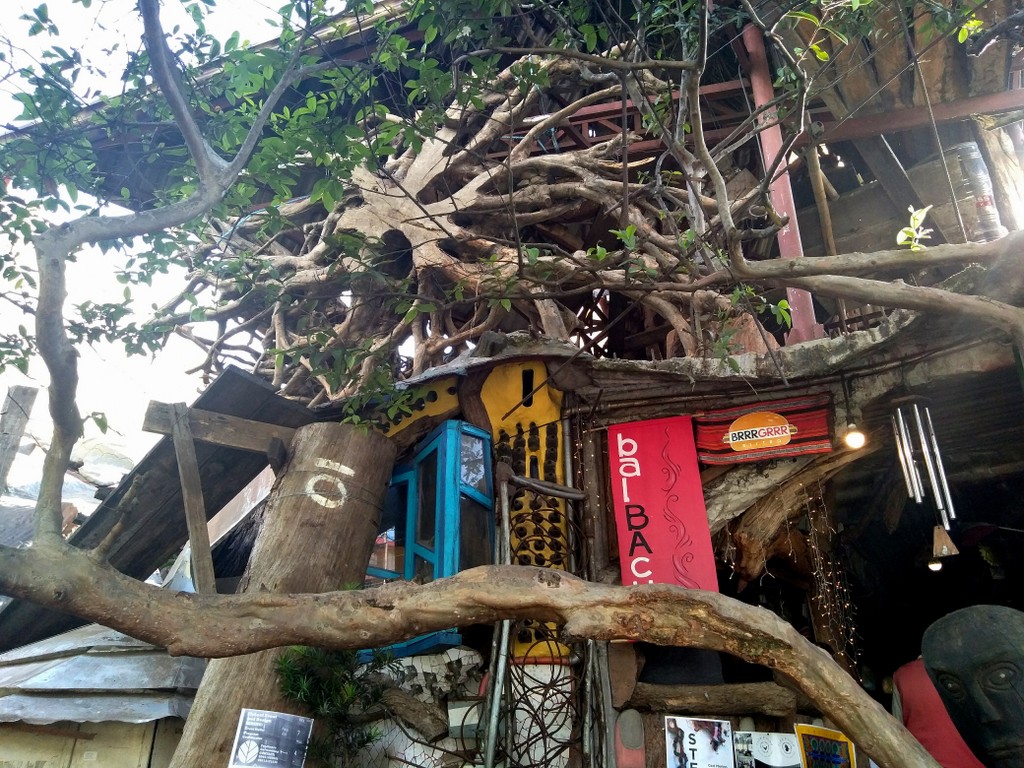 The VOCAS Gallery, on the other hand, is a bit more shy and harder to find – but exploring it isn't any less adventurous. Located atop the old La Azotea Building, its fantasy motif lends the feel of a hidden, mystical haven pulled right out of a Philippine mythology book.
National Artist for Film Kidlat Tahimik, the mastermind behind Ili-likha, established the gallery in honor of the 13 artists who were later regarded as the forerunners of Philippine Modern Art. The group included the late contemporary visual artist Victor Oteyza, from where VOCAS' name comes.
A Place for History and Local Artistry
This hidden haven also serves as an exhibition space for homegrown artists who helped Baguio rise from tragedy. It is an homage to the Baguio's artist community and was built to uplift the citizens of Baguio after the 1990 earthquake and the onslaught of typhoons that followed.
The community's efforts, which are now directed towards the beautification of the city, made Baguio stand out as not only a tourist attraction, but as proof that art is a living force that revives hope, uplifts people, and inspires whole places and cities to move forward and flourish.
Into The Rabbit Hole
To get there, find the stairs leading up to the fifth floor. Upon reaching the top, look for another staircase – a wooden one, with walls packed with stickers, posters, and colorful tile mosaics. Climb further up until you reach a wall with an entrance resembling Alice in Wonderland's rabbit hole.
Enter, and you'll be welcomed by a bulul statue, a wooden bridge, and a little blue koi pond. That's when you know you've arrived. The place features extravagant designs from indigenous materials, a mini-stage, and a huge, boat-themed café.
OMG Café: Uniquely Cordilleran Vegetarian Dining
The VOCAS Gallery also houses Oh My Gulay! Café, which as serves strictly vegetarian meals that everyone, even kids and carnivores, can enjoy. Its menu items are also endowed with comical names, such as their best seller "Anak ng Putanesca" – their rendition of Pasta Puttanesca – and "Cesar Asar" – fresh Caesar salad.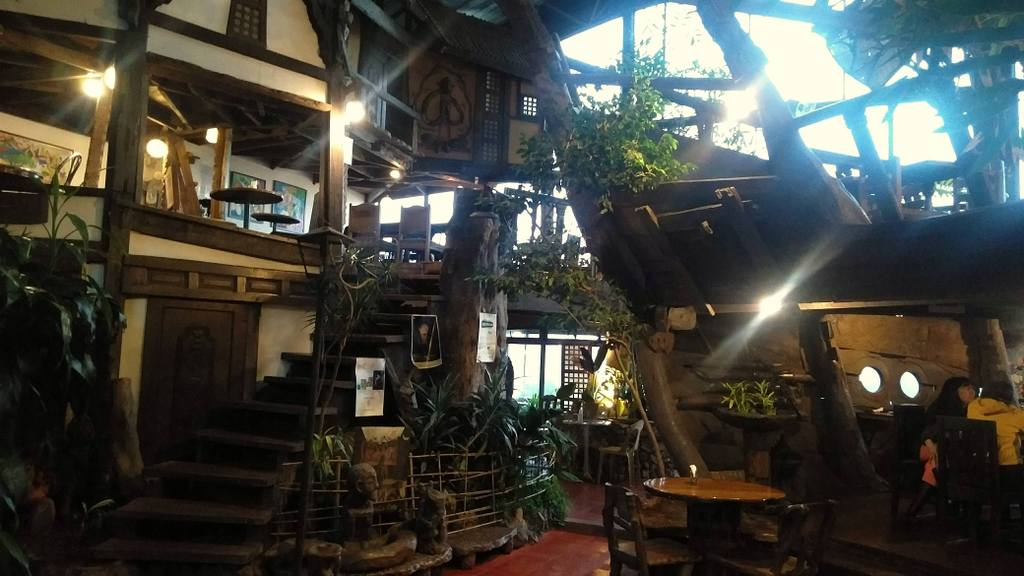 Along with the distinct and comfortable feel of the gallery, OMG Café is filled with calm and zen, perfect for meditation, writing, reading, studying, or simply enjoying your inner peace. Many come to the café to do just that, so it is best to be as discreet as possible and avoid flash photography.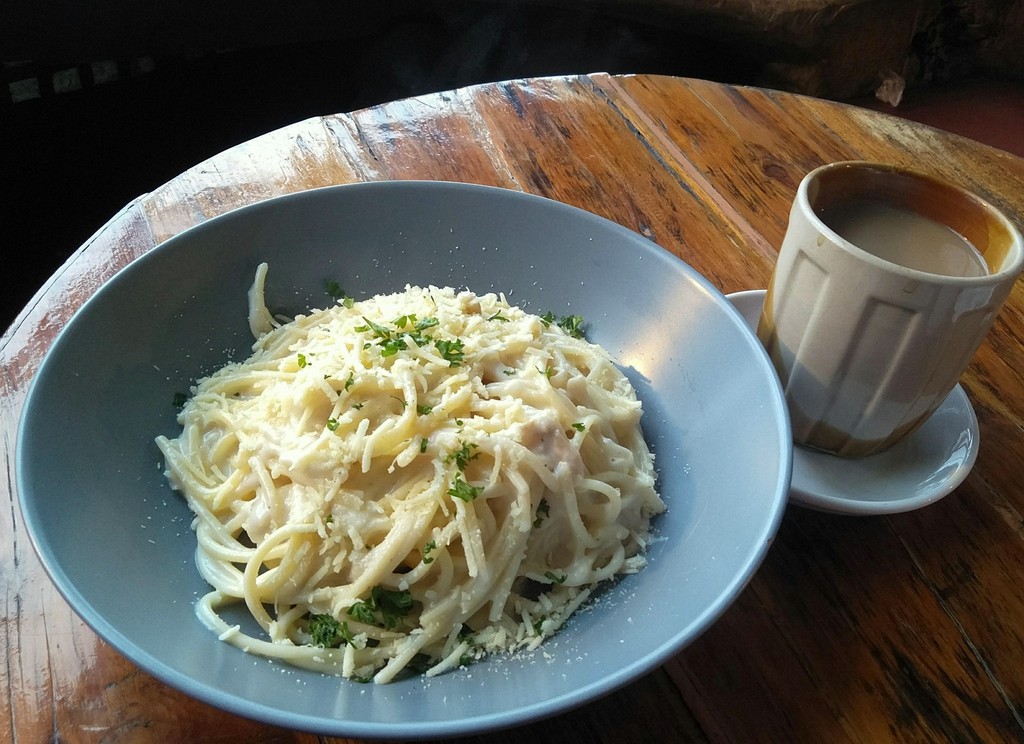 Immersing in art is one thing, while immersing in an art community is another. The VOCAS Gallery and OMG Café offers both, while giving you a glimpse of the city's rich culture and history. Don't miss this spot on your next trip to the City of Pines – and if you're able to acquire a copy of "Holy Wood", give it a shot as well.
The Essentials