The COVID-19 pandemic is a landmark event that will be talked about far and wide for a very long time. Until now, there are still many things that we, the scientific and medical community included, need to learn about the new coronavirus. This time may be specially difficult for inquisitive, little children. How then do we manage?
If you're a parent, guardian, or teacher who needs resources that can help explain what is this virus doing – and keep your kids entertained – check out the New York City School Library System, which has curated free online storybooks about COVID-19. Most of the books can be downloaded in PDF and can also be printed. You can click the hyperlinked words in this article for easy access.
The illustrated storybooks come from different countries or organizations and in various languages. Most have English translations. There are books for big kids like Coronavirus: A Book for Children, and for babies like The Science of Vaccines. Five storybooks from the Philippines are included in the collection.
UP Los Baños' Department of Human and Family Development Studies' Kwentong Pambata Ukol sa COVID-19
Ang Mga Maskara ni Miko and Isang Metro, both written by Kate del Rosario, are about conversations between parents and children. They discuss how to avoid having the coronavirus with a focus on the importance of wearing a face mask and observing social distancing, respectively. Both books are written in Filipino.
Philippine Science High School Western Visayas Campus' Kabataan Laban sa COVID-19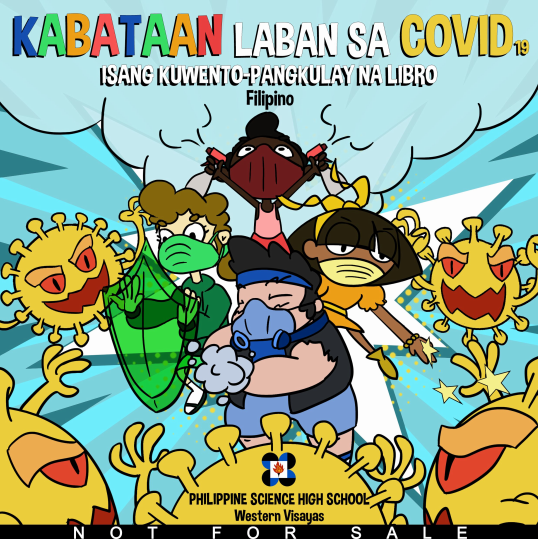 Kabataan Laban sa COVID-19: Isang Kuwento-Pangkulay na Libro should definitely be printed for children to color on. It has versions in English and other Philippine languages, such as Cebuano and Hiligaynon. Other translations like Surigaonon, Chavacano, and Kapampangan are in the works. There are also Japanese and Thai versions coming soon.
Vibal Group's Mahal na mga Frontliner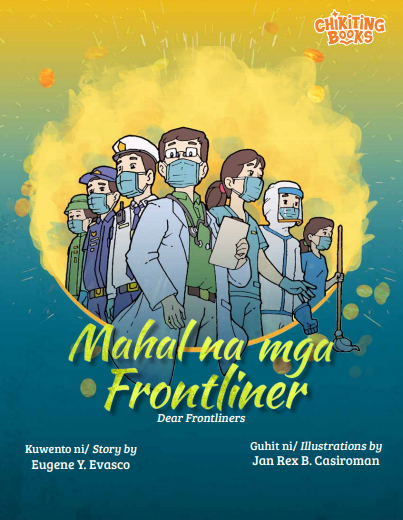 The bilingual book Mahal na mga Frontliner/ Dear Frontliners is a tribute to the frontline workers – medical and other essential personnel. It is written by Eugene Evasco, with illustrations by Jan Rex Casiroman.
May Pila sa Tapat ng Aming Bahay by Reggie Fajardo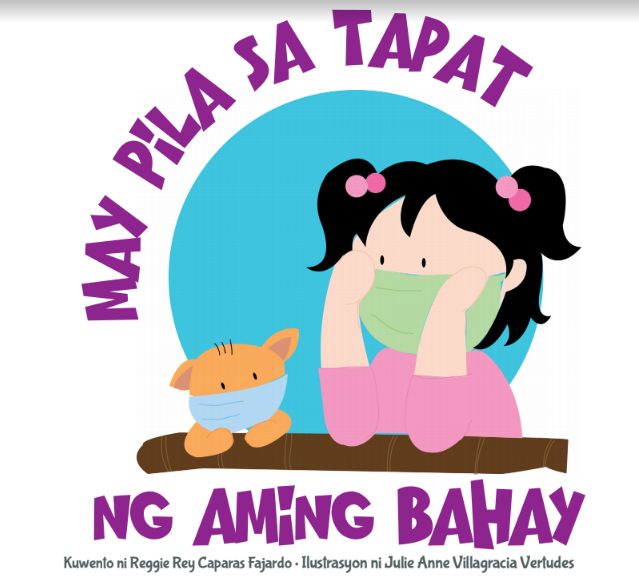 Reggie Fajardo, a teacher in Bulacan State University, wrote May Pila sa Tapat ng Aming Bahay (There's a Line in Front of Our House), in collaboration with illustrator Julie Anne Vertudes. It's a thoughtful reflection on the necessity of community quarantine. The e-book also comes with worksheets.
Itch Creatives' In the Town of Kamayan and the Legend of the Dancing Hands
Produced by advertising agency Itch Creatives, this Instagram storybook underlines the importance of personal responsibility, such as washing hands regularly, and working together as a community to defeat the virus. Kamayan is a fusion of the Tagalog words kamay (hands) and pamayanan (community).
Other books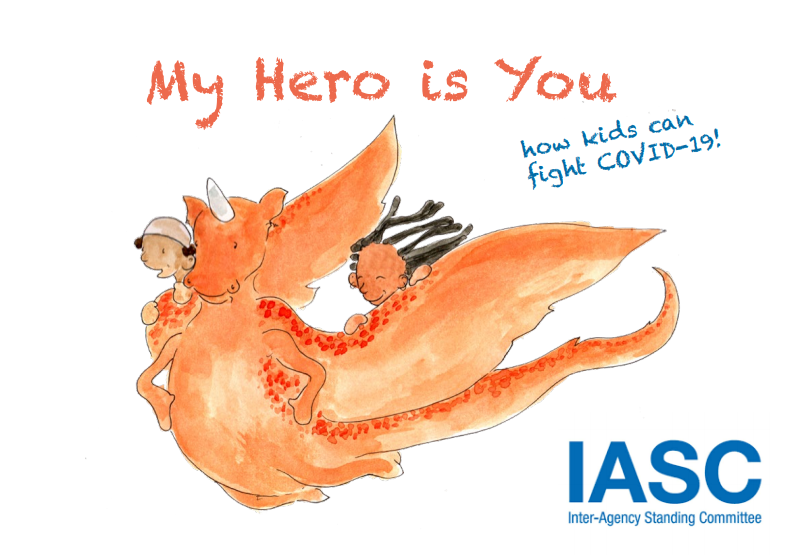 You will also find in the online library My Hero Is You: How Kids Can Fight COVID-19! It is developed by the Inter-Agency Standing Committee Reference Group on Mental Health and Psychosocial Support in Emergency Settings based on surveys completed by over 1,700 teachers, caregivers, parents, and children all around the world. Helen Patuck wrote the story script and did the illustration for the book.
There's Birdie and friends too. Birdie's stories are made by the Children's Health Queensland to help children in emergency situations, like natural disasters or a pandemic, process their thoughts and feelings. Birdie and the Virus, written by Andrea Baldwin and illustrated by Anil Tortop, has a flip book and video. There's also an original song that you can sing along with.