In the mood for some fresh, fun, and yummy ice cream at home? Known for their inventive flavors like Candied Bacon, Poprocks & Mallows, and Sea Salt Caramel, Merry Moo's fun flavors and creamy goodness may have you just breaking out in song with your own rendition of the 90s hit classic "New Age Girl."
"Merry Moo…she's a vegetarian (Merry Moo, Merry Moo, Merry Moo)!"
How it all began
Merry Moo traces its beginnings to entrepreneur's Kelvin Ngo's frequent trips to visit his girlfriend in Singapore. During his travels, his cousin led him to a small home-made ice cream shop that sold unique and creative ice cream, with flavors like Durian and Te Tarik Tea.
At a time when the terms "artisanal" and "craft" were just buzzwords in the local food scene, Kelvin brought the concept back, experimenting with local flavors and launching Merry Moo to the public in 2010.
Today Merry Moo is one of the most established homegrown artisanal ice cream brands. They pride themselves on offering a "cow to cup" experience using only fresh, non-Ultra Heat Treated (non-UHT) dairy in their products.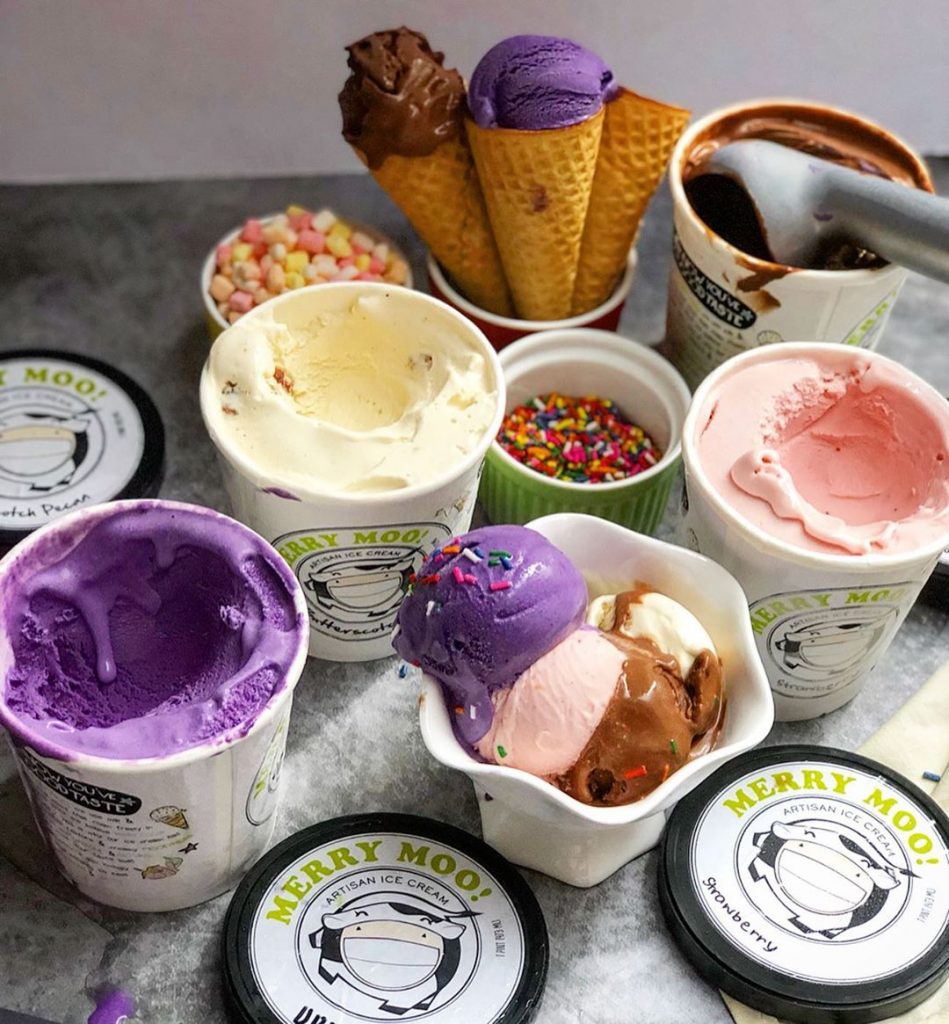 Merry Moo sources their milk directly from Laguna dairy farmers who offer Holstein-Fresian cows a huge pasture to graze and roam freely. The company claims this results in a fresher flavor, distinct smooth texture, and "creamy mooeyness."
They also strive to source fresh and local ingredients whenever possible to let the real flavors of the ingredients shine through. The homemade, small-batch ice creamery constantly experiments with different flavors and churns out creative and exciting flavors for their loyal fanbase.
Ice cream flavors and bestsellers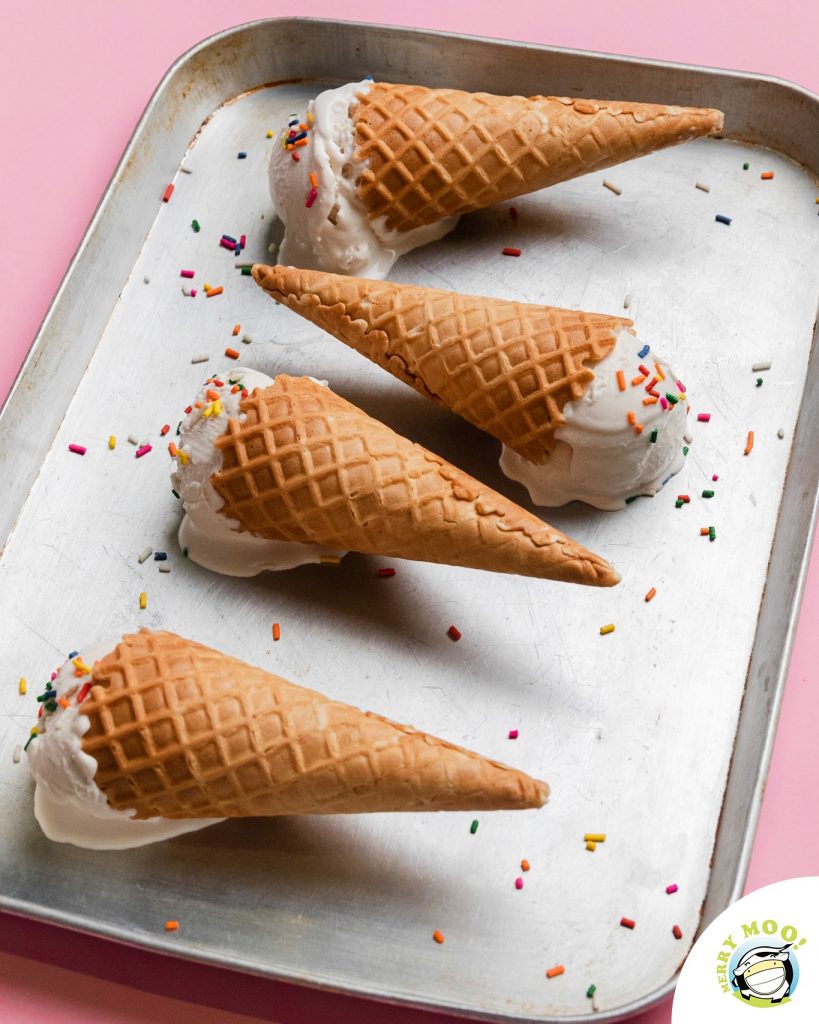 From being previously available only during special weekend bazaars and select shops, Merry Moo has expanded and supplies ice cream directly to grocery stores all over the metro and the Philippines. Folks stuck at home can also enjoy their ice cream by ordering products for home delivery directly from their website or ice cream hotline.
Merry Moo has streamlined their wide range of flavors available in their online shop to focus on bestsellers. Avocado is an all-time favorite. The flavor, inspired by a childhood snack, makes use of fresh sun-ripened avocado mixed with cream and sugar.
Sea Salt Caramel is another bestseller that makes use of local organic sea salt along with a buttery caramel ice cream base. There's also the quirky crowd-pleasing Candied Bacon, a light cinnamon ice cream with bits of candied smoked bacon, offering both sweet and savory flavors that blend surprisingly well together. Butterscotch Pecan, which contains buttered pecans with a hint of scotch in brown butter ice cream base, is another great choice.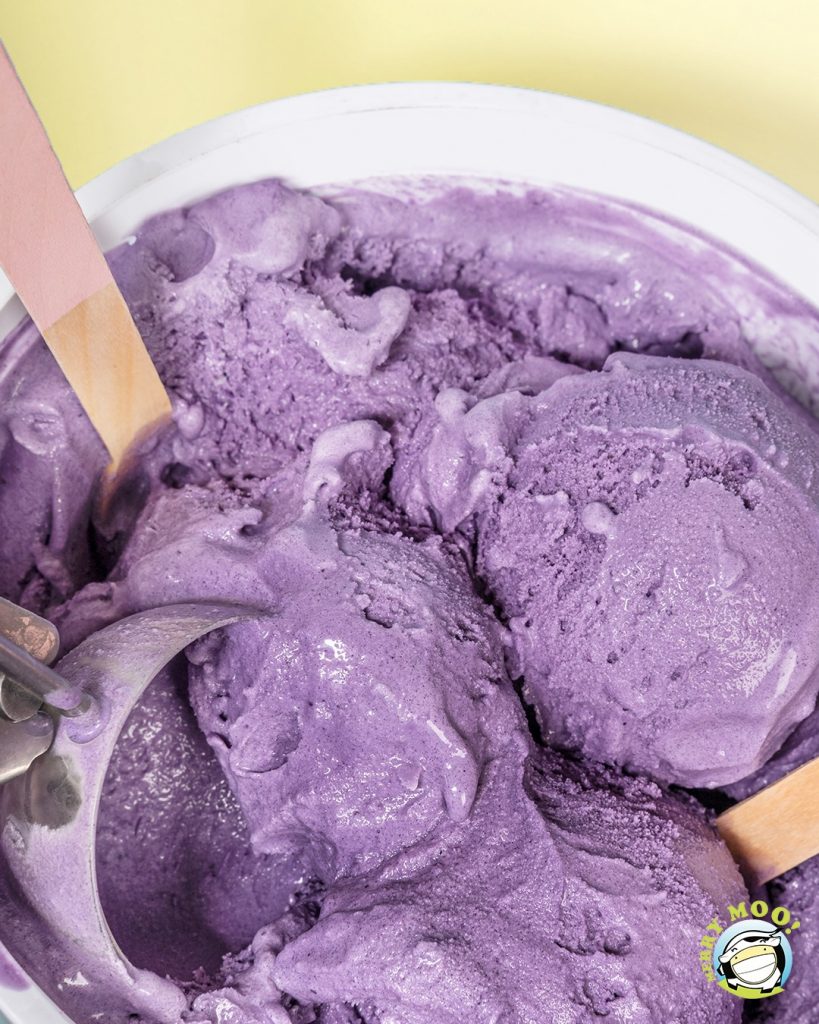 Merry Moo also has a few distinctly Pinoy flavors like ube, polvoron, and more. Dark Coffee, offers a double roundhouse kick of Philippine Arabica grounded coffee, while Dark Tsokolate is their own version of decadent tablea or Tsokolate-eh. Feeling cheesy? Try the Cheesy Mamon flavor composed of cheddar cheese ice cream mixed with large chunks of light and fluffy mammon or Quezo de Bola, for some creamy but sharp goodness.
Those who want a bit of an Asian flair can try Almond Lychee, patterned after a popular Chinese dessert staple. It's ice cream with almond essence in a sweet cream base with lychee bits. Milk tea lovers will love the Thai Milk Tea Flavor infused with milk tea leaves infused in their base. This ice cream has a light, tangy, and floral flavor and a beautiful orange color to boot.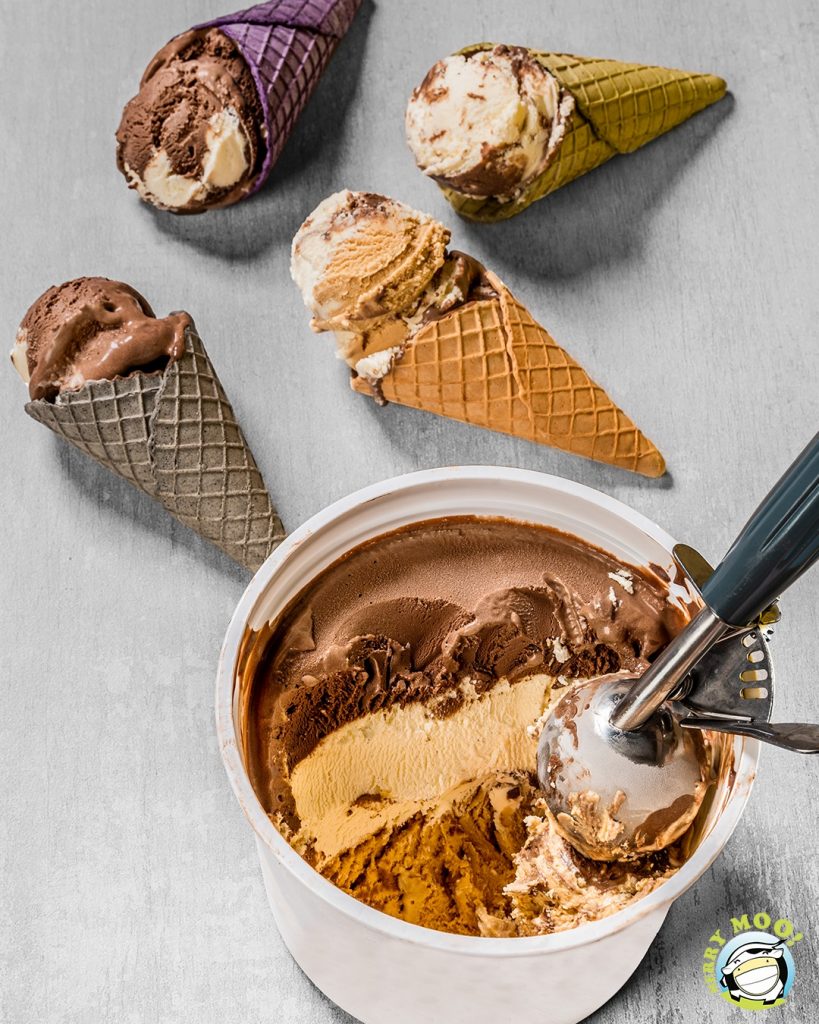 The White Choco Green Tea ice cream, which gets inspiration from the Japanese Kit-kat bar, offers a sweet and creamy white chocolate base mixed with matcha green tea powder imported from Japan.
Other ice cream-based treats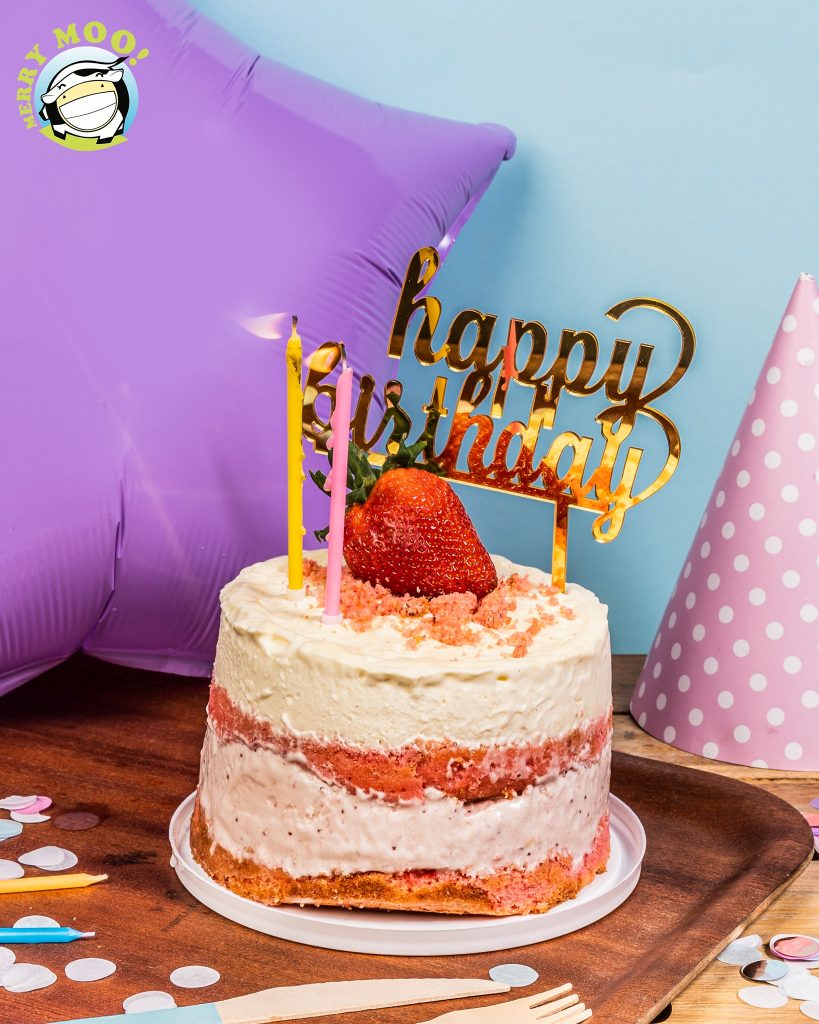 Merry Moo's latest collaboration is designed specifically for breastfeeding moms. Mommy Treats is the first and only lactation ice cream in the country. Its key ingredients are fresh, non-Ultra Heat Treated (non-UHT) dairy sourced from Laguna dairy farmers, natural flavors, and super galactagogues (fenugreek, omega-3-rich flaxseed, Vitamin B-packed brewer's yeast, and folate from wheat germ).
Mothers can boost their milk supply while enjoying yummy scoops of feel-good, guilt-free ice cream!
How to order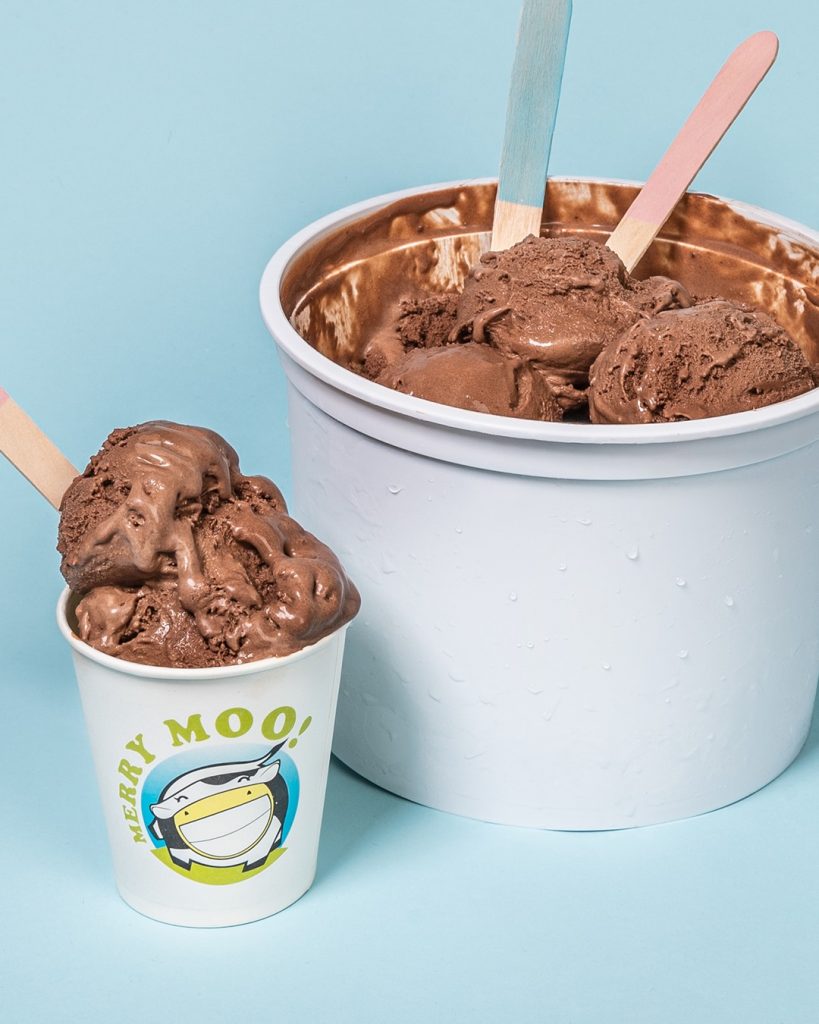 There are four easy ways you can get your quarantine fix of Merry Moo ice creams with just a few clicks on your phone. You can order it directly from their online shop: https://merry-moo-ice-cream.myshopify.com/ in pints and solo cups. Just select your preferred flavor, add to cart and pay for your purchases online.
You can also call them via their Merry Moo Ice Cream Hotline. You can purchase the ice cream from online merchants like Fresh Mart, FrozenMNL, GrocerGenie PH and Ice Cream Lovers.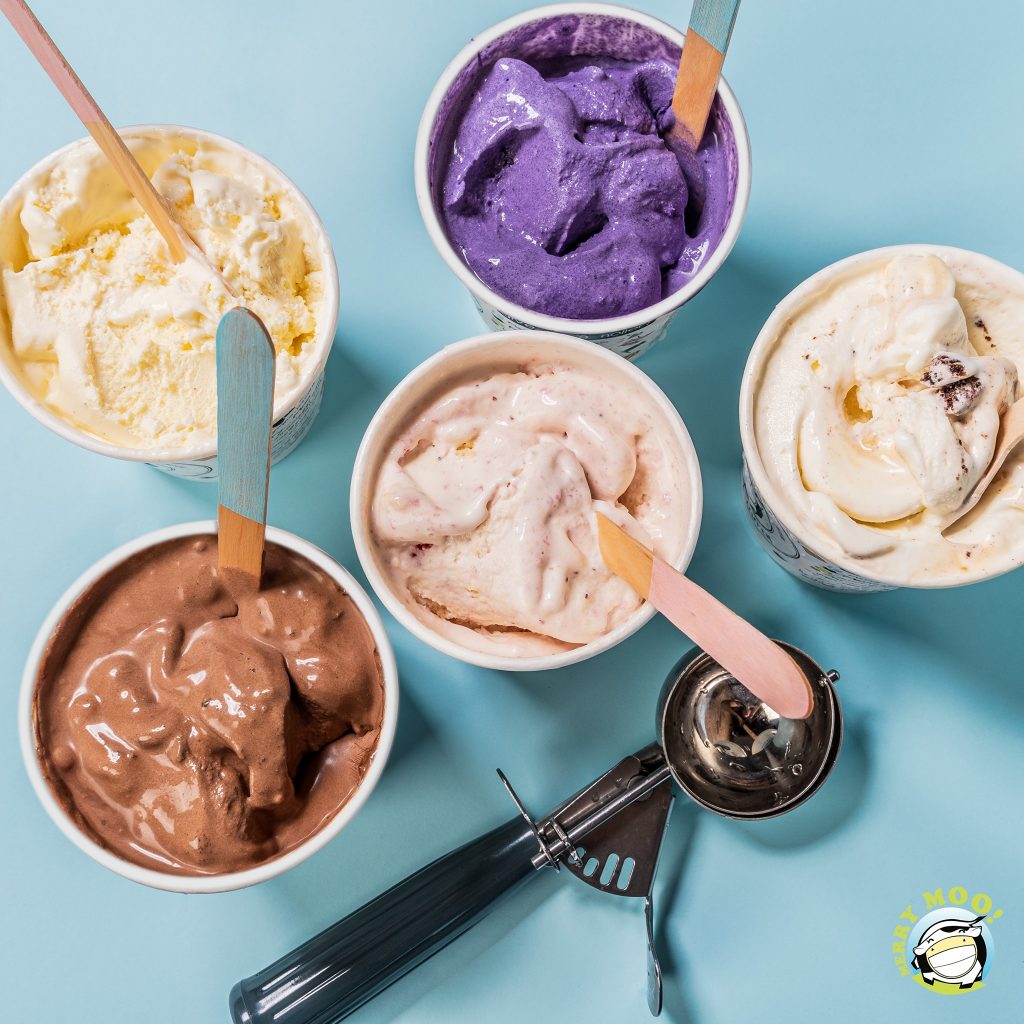 Merry Moo ice cream is also available through online food delivery platforms including GrabFood and Food Panda. How convenient is that?
The Essentials