Summer is in full swing. The heat is sizzling in the metro and we're all dreaming of cooler places like Baguio, the summer capital of the Philippines.
And nothing brings the image of Baguio to mind more than strawberries. These plump, red, juicy fruits are used in a variety of local treats. They're something tourists always keep coming back to and are one of the most sought-after souvenir items in the city. Here's a look at a few of the iconic strawberry-based treats from Baguio City we're missing right now.
Strawberry shortcake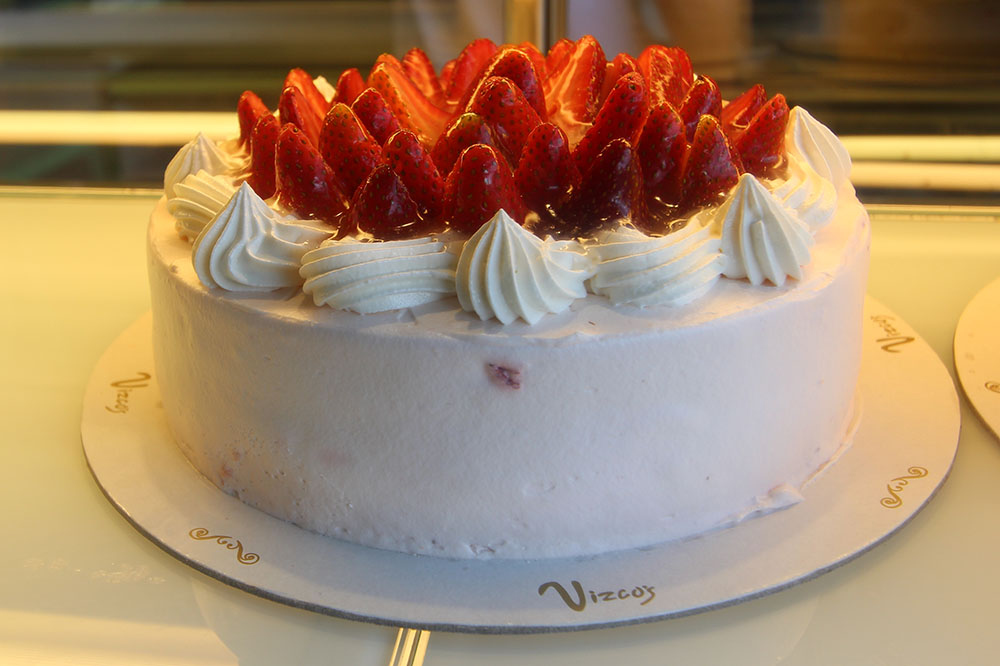 Residents and tourists alike agree that Vizco's Restaurant and Cake Shop serves the best cakes in Baguio City. The small cake shop that opened in 2004 along Session Road is a well-loved local institution, with several branches now located around Baguio City, drawing dessert lovers from all over.
Vizco's claim to fame is their Strawberry Shortcake, a light chiffon cake topped with whipped cream and plump fresh strawberries. The cake is very light and moist with just the perfect balance of sweetness. The café sources fresh strawberries from mountain trails in Atok, Benguet and uses only fresh, high-quality ingredient, resulting in a delectable cake that you won't mind eating again and again.
The Essentials:
Strawberry ice cream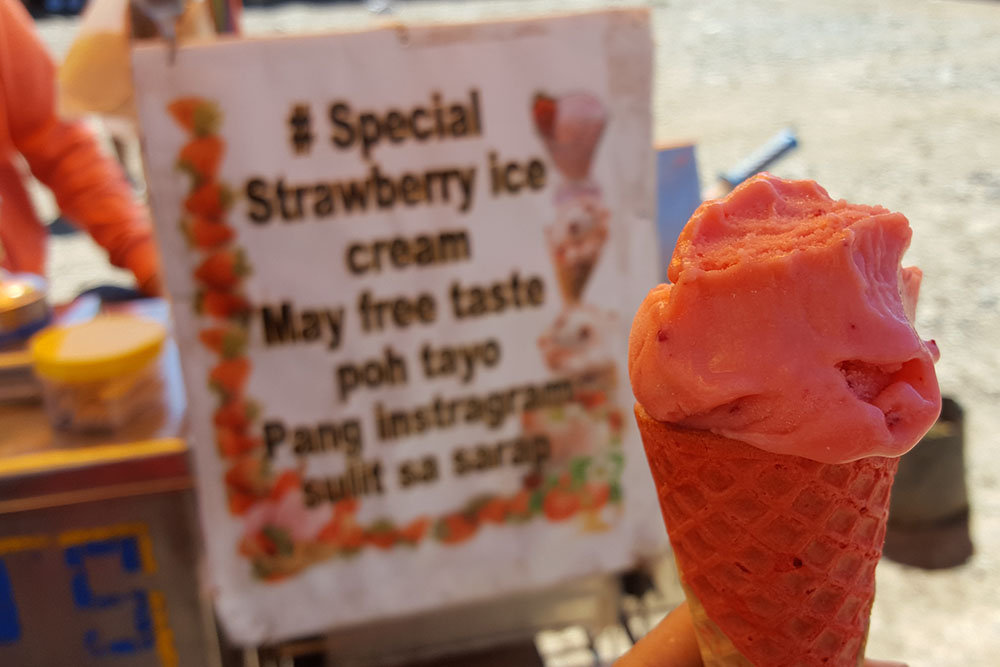 Visiting the La Trinidad Strawberry Farm is one of the main draws for first-timers to Baguio and those traveling with kids. Aside from being able to pick strawberries straight from the fields, one of the highlights here is snacking on fresh strawberry ice cream sold by vendors right at the farm. The sweet and creamy dessert has huge fresh strawberry chunks in it, making it much more satisfying than store-bought strawberry ice cream.
The Essentials:
Strawberry Taho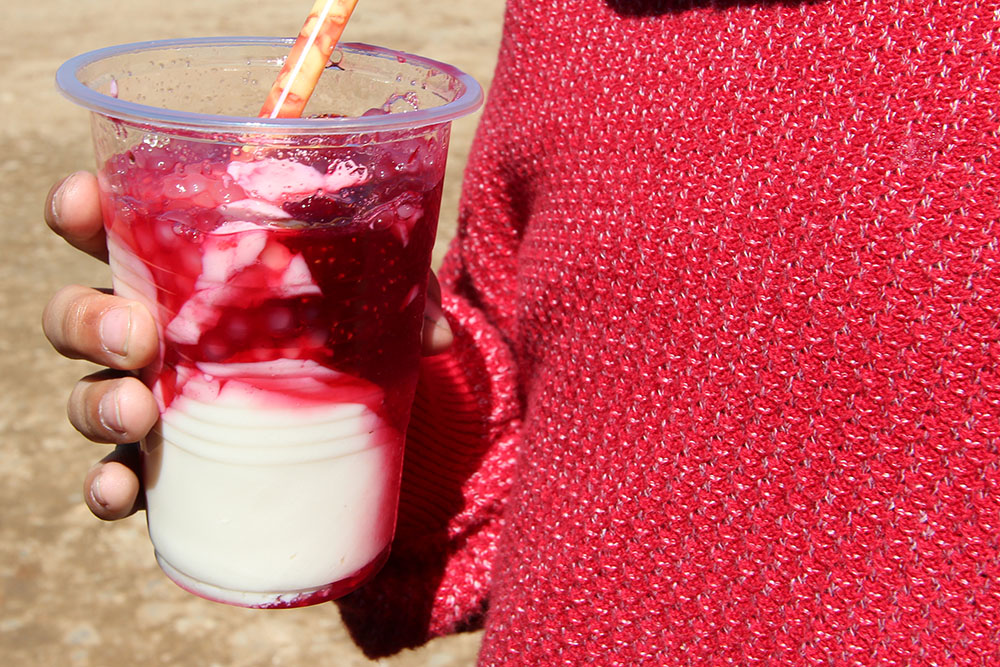 Taho is a popular Filipino snack of soft silken tofu sweetened with a sugary syrup and usually sold by street vendors. Baguio's version comes with whole strawberries and dark strawberry syrup, along with sago pearls. You can find this heartwarming treat being sold in top tourist spots around the City of Pines like Mines View Park, Pink Sisters Convent, and right outside the Victory Liner bus terminal. A warm cup of strawberry taho really hits the spot on those cold mornings.
Volcano Ice Cream with fresh strawberries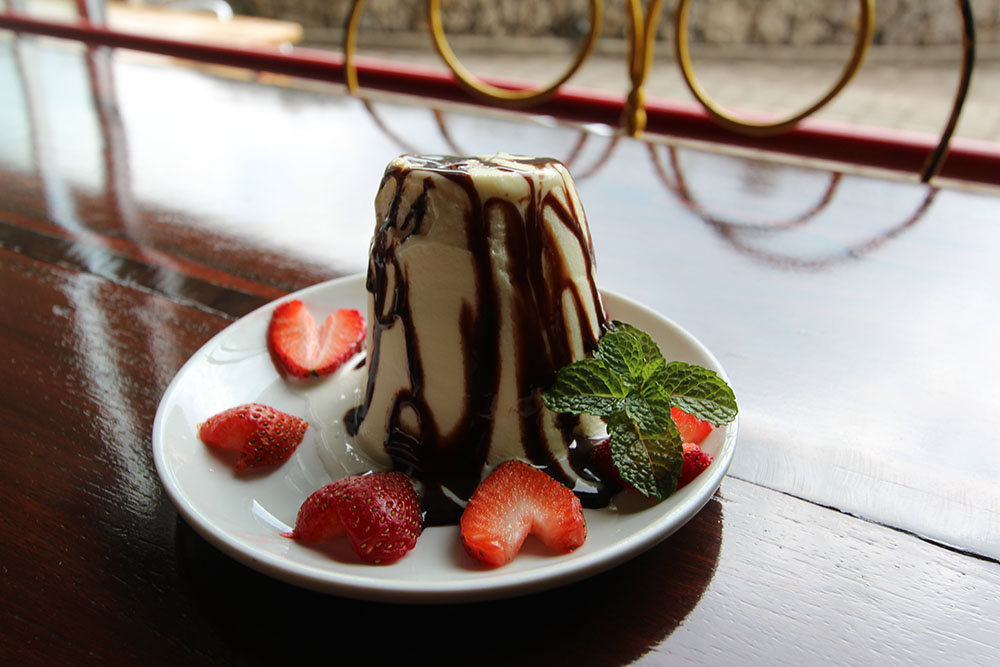 Cafe Sabel is the in-house restaurant of the BenCab Museum on Asin Road, about 30-40 minutes away from Baguio City. After visiting the museum, most tourists make it a point to stop for a meal at the vibrant café, which offers beautifully plated meals including a few that make use of Baguio strawberries. Bestsellers here include farm fresh salad with strawberry vinaigrette dressing and their signature Volcano Ice Cream, a serving of vanilla ice cream topped with chocolate sauce and fresh strawberries.
The Essentials:
Strawberry beer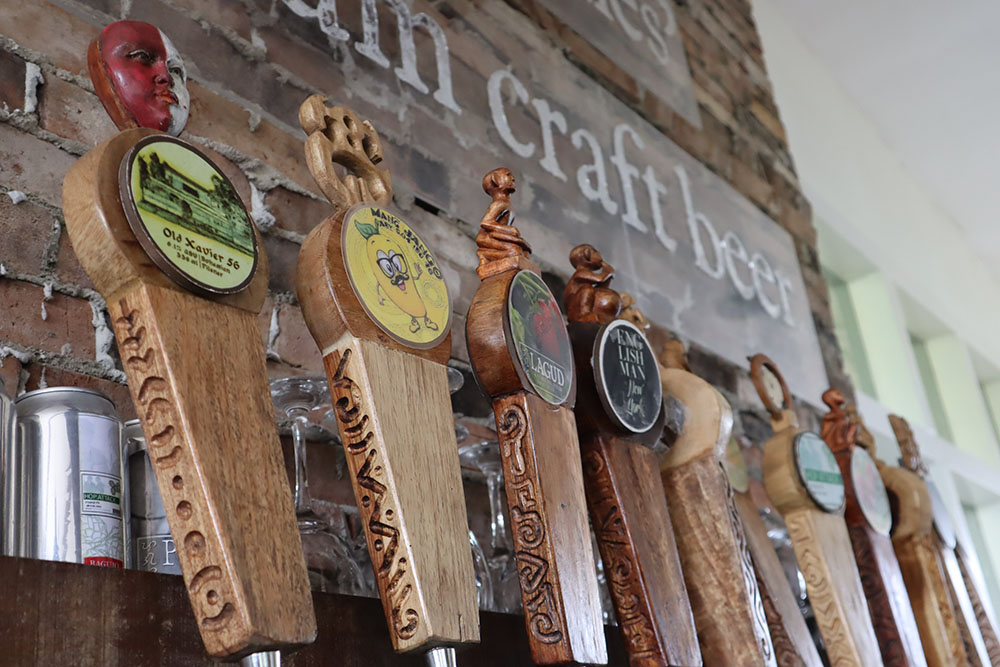 For beer drinkers, no trip to Baguio City is complete without hanging out at Baguio Craft Brewery along the Ben Palispis Highway for a glass or two of their home-brewed craft beers that uses with native ingredients. One of their bestsellers is Lagud Strawberry Beer, a refreshing and easy-to-drink brew with a pinkish hue and sweet flavor.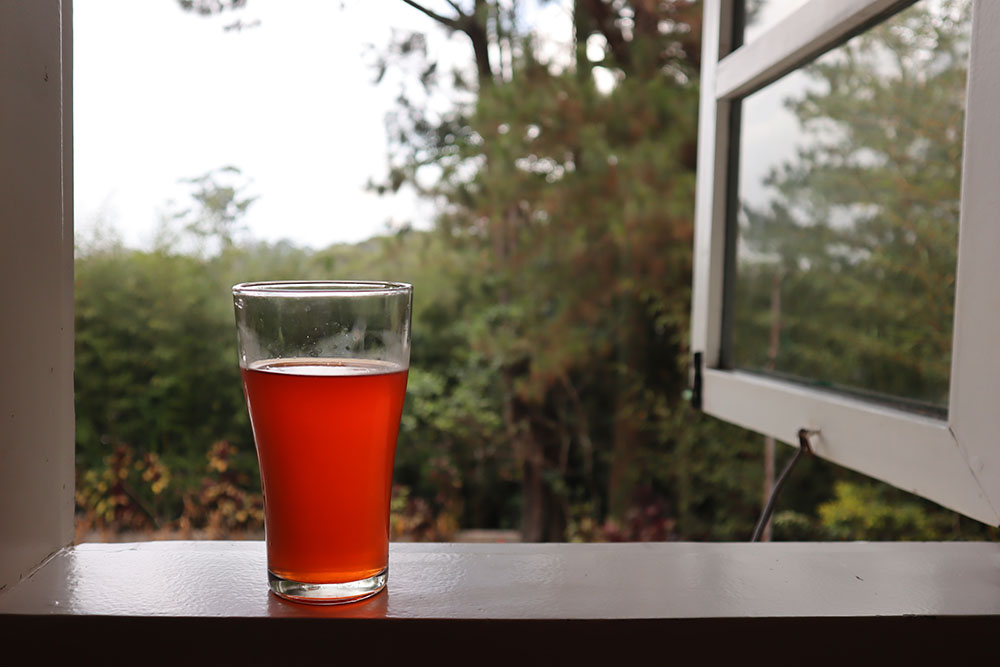 You can also enjoy pair your strawberry beer with Spanish tapas and live music at Craft 1945, an old American-style house converted into a Spanish restaurant in a quieter part of Baguio City, adjacent to Baguio Country Club.
The Essentials: