Nestled in the mountainous Cordillera Region , Baguio City is ideal for food lovers and travelers. You've probably heard of the local favorite Good Taste, but there are more amazing hidden food destinations right at the heart of the city.
Here are the top 3 hidden food destinations in Baguio City:
1. Ili-likha Artists Village
This creative place is a gem in the city of Baguio. Another advantage is its proximity to the central business district of the. Created by the Father of Philippine Indie films, Kidlat Tahimik, this artist village features mind-bending architecture with vibrant interior design. The artistry showcased in this place will make you forget the hustle and bustle of Baguio's busy streets. You will find food and beverage kiosks with various themes (vegetarian, local). After enjoying scrumptious foods, don't forget to take a look at the alluring boat-themed cinema! In there, indie films are showcased seasonally.
Food to Try: Balbacua
This famous dish is served at Urban Kamote kiosk, yet its origin will surprise you. Coming all the way from Southern Mindanao, Balbacua is a noodle soup with beef skin and meat slow-cooked in herbs for six hours. This recipe has won the hearts of many visitors in the Ii-likha Artists Village. What's more? It is only 60 pesos per serving!
Make sure to also try other foods and beverages like Kinuday and Guyabano Shake.
How To Get There: From SM City Baguio, walk down to middle Session Road and cross the street from Greenwich to Jollibee. Beside Jollibee, there is a street going to the University of Baguio. Walk toward that street (Assumption Road). You will find the Artist Village at the left side of the road, with a guava tree by its entrance.
The Essentials
Business Name: Ili-likha Artist Village
Address: Assumption St., Baguio, Luzon 2600, Philippines
Contact Number: +63 74 442 4880
Operating Hours: 7:00 am to 8:00 pm
2. Arca's Yard
If you are looking for a cozy place to chill in, then Arca's Yard will be the perfect place to go. Experience Baguio's cool weather in this instagrammable café! The place is also spacious and the servers are very hospitable. Enjoy the cool breeze rushing through as you order some delicious food and drinks. Have a friend to spend time with, meet other people, or spend time alone The books here and the Cordillera mountains will keep you company.
Food to Try: Arca's Docto Pie a la Mode and Cloud Tea
Being one of the specialties in this amazing café, the Arca's Docto Pie a la Mode is a must-try! This pie is made with camote or sweet potato and creamy vanilla ice cream. Pair it with a cup of coffee or Arca's Yard famous Cloud Tea. The yummy vanilla ice cream is a yummy topping to this pie, creating a contrasting texture. Prepare 150 pesos, plus around 200 pesos for main course.
How To Get There: From SM City Baguio, walk down toward lower Session Road until you reach Malcolm Square. Walk toward BPI Family Savings Bank to find a jeepney with the signage ''Ambuklao''. Prepare Php 11 and tell the driver to drop you off at Arca's Yard.
The Essentials
Business Name: Arca's Yard
Address: 777 Tiptop, Ambuclao Road, Baguio, Luzon 2600, Philippines
Contact Number: 0929 325 1868
Operating Hours: 8:00 am to 9:00 pm
FB page: https://www.facebook.com/arcasyard
Google Maps Link: https://www.google.com/maps/place/Arca's+Yard/@16.4289289,120.6208953,17z/data=!3m1!4b1!4m5!3m4!1s0x3391a4062ecad4bb:0x9098c8fef4ec762d!8m2!3d16.4289289!4d120.623084
3. Casa Pizzeria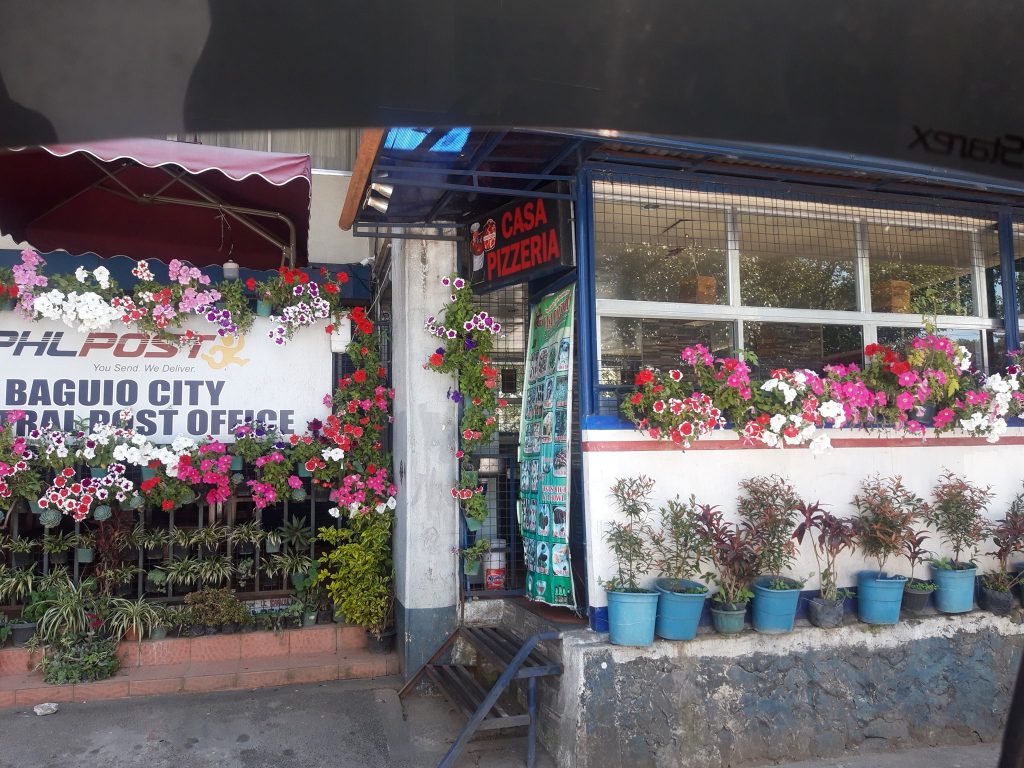 Set in the heart of lively Session Road, you'll be surprised to know a little-known food destination like Casa Pizzeria exists – thanks to its intimate space and signage. Nonetheless, the food here is simply fantastic. If you are looking for an exclusive space with affordable food for a barkada bonding or a date, the setting at Casa Pizzeria is perfect. The servers will warmly welcome you upon arrival. Grab a seat and enjoy a view of the Session Road.
Food to Try: Casa Chicken and Wurst Pizza
Casa's Chicken is a scrumptious and light dish that will satisfy your hunger. It is served with a side of fresh salad and savory soy sauce for added taste. The restaurant has a wide variety of pizza and each has a delightful, chewy yet crispy homemade dough. Wurst Pizza features flavorful ground meat, generous cheese topping, and vegetable slices. Wrap up your unforgettable meal with their yummy honey lemon mint tea. With just P200, you can indulge in these delightful dishes.
How To Get There: From SM City Baguio, walk down toward Session Road until you reach KFC, then cross the street in front of Porta Vaga Mall. Walk to the right and cross again. Walk up the sidewalk stairs until you are by ''Takshapo'' Eatery. Walk to the post office. The restaurant is at the rightmost side.
The Essentials
Business Name: Casa Pizzeria
Address: Post Office Loop, Upper Session Road, Baguio City 2600
Contact Number: 0946 526 5780
Operating Hours: 9:45 am to 8:00 pm 8:00 am to 9:00 pm
FB page: https://www.facebook.com/casadepizzeria/
Google Maps Link: https://www.google.com/maps?q=casa+Pizzeria+baguio&um=1&ie=UTF-8&sa=X&ved=2ahUKEwiVoKuW-b7oAhVFM94KHYfLCDsQ_AUoAXoECBoQAw