This quarantine, while you put your culinary skills to the test, why not go vegan for a wholesome change? Apart from being cruelty-free, veganism encourages mindful eating – resulting in healthy weight loss, improved cholesterol and blood sugar levels, and lower risk of cancer and heart disease among other health benefits. It costs way less than a meat-heavy diet too and opens you up to a whole new world of cuisine – with a variety of creative techniques, distinct flavours, and unique dishes to try and experience!
Dare to take on the challenge? Here are four quick, easy, and tasty vegan recipes to get you started – a complete meal plan for breakfast, lunch, dinner and merienda on your first day!
Pan-Grilled Tomato Toasts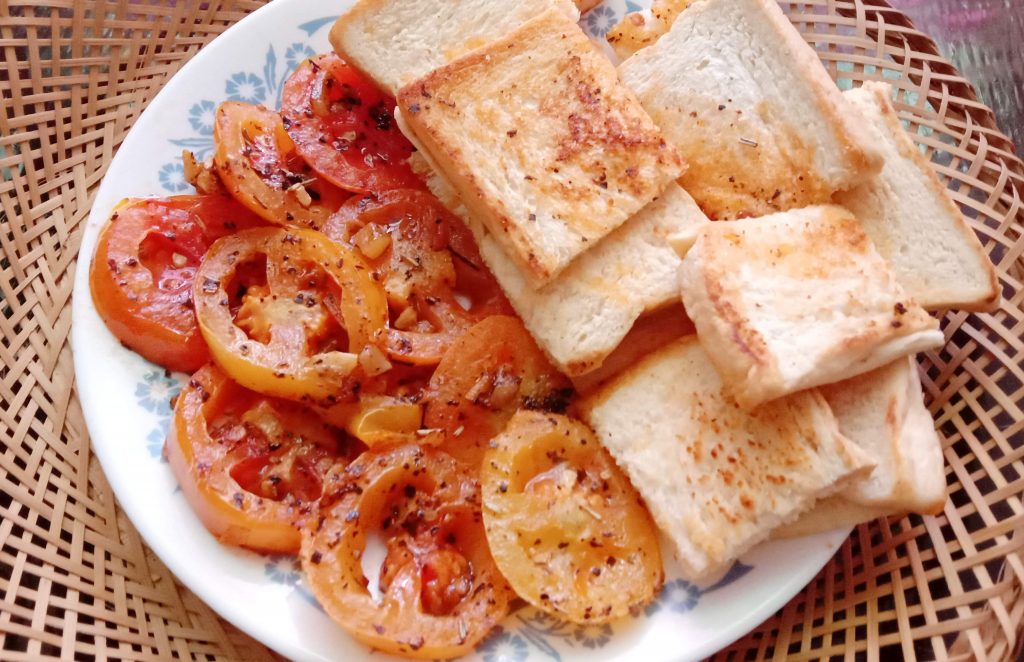 Starting off with one of my personal favorites. This hearty morning fix is a savory delight that tastes almost gourmet, and takes only about 7 to 10 minutes to make!
How to make it:
Simply season tomatoes with basil, rosemary, salt, and pepper to taste. On medium heat, saute a few cloves of minced garlic on a pan and grill the tomatoes on top, flipping every 15 seconds to evenly cook each side. Finish it off with a drizzle of olive oil. Pair with toast that's crispy on one side and soft on the other. Use the soft side to wipe the tasty oils and juices off your plate before popping them into your mouth.
This makes for the perfect light-but-filling breakfast item. Best paired with your usual cup of tea or coffee!
Vegan Bopis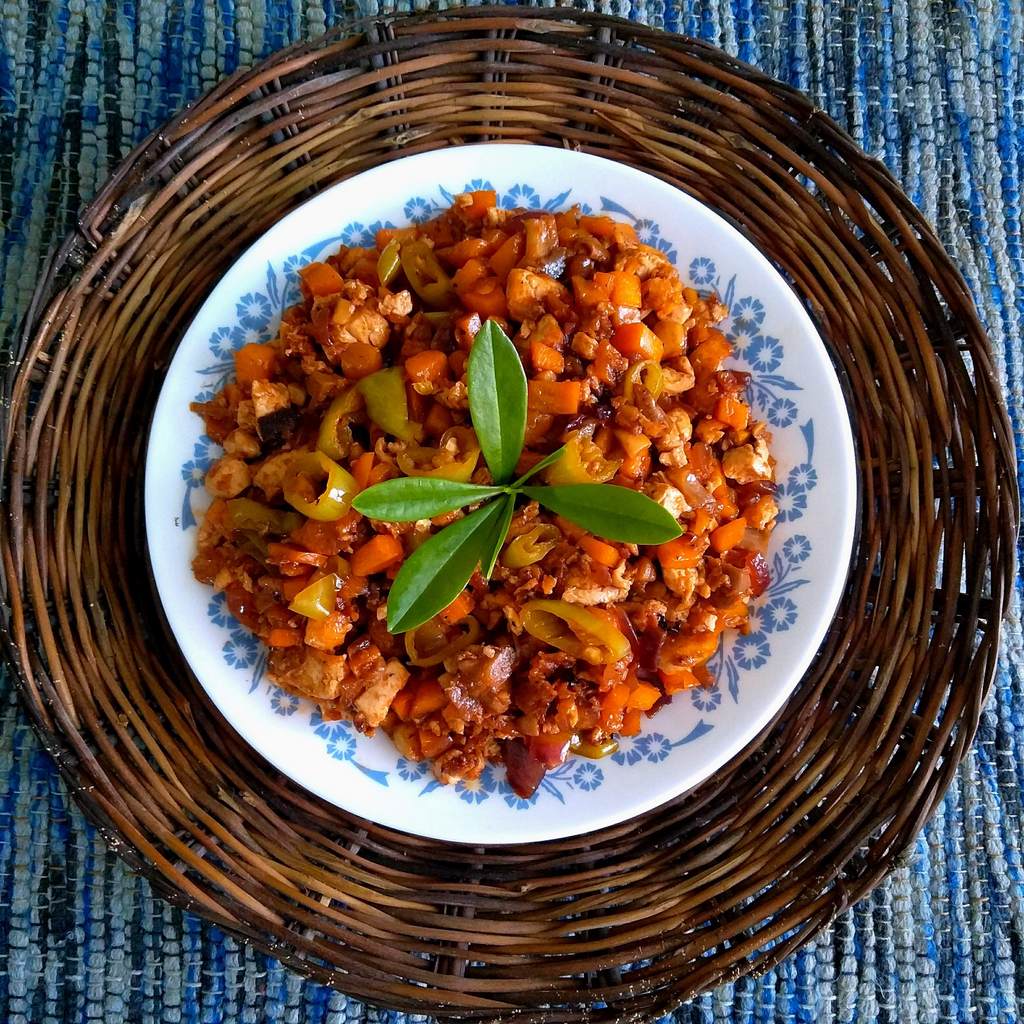 A meat-free take on rhe usual bopis, this dish will make you realize that even Filipino dishes can be made delicious, complete, and 100% plant-based with just a little bit of ingenuity. For an ideal whole food lunch, serve atop a steaming bed of brown or red rice, along with freshly squeezed calamansi juice or lemonade!
How to make it:
For meat substitutes, it is best to use shiitake mushrooms – known for their strong aroma and bold, meaty taste – and fresh firm tofu. Make sure all base ingredients are diced in equal sizes. Saute garlic, ginger, onion, and green chili peppers in medium heat. Add in the diced mushrooms and tofu. Stir for about 3 minutes before mixing in a tablespoon of atsuete (annatto powder). This gives the dish its distinct warm color.
Pour in vinegar, calamansi, soy sauce, and water before tossing in bay leaves, radish, and carrots. Simmer for 2 to 3 minutes, add salt and pepper to taste, and your dish is complete! A healthy and cholesterol-less bopis with the same authentic taste, in just 15 to 30 minutes!
Salted Caramel Fried Rice Balls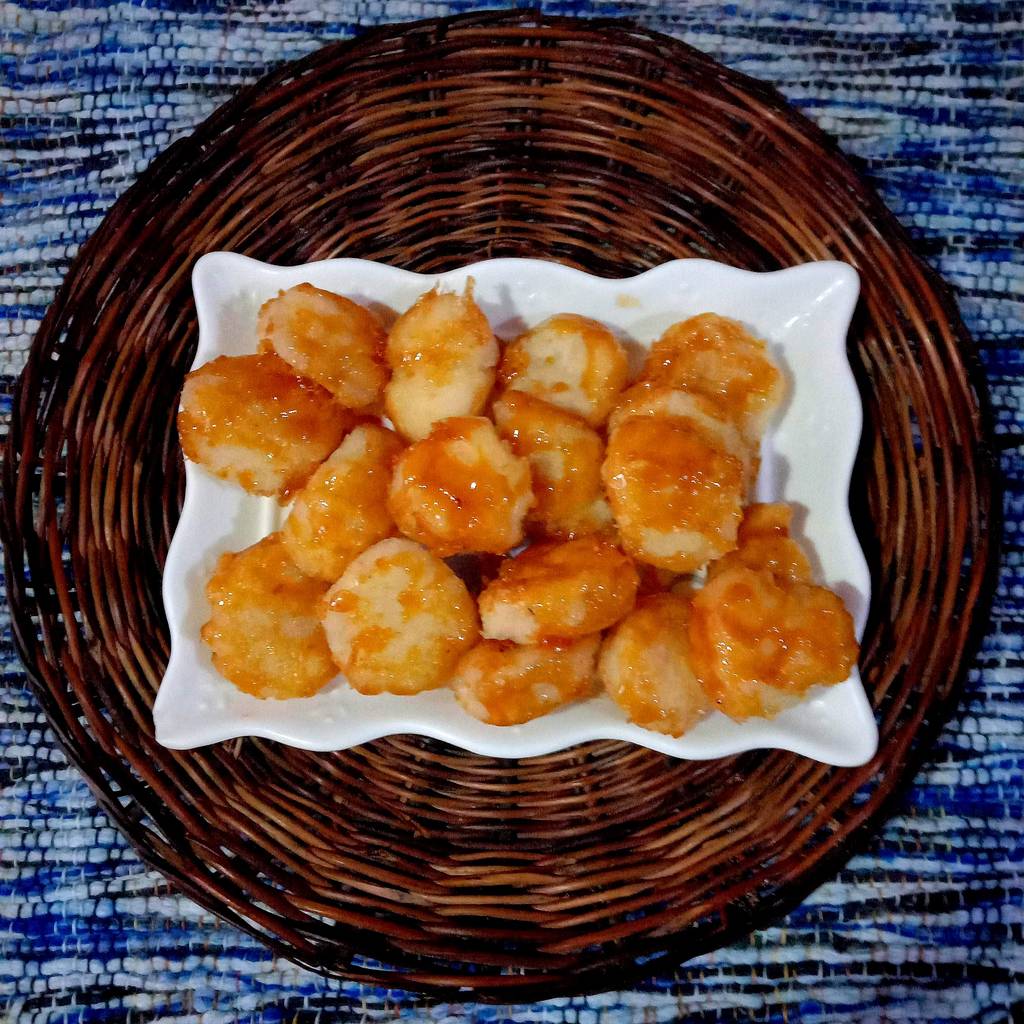 Inspired by the traditional recipe for "karioka", this sweet and chewy snack is a sure hit among kids and kids at heart.
How to make it:
To make, prepare 1 cup of glutinous rice flour and 1 cup of water. In a bowl, stir up the flour and gradually add water until you end up with a thick but kneadable dough. Dust some flour on your hands and form small balls out of the dough, similar to doughnut holes. Toss them in the fryer on medium heat for a few minutes or until light brown.
For the glaze, melt 3 tablespoons of sugar and a pinch of salt on a teaspoon of oil. Toss the rice balls back in and stir until fully coated. Try ditching the salt for some coconut milk or cocoa powder, just for fun.
Do whatever best fits this classic childhood merienda, and share your creations with friends and family to stir up some nostalgia on your next get-together feast!
Mushroom and Tofu Salpicao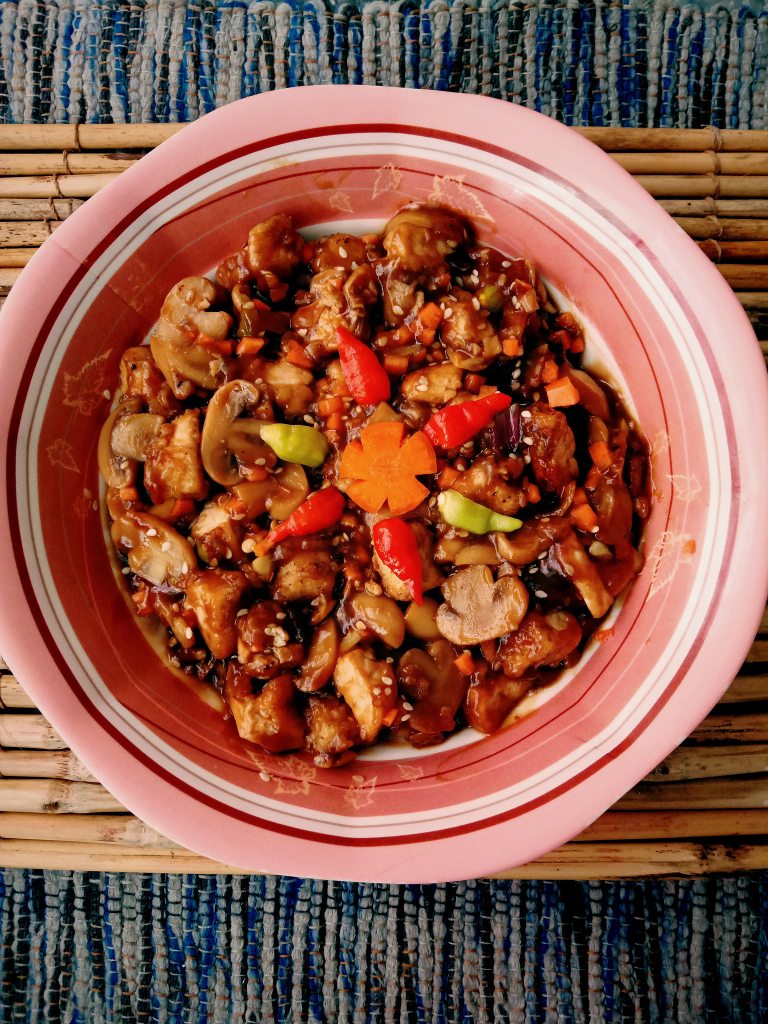 Wrap up the day with a quick but satisfying dinner by whipping up a bowl of this saucy vegan salpicao! A distinctly aromatic dish, the Spanish-inspired Filipino salpicao is cooked two ways – either loaded with peppers or loaded with garlic. In this case, we'll be doing the latter.
How to make it:
Chop up heaps of garlic, at least 5 to 6 cloves, and saute in medium heat until golden brown. Save half of the crunchy bits for later, then with the remaining garlic in the pan, stir fry your button mushrooms (in pieces and stems) and diced firm tofu. Add in 2 to 3 tablespoons of soy sauce, brown sugar, salt, and pepper to taste, top it off with the garlic bits you set aside earlier, and you're done!
For my own version of the dish, I decided to set aside the stir fried mushrooms and tofu to make a glaze. In a pan, I tossed in a teaspoon of oil, red and green peppers, 3 tablespoons of soy sauce, 1 ½ teaspoons of brown sugar, salt and pepper to taste, half a cup of water, and some diced carrots — adding in a sweet and refreshing crunch that cuts the saltiness of the dish. I let it sit and simmer for about 3 minutes in low heat. Then, I dissolved a tablespoon of cornstarch in a cup of water and gradually poured it into the sauce to thicken. Tossed the stir fried mushrooms and tofu back in, stirred until fully coated, then topped it off with fried garlic and sesame seeds.
Have any cheap and easy vegan recipes to share? Sound off and let us know!