When times hit a new low, it is best to find alternative ways to release the tension before it takes over your body. What if I were to tell you that there is a place where not only good food and ambiance is served, but also lets you physically release pent-up stress?
Introducing: Isdaan Floating Restaurant! The resto caters to foodies who venture out to the Tarlac, Laguna, or Nueva Ecija branch that want to vent out their frustrations.
Here are the reasons why you should drop by and visit!
Giant Buddha statues and lifesize figurines
Upon entry, visitors would be greeted with gigantic Buddha statues and figurines of all kinds which inspired its nickname given by the locals, "Little Thailand". Buddha statues are also known to bring peace and positive energy to the people in its environment, which is understandable considering the other attractions offered when people come in and dine.
Delicious and affordable Filipino dishes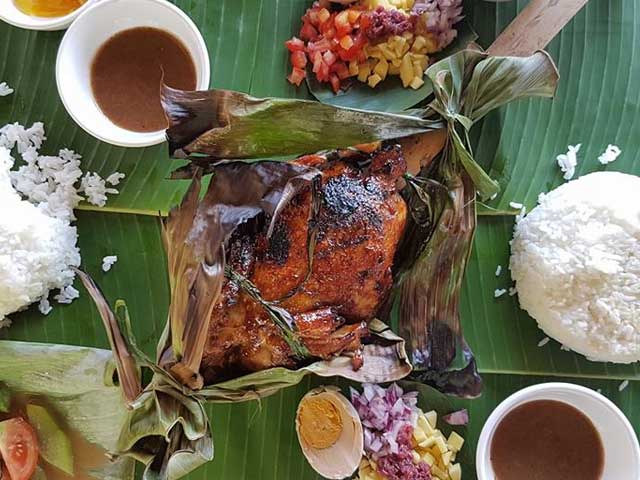 When prices are between ₱100- ₱300 per dish, rest assured that everyone will be filled without straining the wallet. Their seafood options,seasonal fruit juices and their signature Lechon Manok Tinupig is a must, interesting dishes such as the Tanigue Steak, Tuna, and Escargot options are worth a try.
You have the chance to get a kilo of fish for free.
One fun entertainment gimmick the restaurant offers its guests is the challenge of walking across a narrow bridge while giant clams block the path and water jets out from the sides. More popularly known as the San Kilo Bridge wherein crossing the bridge successfully results in a kilo of free fish to eat.
Another free fish challenge is to participate in a game called Unggoy Unggoyan wherein one would randomly select a valve that controls water while other members will pose in front of three monkey statues that represent the phrases hear no evil, see no evil, and speak no evil. If the person who selects a valve gets wet, guests win!
There are plenty of other things to do and see
Since the coverage area of the restaurant is quite spacious, there would always be nooks and crannies to explore. Guests might be able to catch performances of Disney characters, ride around on bikes, catch a free ride on a kayak (while paying the paddler a small tip), or walk around to feed the koi and view the different kinds of statues.
The Tacsiyapo: The wall you break things on
Your restaurant trip won't be complete without visiting the famous Tacsiyapo, a Kapampangan word that literally translates to a very horrible curse word. Guests can purchase breakable cups, plates, and even a gigantic TV to hurl at the wall. Not only is it a great publicity stunt but an effective stress-management therapy especially when plates and cups are thrown at the anger-inducing types of people painted on the wall.
With prices that range from ₱15-₱60 (an exception for the television that costs around ₱1,300), breaking an object or two won't hurt. What a way to end a trip.
Want to know how to get there? Here are the essentials:
Isdaan Floating Restaurant (Gerona, Tarlac)
Address: Palaisdaan, Gerona, Tarlac
Contact/Phone Number: 0943-629-0086
Operating Hours: Monday to Sunday 8:00AM – 10:00PM
Isdaan Floating Restaurant (Talavera, Nueva Ecija)
Address: Santo Domingo, Nueva Ecija
Contact/Phone Number: 0943-392-1651
Operating Hours: Monday to Sunday 8:00AM – 10:00PM
Isdaan Floating Restaurant (Calauan, Laguna)
Address: National Hwy, Bay, Laguna
Contact/Phone Number: 0923-441-6756
Operating Hours: Monday to Sunday 8:00AM – 10:00PM