Christmas is often associated with gifting, and presents for the most part, tends to be associated with waste and plastics. Apart from food waste, the biggest wastes are gift wrapping or packaging, sticky tape, and unwanted gifts. In fact, an ING study shows that unwanted Christmas gifts – many of which are made from plastics, which are another problem on their own – are at an estimated $400 million AUD, while another say one in 10 Christmas gifts end up in landfill.
But the good news is, if you really love sharing gifts, you don't have to hold back.There are plenty of eco-friendly presents you can give to friends and loved ones. Coupled with sustainable initiatives like opting for used wrappers (like perhaps reusing that paper from a pan de sal) and doing away with gift cards and sticky tapes, you can help Mama Earth while still indulging in the spirit of giving.
Here are some unique and sustainable gifts you can buy locally.

Bamboo cutlery and straws
Metal straws are great, but there's a cheaper and friendlier alternative: bamboo! Bamboo is a fast-growing, tensile, extra strong grass that requires minimal resources, especially if grown locally and not exported from foreign sources. Opting for bamboo products means mountains are not mined for metal extraction and that your gift will last long. In fact, bamboo is even stronger than metal – and it's far cheaper too! You can buy a cutlery set (spoon, fork, knife, and chopsticks) for only P115 and straws at P43 each from Eco Shop PH.
Sprout pencils and coloring materials
Also called seed pencils, these nifty writing companions contain seeds at one tip, which – you guess it right – can be planted directly into the soil once your pencil becomes too short. The tip is water-soluble, and the seeds are dispersed into the soil and grow from there – no need to even get your hands dirty. A great gift for artists and kids and get them started in basic gardening, Kalinaw sells pencils with basil, dill, and sunflower. Choose from a single pencil for P29, a 3-piece graphite set for P79, or a 6-piece colored pencil set for only P159.
Plants
2020 has been the year of plantitos and plantitas, and if you've got one for a friend or family, plants make an excellent present. Read our list of beginner-friendly indoor plants for ideas, or get in touch with Balay Tanaman for orders. This home-based Cebu vendor offers delivery to Manila and Cebu, and was founded by an eco warrior who's more than happy to share tips and plant know-how with you.
Bamboo French press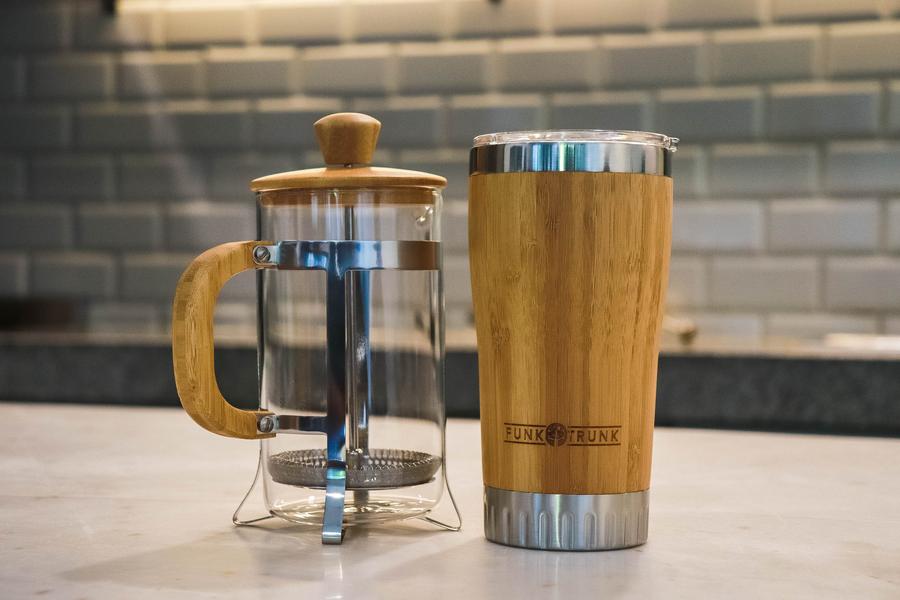 The perfect gift for coffee lovers, French press lets your coffee-crazy recipient make fresh, hot coffee from ground beans in an instant – no electricity or other materials required. Funk Trunk sells a 600-ml French press (makes 2 to 3 cups) with recycled wood and Borosilicate glass for P1,599+. Make it more personalized by requesting name engraving on the wooden lid – free of charge.
Bugnay and tapuey wines
These homegrown spirits are made predominantly in the Cordillera, and Ilocos Region, specifically in a small town called Adams. Bugnay wines are made from local wild berries of the same name and are delightfully sweet and fruity in flavor. If your recipient loves sweet and tangy, go for tapuey. Tapuey wine is made from fermented glutinous rice and is reminiscent of whiskey sour. Proudly Promdi works with local artisans in Adams, selling their bugnay at P490 a bottle and the tapuey at P400 per bottle.
Coffee beans
There's no doubt tht Philippines coffee beans are among the best in the world. In fact, in 2019 coffee beans from Sagada and Bukidnon even bagged awards at the 5th International Contest of Locally Roasted Coffees in Milan. Share the joy of local beans by gifting a pack of locally grown coffee beans from these online coffee shops.
Bamboo thermos and water bottle
Bamboo is truly a versatile grass that can be used to make any kitchen and dining ware, even pretty tumblers. Lakbawayan's BPA-free bamboo water bottle and thermos is made with stainless steel that can keep water cold up to 36 hours and hot up to 12. Add P250 for customized engraving.
Shampoo and conditioner bar
Did you know that plastic packaging and bottles are the major contributors of plastic wastes?A 2018 study by the United States Environmental Protection Agency (EPA) reveals that about 14.5 million tons of plastic were produced, and in 2016, about 93% of those wastes ended up in the ocean. Encourage the reduction of plastic wastes by gifting shampoo and conditioner bars. These colorful babies can work up a lather, are SLS and paraben-free, gentle on color-treated hair, super handy for travels (they don't spill either), and best of all, do not come in plastic packaging. Rinse + Repeat sells them for P250 each and delivers them wrapped in paper. Or you can gift it in a tin can for P280. Choose from mint, bamboo, grapefruit, seaside (ocean breeze), and sunny day (crisp cotton) scents.
Reusable face masks made with local weave
Since the pandemic, face masks have become an absolute must when going anywhere. And if you're going to wear it daily, might as well be fashionable, right? Stay hip and eco-friendly by opting for reusable face masks instead of single-use ones! Abaca face mask made by artisans in the Bicol Region are not only hypoallergenic, they also are water resistant, offering seven times more filtration capacity than an N-95 mask (their pore size are at 10 to 70µm), according to studies by the Department of Science and Technology. Other DOST-approved washable face masks that use local weave are buri masks from Quezon inabel masks from Ilocos Region.
Check out our list of 5 online shops selling fashionable and eco-friendly masks,
Vegan food
Going to a friend or family member's house for Christmas dinner? Bring some vegan dishes as presents! With so many festive choices from vegan sisig to vacon (vegan bacon), they make for truly yummy and green presents. Vegan food contains either soy protein or tofu as meat substitute and can be surprisingly, not veggie-tasting. Vegans and non-vegans alike highly recommend Cosmic, Butcher, Greenery Kitchen, and The Vegan Grocer for their delightful offerings. For desserts, you can order vegan cakes from Miuccia Luxe Cakes.